About 26 percent of all Americans are online "almost constantly," according to a new Pew Research study based on January data. That's up from 21 percent in 2015.
And the figure is higher for younger adults and people in higher income brackets.
Overall, 77 percent of Americans are online daily (which includes the 26 percent who are online almost constantly). Forty-three percent are online several times per day and 8 percent are online about once a day, according to the study. Other adults are online several times a week or less (11 percent) and the same percentage of adults do not use the internet at all.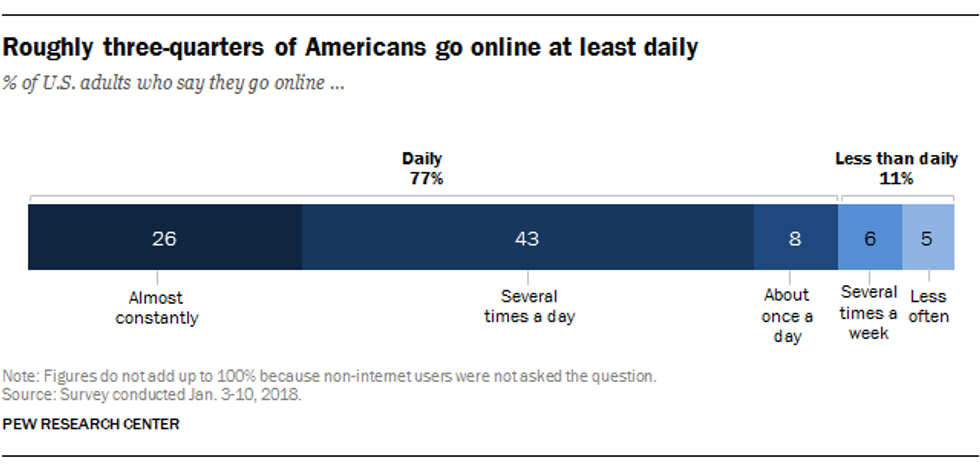 Does household income have an impact?
About 35 percent of adults with an annual household income of $75,000 or more are on the internet almost constantly and 91 percent use it daily, according to the study. In contrast, the same was true for just 24 percent of people making less than $30,000.
Thirty-four percent of adults with a college education are online almost constantly and 92 percent are online daily. Just 20 percent of adults with a high school education are almost always using the internet.
Where people live also makes a difference in their online presence. The number of adults who say they're online almost constantly includes 32 percent of adults living in urban areas, 27 percent of suburban residents and 15 percent of rural residents.
What does age have to do with it?
Most of the constantly connected crowd is younger. That includes 39 percent of 18- to 29-year-olds, and 49 percent of this age group reported going on line multiple times per day.
Americans between the ages of 30 and 49 are quickly catching up – about 36 percent use the internet almost constantly. That figure has risen 12 percentage points since 2015.
The percent of Americans ages 50 to 64 who are almost always online has risen from 12 percent to 17 percent. Even fewer adults ages 65 and over are online constantly (8 percent) and 30 percent go online multiple times a day.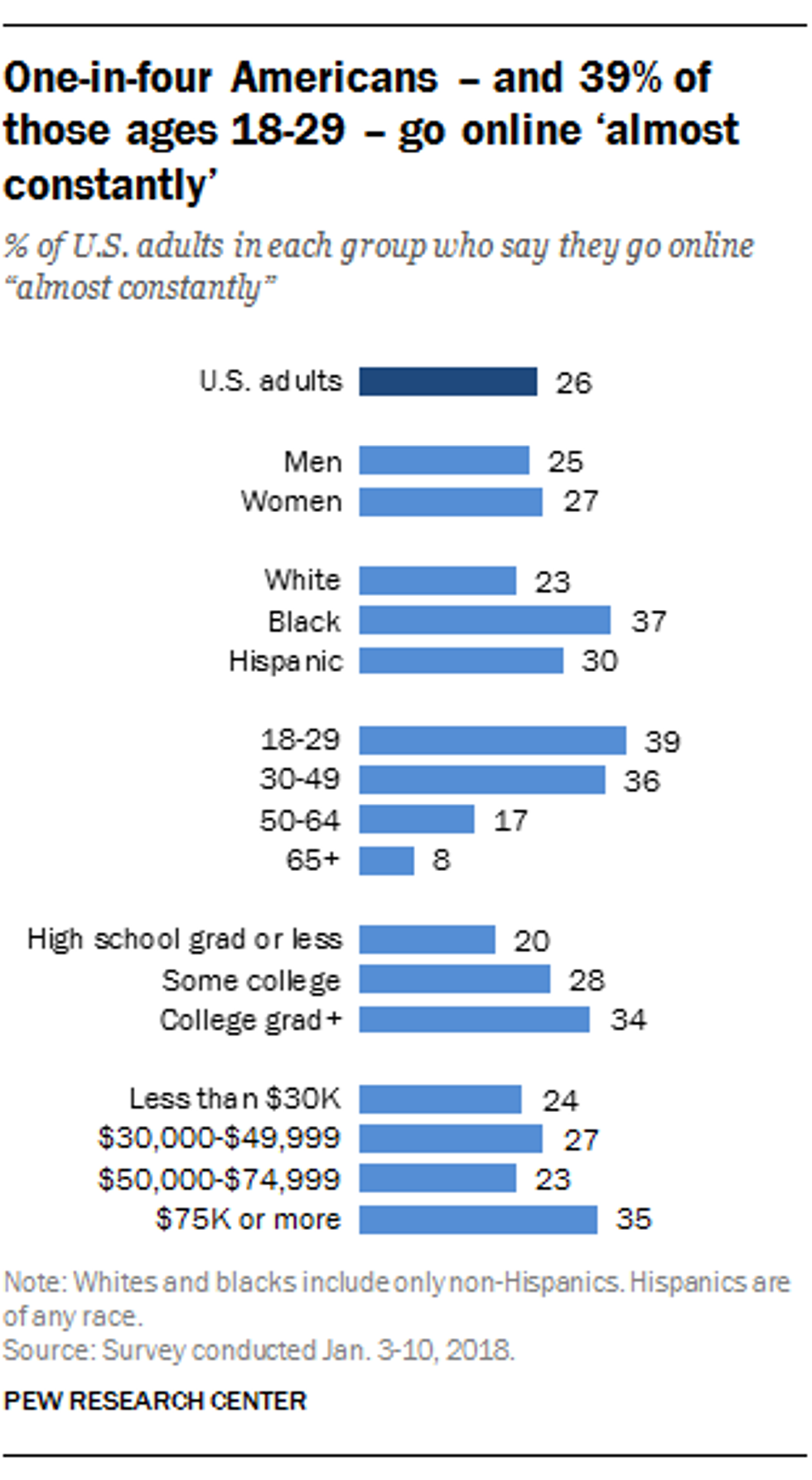 Are mobile users more connected?
Mobile internet users are more likely to be on the internet. About 83 percent of adults who are connected at least occasionally use a smartphone, tablet or other mobile device, the study states. Of these users, 89 percent are online daily and 31 percent are online almost constantly.
Internet use is lower among adults not using a mobile device: 54 percent daily and 5 percent almost constantly, according to the study.
Other figures from the study show that the number of Americans using the internet almost constantly includes 37 percent of blacks, 30 percent of Hispanics and 23 percent of whites.