After a video recently surfaced of controversial University of Pennsylvania law professor Amy Wax saying she didn't believe she knew of a black student graduating in the top quarter of the class, the tenured prof kept her job — but was barred from teaching first-year students as a result of her remarks.
But for the leader of Black Lives Matter Pennsylvania, Penn Law isn't going far enough.
In fact, Asa Khalif said he told the school it must fire Wax or face major disruptions on the Philadelphia campus — including disrupting classes and organizing protests — that could commence as soon as Friday, the Philadelphia Tribune reported.
"Anyone with the types of beliefs she holds teaching black and brown students is a danger to them and their future," Khalif told the paper. "We are unwavering in our one demand that she be fired. Based on her beliefs and the things she has said, she is a threat to black and brown students."
How did this all start?
The sticking point is a September video interview in which Wax told Brown University Professor Glenn Loury, "I don't think I've ever seen a black student graduate in the top quarter of the class and rarely, rarely in the top half. I can think of one or two students who've scored in the top half of my required first-year course."
Penn Law School Dean Theodore Ruger quickly countered once the video surfaced.
"Black students have graduated in the top of the class," Ruger wrote in response to Wax's words in an email to the school community. But the only measure taken against Wax was removing her from first-year lecture classes, the Tribune reported.
"I know that this decision will spur debate and difficult conversations in the days, weeks and months ahead, and I welcome them," Ruger added in his email, the paper said. "All faculty and students here will remain free to express their views. And all students and faculty are entitled to a law school that welcomes them equally as individuals."
Penn students are fearful of speaking out? Really?
Even amid a nationwide campus culture in which student complaints seem to receive more weight and standing, Khalif told the Tribune that a number of Penn students informed him that they fear saying anything about Wax due to potential reprisals.
"None of what this racist is doing is new to anyone familiar with her," Khalif added to the paper. "Many people have known about her for years. Not just black and brown people, but people who don't believe she can fairly grade or teach people who don't look like her."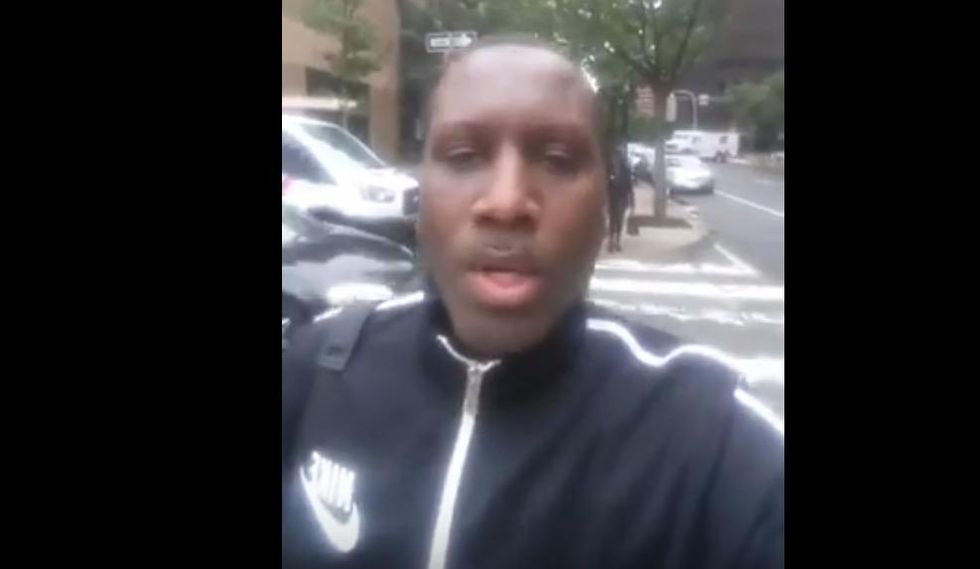 Asa Khalif (Image source: YouTube screenshot)
He continued: "It's not a safe environment for students who are trying to get an education. We have to speak for the students who can't speak for themselves. As far as I'm concerned, all she's been given is a slap on the wrist."
How else has Wax made headlines?
Wax stirred things up last year as the co-author of a Philly.com op-ed in which she blasted "single-parent, antisocial habits, prevalent among some working-class whites; the anti-'acting white' rap culture of inner-city blacks" as well as "the anti-assimilation ideas gaining ground among some Hispanic immigrants."
In a follow-up interview with the Daily Pennsylvanian, Wax noted that Anglo-Protestant cultural norms are superior.
"I don't shrink from the word, 'superior,'" she told the paper, adding that "everyone wants to come to the countries that exemplify" these values and that "everyone wants to go to countries ruled by white Europeans." Numerous folks didn't take kindly her views.
(H/T: The College Fix)