The Facebook message in reference to Republican Gov. Scott Walker of Wisconsin read as follows: "I suggest we take all our firearms to the governor's mansion and execute the parasite," WITI-TV reported.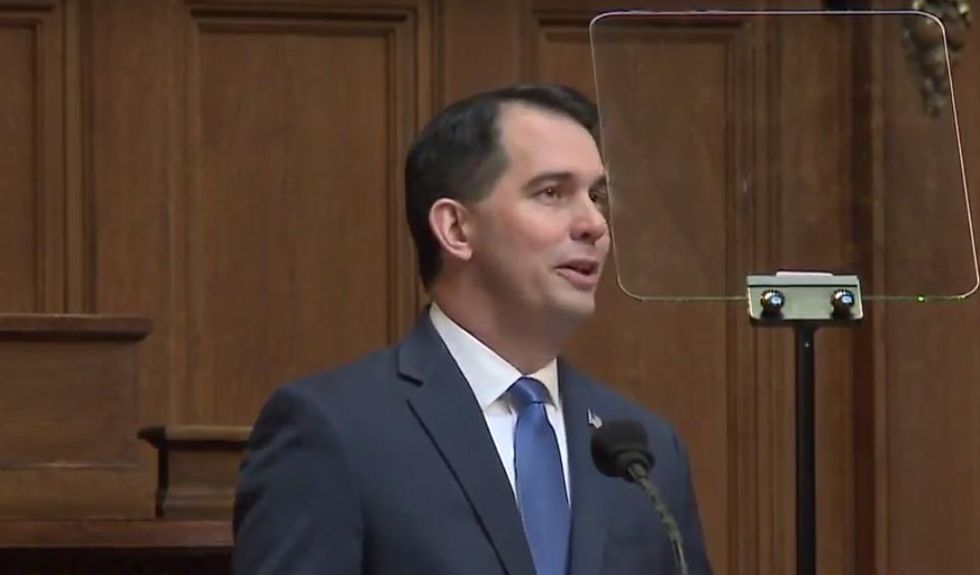 Wisconsin Gov. Scott Walker (Image source: YouTube screenshot)
As you might imagine, the user who posted those words earlier this month got some brisk attention — and from none other than a campaign employee for State Rep. Dana Wachs, a Democratic candidate for governor, WITI said.
The Wachs campaign employee contacted Wisconsin State Capitol Police March 8 "to report a threat" directed toward Walker, the station said, citing the criminal complaint.
The words in question were from a Facebook user who commented on a post Wachs issued about Walker and a school shooting, WITI said, adding that the campaign employee told investigators he "feared for the governor and his family's safety."
What did the message poster have to say for himself?
With that, investigators got in touch with the Facebook user: Nicholas Hager, 45, Lannon — a part-time firefighter whom officials said "does not like guns" and said had no intention of harming Walker, the station reported.
Hagar "immediately took responsibility for making the threat," WITI noted, citing the complaint, which added that Hager told police "he makes a lot of 'colorful' political social media posts and they had never caused him problems in the past."
He added that "he did not mean to threaten or harm anyone and wasn't aware anyone would even take his posts seriously," the station reported, adding that Hager said he was expressing frustration with government and how it is affecting people.
The complaint also said Hager stated he "does not like guns, doesn't own any weapons, has no weapons training, and has no intentions of driving to Madison or harming Governor Walker, himself or anyone else."
But he added that "if he were in a room alone with Governor Walker he would refuse to shake his hand," WITI reported.
What happened to Hager?
Hager was arrested on misdemeanor charges of computer message – threaten/injury or harm as well as disorderly conduct and was taken to Waukesha County Jail, the station said, adding that his initial court date is April 2.
Hager is on unpaid, administrative leave from the Menomonee Falls Fire Department, where he's worked for three years, WITI reported. His leave is routine based on policies and procedures, the station reported, adding that an internal investigation is underway.