If members of the LGBTQ community find themselves getting harassed on the streets of Baltimore, the city's police department has launched a program to protect them.
It's called "Safe Place," and LGBTQ members under attack or harassment can run into any business bearing a Safe Place sign on its doors or windows to seek refuge, WJZ-TV reported.
"Sometimes when people are victims of a crime, it happens on the street," Sgt. Kevin Bailey, the police department's LGBT liaison, told the station. "A person uses their cellphone to call police, but then they have nowhere to go."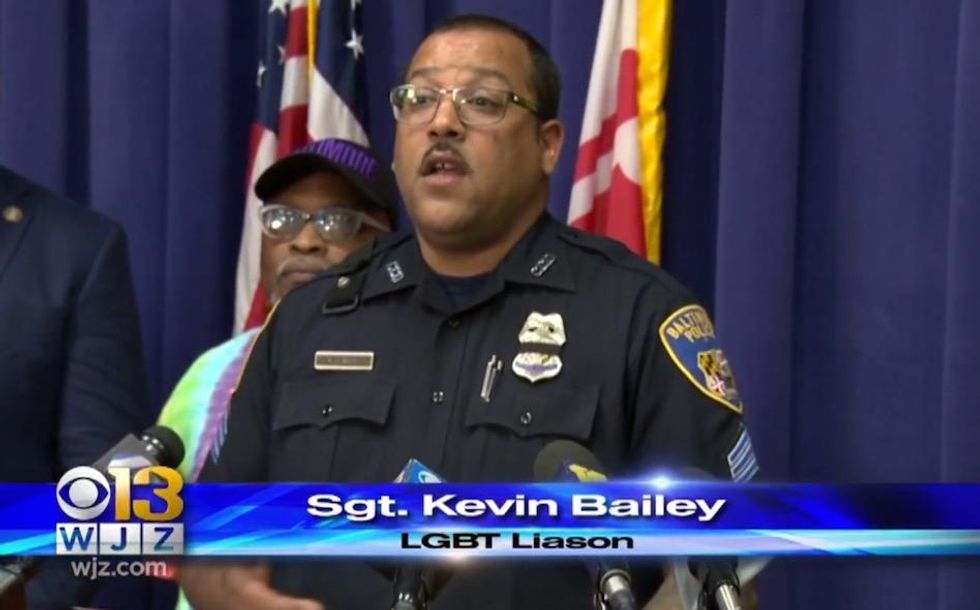 Image source: WJZ-TV video screenshot
Bailey told WJZ the only requirement for participating businesses is that employees call 911 if a victim enters.
What businesses are participating in the program?
Starbucks is the main company taking part in the program with a dozen area stores participating, the station said, but Bailey said he will recruit other businesses as well.
Department officials told WJZ the idea for the Safe Place program came from Seattle, which gave Baltimore police guidance on how to get the initiative started.
Not coincidentally, Starbucks is based in Seattle.
"What the Baltimore PD is doing here is about bringing the community together," Jeff Danley, a Starbucks employee, added to the station. "To say that harming people — it's not OK."
Bailey also noted to WJZ that while the Safe Place program "started out for LGBTQ members," the initiative is "really for any victim of a crime."
While Baltimore police look to solve this issue, there are big problems in the department