An elderly Maryland woman was left stranded in her home after local officials ordered her makeshift wheelchair ramp to be torn down earlier this summer.
The reason? Because the ramp didn't have the proper county permits for its existence.
What are the details?
Evelyn Strahle, of Prince George's County, had to be lifted in a wheelchair up a small set of stairs each time she left or returned to her home. Eventually, the process became too burdensome, so Strahle's son, Bob, decided to get her a wheelchair ramp. It would provide the 91-year-old Strahle with an immense amount of freedom.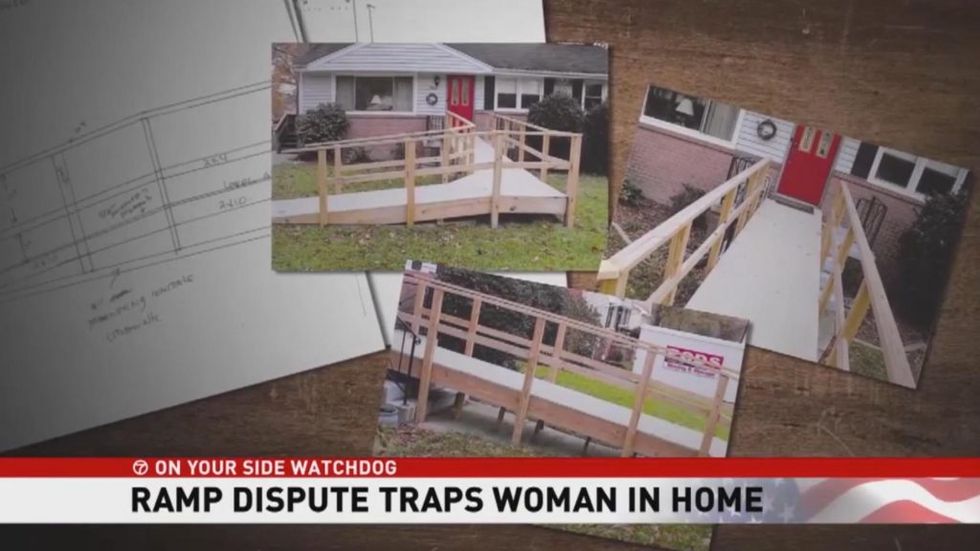 Image source: WJLA-TV screenshot
Instead of purchasing the ramp, which would have cost $5,000, Bob Strahle decided to build it himself. After all, he's in the construction business and a wheelchair ramp is a relatively minor project compared to his normal work. Bob spent $1,700 on lumber to build the ramp.
"Very well built and I felt very safe on it always," Evelyn Strahle told WJLA-TV.
After the structure was finished, a Prince George's County inspector showed up — and that's when all of the trouble began.
Bob Strahle asked the inspector what improvements the ramp needed to be approved by the city and granted a permit. Unfortunately, the inspector told Bob that he couldn't grant a permit because Bob did not go through the county's red-tape process.
Bob even filed his construction plans with the county, a routine step in obtaining a building permit. But the county denied him. Their reasoning? Because he submitted his request after the structure was already complete.
Did it get worse?
After Bob's permit request was formally denied, Prince George's County filed litigation against his parents demanding they appear in court. If they didn't appear, the letter warned the Strahles would be held in contempt of court.
"I was very upset, naturally," Evelyn's husband, 94-year-old David, told WJLA.
They complied, and Bob eventually tore down the ramp.
What happened later?
As if it couldn't get worse, weeks after Bob tore down the ramp, Prince George's County inspections director Haitham Hijazi wrote the Strahles a letter admitting "something obviously went awry" with their case.
Hijazi explained there had been miscommunication in his office's chain-of-command because, had department managers been aware of the situation, "we could have worked with you to make sure you got the proper permits so that your ramp could have been approved."
What was left of the ramp remained in a pile of used lumber by the end of July.