A memo apparently for sketch comedy ensembles lays down the law regarding how "trans and non-binary people" are to be treated — and in no uncertain terms. Although it's unclear to how exactly the authoritarian memo can be enforced.
What are the rules?
The memo — titled "Being a Cis Ally to Trans and Non-Binary People in Sketch Comedy"— declares that "every person involved in comedy deserves respect." It also indicates that directors should lead discussions with their ensembles on their comfort with playing "gendered roles" and then lays down rules through a series of Q&As.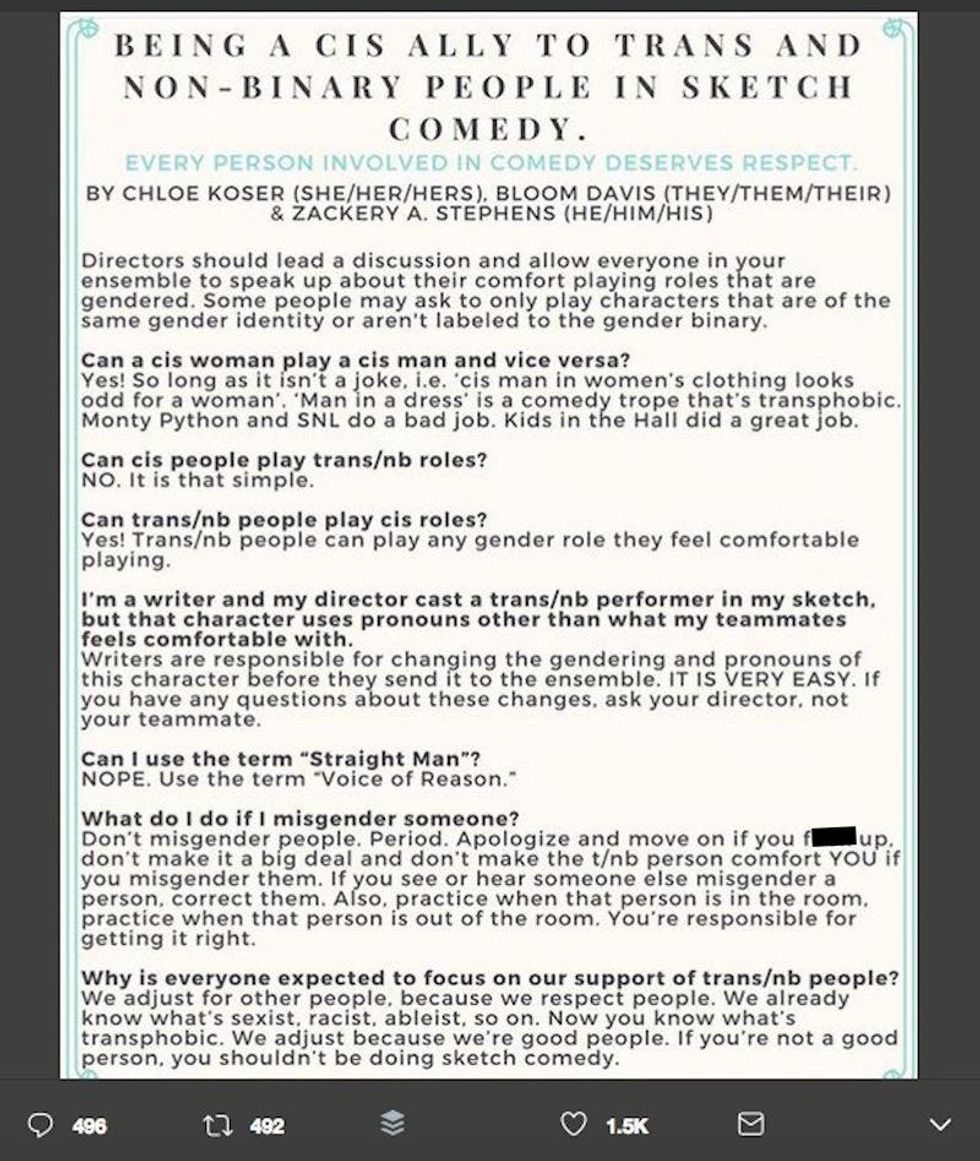 Image source: Twitter, redacted
Some highlights:
"Cis" performers (i.e., non-transgender) are allowed to play opposite-gender roles — as long as it's not done as a "joke." The memo adds that the "man in a dress" sketch is typically "transphobic" and that the "Saturday Night Live" and Monty Python ensembles did a "bad job" with this while "Kids in the Hall" did a "great job."

"Cis" performers aren't allowed to play transgender or non-binary roles while transgender performers can play any roles they desire.

The term "straight man" — presumably the comedic term as opposed to the sexual orientation term — isn't allowed. Now the term must be "voice of reason."

If you make the mistake of misgendering someone, your response is to "apologize and move on if you f*** up." In addition, you are to correct others who misgender and speak a person's chosen gender whether they're in the room or not.

Finally, as to why the focus on transgender and non-binary people, the memo declares that "we adjust for other people, because we respect people. We already know what's sexist, racist, ableist, so on. Now you know what's transphobic. We adjust because we're good people. If you're not a good person, you shouldn't be doing sketch comedy."
Who wrote the memo?
Chloe Koser — who performs with the improvisational Upright Citizens Brigade comedy outfit in New York and does a "one-woman show" titled, "Chloe Doesn't Do Boys" — acknowledged on Twitter that she co-authored the memo.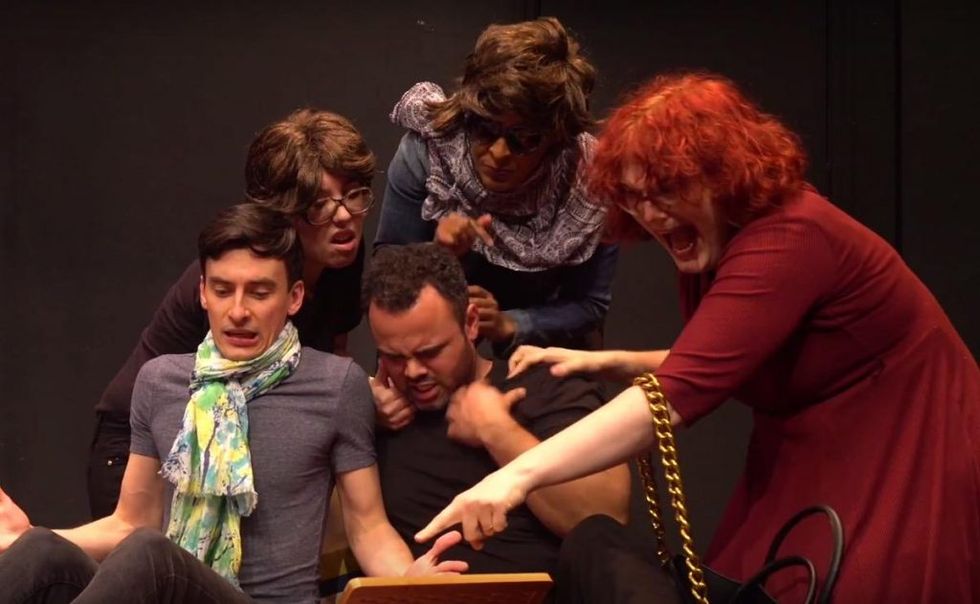 Chloe Koser (far right) performs with the Upright Citizens Brigade. (Image source: YouTube screenshot)
TheBlaze on Friday didn't immediately hear back from Koser in regard to a number of questions, including if the memo actually is a joke.
How have others reacted to the memo?
"Yeah, what's wrong with a bunch of mentally ill people trying to force everyone to follow their made up rules?" one Twitter commenter asked.

"The idea that somebody can't play as a certain person for any reason shows a fundamental disinterest in diversity and a complete misunderstanding of comedy," another commenter said. "Comedy works best as a free market, you're using fascist mentality with the guise of 'best intentions.'"

"Some people are so far out in their own worlds, they're starting to lose sight of fiction," another wrote.

"So, only specific types of actors can play universally," one commenter said. "Others are only allowed to play those they identify with. How inclusive of you!"
Though not everyone hated the memo: "You're absolutely right, Chloe," one Twitter commenter countered. "These are pretty basic measures of respect and professionalism laid out with incredible consideration and clarity. Brava."