New York Times columnist Michelle Goldberg said President Donald Trump would "certainly like to" round people up and murder them without due process, dictator-style.
Trump not the leader of the free world?
Goldberg's arguments — most of which were met with laughter and pushback on MSNBC's "Meet the Press Daily" program Friday — began with an assertion that German Chancellor Angela Merkel is really the leader of the free world, not Trump.
"Well, [Trump] is the most important person in the world in politics right now," RealClearPolitics reporter Caitlin Huey-Burns replied.
Host Katy Tur tried to clarify Goldberg's statement, suggesting that the European Union isn't looking at Trump as a defender of human rights — and then Goldberg came back with even more astonishing claims.
A 'junior player in a bloc of authoritarian countries'?
"He's a sort of junior player in a bloc of authoritarian countries," Goldberg declared. "He's part of a bloc that includes [Russian President] Vladimir Putin, [Philippine President Rodrigo] Duterte. He's kind of part of an axis of power."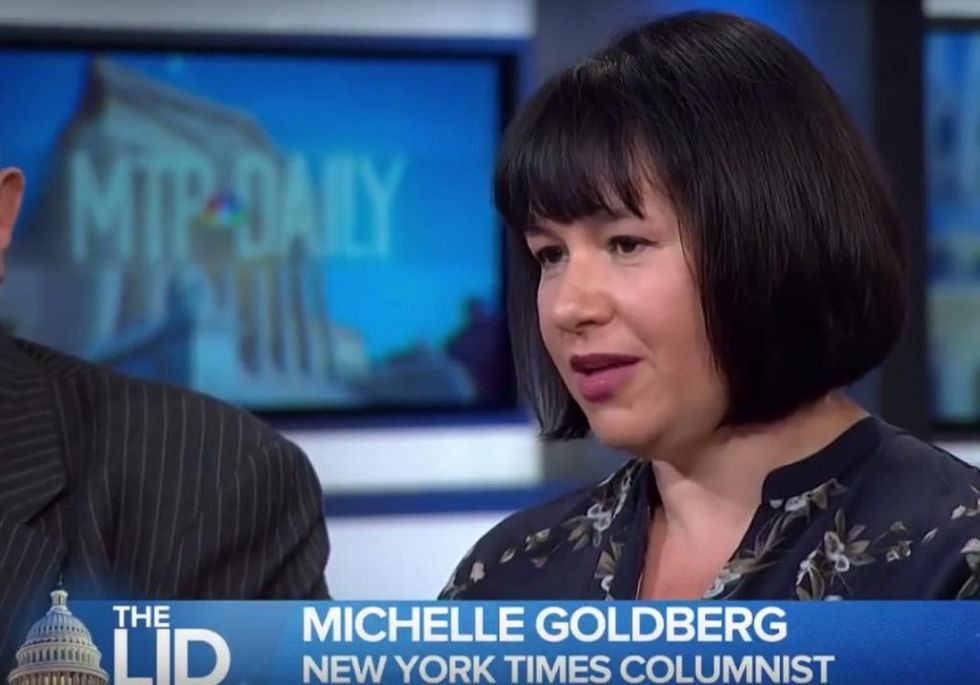 Image source: YouTube screenshot
Given the violent dictatorial reputations of Putin and Duterte, Tur challenged Goldberg by saying Trump is "not rounding people up and murdering them without any due process."
Goldberg's reply? "He'd certainly like to."
"I don't think you can say that definitively, Michelle," Tur responded.
"If he is not the leader of the free world, there is no leader of the free world," Commentary magazine editor John Podhoretz said. "There is no world order without the most important, richest, and most powerful country in the world trying to maintain some semblance of [world order]."
Goldberg, smiling, remarked that amid all of that a country like "Saudi Arabia can intimidate Canada for sending out a tweet about its human rights record."
(H/T: Washington Free Beacon)