You might say the iconic image — more than 100 years old — is as much a piece of visual Americana as the Statue of Liberty, Mount Rushmore, or Uncle Sam's white-bearded mug.
It's the famed Barnum's Animals Crackers box showing a colorful quartet of beasts in cages.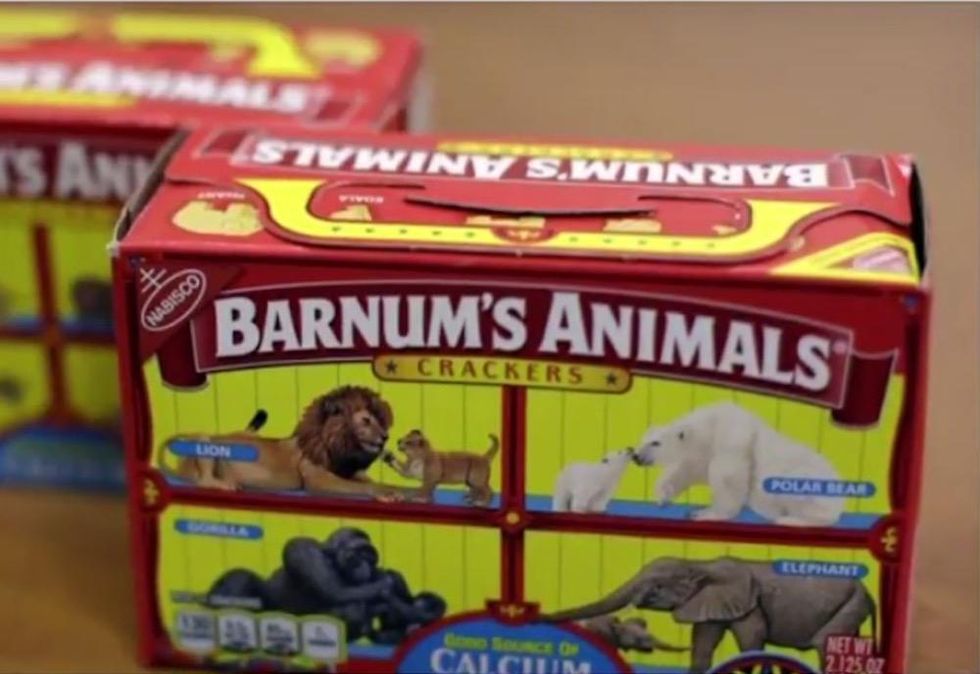 Image source: YouTube screenshot
But thanks to the People for the Ethical Treatment of Animals, the creatures on the legendary box are now free to roam — and nowhere near a circus, as the landscape upon which a giraffe, gorilla, elephant, lion, and zebra travel these days resembles an African landscape.
What's the background?
That's right: the animal crackers' box was redesigned after PETA applied pressure in 2016, the Associated Press reported.
"Given the egregious cruelty inherent in circuses that use animals and the public's swelling opposition to the exploitation of animals used for entertainment, we urge Nabisco to update its packaging in order to show animals who are free to roam in their natural habitats," PETA said in a letter, the AP said.
Nabisco's parent company Mondelez International agreed and started working on a redesign, the outlet said, adding that the crackers' namesake circus — Ringling Brothers and Barnum and Bailey — folded up their tents for the final time during the process.
Ringling Brothers stopped using elephants in its shows in 2016 over PETA pressure, the AP said, and shut down in May 2017 after slow ticket sales.
"When PETA reached out about Barnum's, we saw this as another great opportunity to continue to keep this brand modern and contemporary," Jason Levine, Mondelez's chief marketing officer for North America, told the AP in a statement.
More from the outlet:
Nabisco has been making Barnum's Animals crackers since 1902. It has redesigned its boxes before, but only for limited-time special editions. In 1995, it offered an endangered species collection that raised money for the World Wildlife Fund. In 1997, it offered a zoo collection that raised money for the American Zoo and Aquarium Association. And in 2010, it worked with designer Lilly Pulitzer on a pastel-colored box that raised money for tiger conservation.
How did PETA react?
PETA Executive Vice President Tracy Reiman told the AP she's celebrating the box redesign for the cultural change it represents.
"The new box for Barnum's Animals Crackers perfectly reflects that our society no longer tolerates the caging and chaining of wild animals for circus shows," she added to the outlet.
It's unknown if PETA has any issue with humans still devouring the make-believe animals by the handful.