Like many houses of worship in Texas, Celebration Church rents a public school district's facilities for its Sunday services.
But amid protests by LGBT supporters, the Austin Independent School District soon may end its business relationship with the church.
What's the background?
Celebration Church, based in Georgetown, has been holding services at the district's Performing Arts Center since Aug. 26 under a short-term agreement with the district, the Austin American-Statesman reported.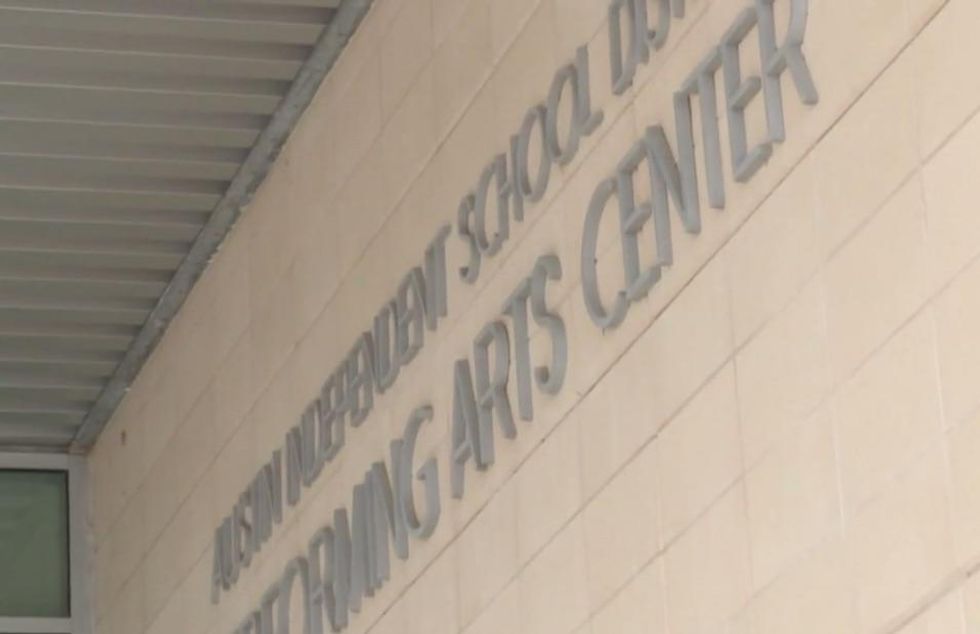 Image source: KXAN-TV video screenshot
But LGBT advocates have protested the agreement over the church's view that marriage is between men and women only, KXAN-TV reported.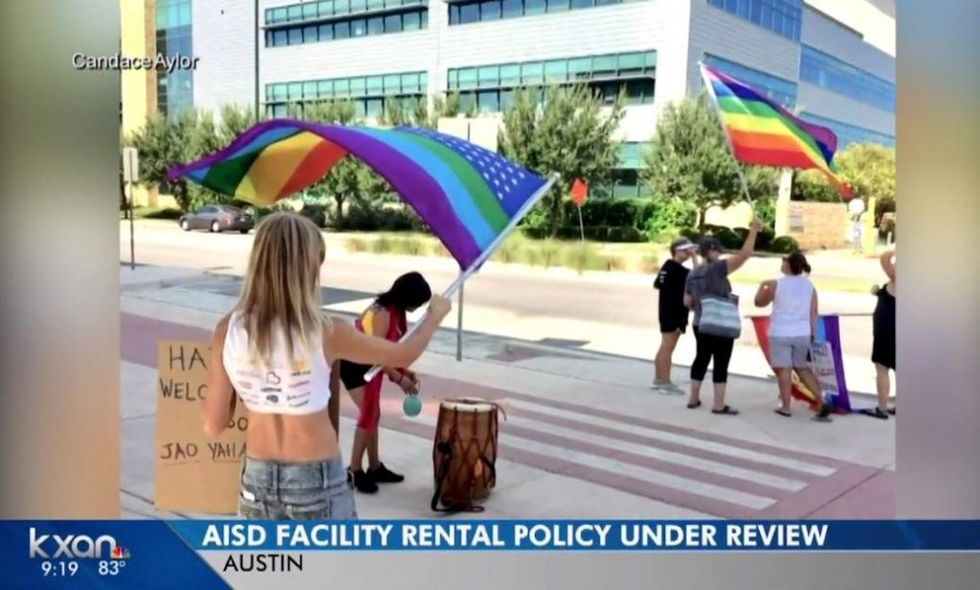 Image source: KXAN-TV video screenshot
The church's website notes: "Marriage is a picture of Christ's relationship with His Bride – the Church. It is defined from the beginning of Scripture as a lifelong covenant between a man and a woman. God designed sexual intimacy for a marriage relationship and does not endorse or condone it in any other context (1 Thess 4:3-5, Gen 2:24, Matt 19:4-5)."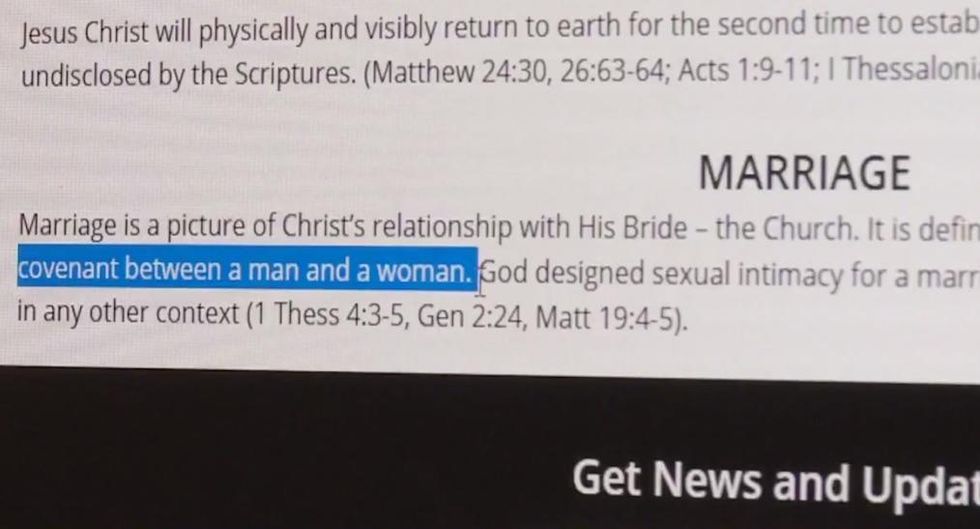 Image source: KXAN-TV video screenshot
Prior to the protests, the church's website also said, "God has commanded that no intimate sexual activity be engaged in outside of marriage. Any form of sexual immorality, such as adultery, fornication, homosexuality, bisexual conduct, bestiality, incest, pornography or any attempt to change one's sex, or disagreement with one's biological sex, is sinful and offensive to God." But those sentences are now gone.
What are LGBT advocates saying about the church's marriage views?
"I feel like that kind of love gets us killed," Candace Aylor, who's with the group that's been protesting Celebration Church, told KXAN.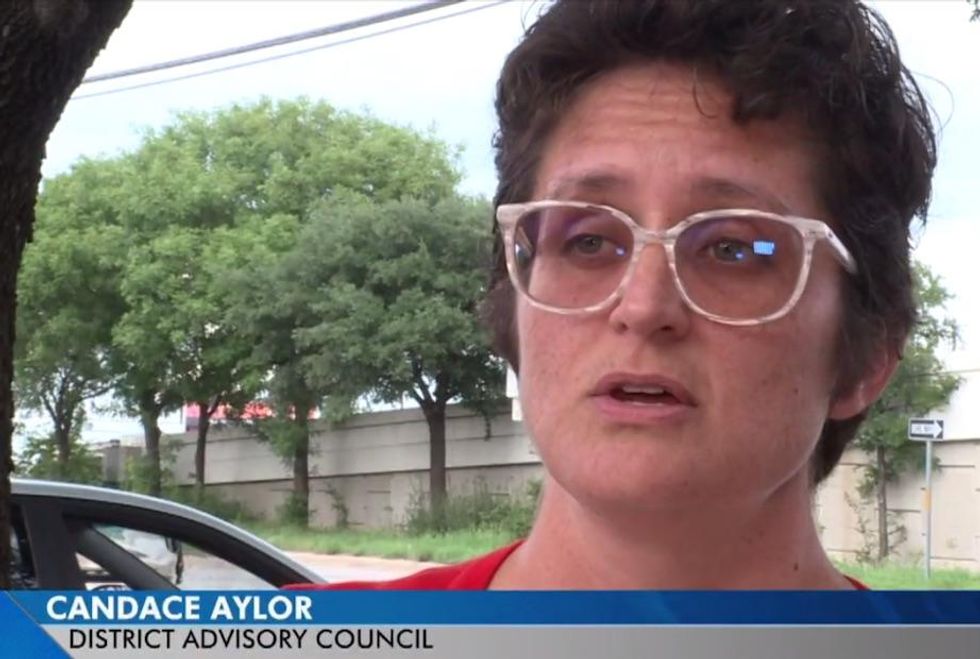 Image source: KXAN-TV video screenshot
"I'm not in favor of renting to any entity that doesn't support our values … and that's full inclusion of our LGBTQ community," school board Trustee Ann Teich told the American-Statesman.
Jasmin Patel of AZAAD Austin, a social justice advocacy group focusing on people of South Asian heritage, added to the paper that the district's contract "allows that space to be used for a church that spreads hateful messaging."
Aylor also told the station that protesters have heard from LGBT students who operate audio and video equipment at the Performing Arts Center: "It is inappropriate to ask a student to serve in their role as a student for a church that is demonstratively against their existence," she added to KXAN.
What is the school district saying?
District officials told the Statesman they are finalizing two changes to the district's regulations governing outside use of its facilities. Chief of Staff Jacob Reach told the American-Statesman the changes — which won't be divulged until finalization — are not meant to discriminate against the church.
Teich told the paper the district could avoid accusations of trampling upon the church's First Amendment rights with regulations that say outside entities must support the district's core values in order to use its facilities.
"We have to be careful. We can't exclude religious groups," she added to the American-Statesman. "If an organization doesn't support the district's values, then I would say we are within our rights to not let that organization rent our facilities."
The church's agreement with the district runs through the end of September, the paper said.
Another group speaks up
The Austin Civic Orchestra told KXAN it's been told its Sunday performance in December will have to be moved because the school district won't rent to outside groups on Sundays anymore.
"The orchestra is greatly inconvenienced by this change that affects community organizations throughout the city and reduces opportunities for residents to benefit from classical music, theater, educational programs and more," ACO Music Director Lois Ferrari told the station. "We urge the school district to reconsider its stance and open the venue back up for the use of performing arts organizations that serve our city on all days, including Sundays, when an AISD group is not using it."
What is the church saying?
Celebration Church Pastor Joe Champion said in a statement to the Statesman: "We are welcoming to all people and love everyone the same. We are hopeful everyone will commit to equality before the government for all people, regardless of their viewpoints."
What is the Texas attorney general saying?
Attorney General Ken Paxton sent a letter warning the district that if it doesn't rent to churches, that violates Texas law and the Constitution, KXAN reported.
"The district should welcome churches who want to rent its facilities after school and on weekends, not discriminate against some of them based on their beliefs," the letter said, according to the station. "We caution you to reconsider these changes and be respectful of the religious liberty protections afforded churches under the Constitution and Texas law."