In the wake of Supreme Court Justice Brett Kavanaugh's contentious confirmation last weekend, a Post-Kavanaugh Self-Defense Class is set to take place Oct. 21 if you happen to be in the Hollywood area.
Women In Media Inc. is organizing the class and noted the following on EventBrite: "Last year we did a #MeToo self defense class. It was cathartic and helpful. This year, many of us are suffering from Post Kavanaugh Stress Syndrome and need to productively hit something. Here's your chance while learning tips and tricks to be less vulnerable."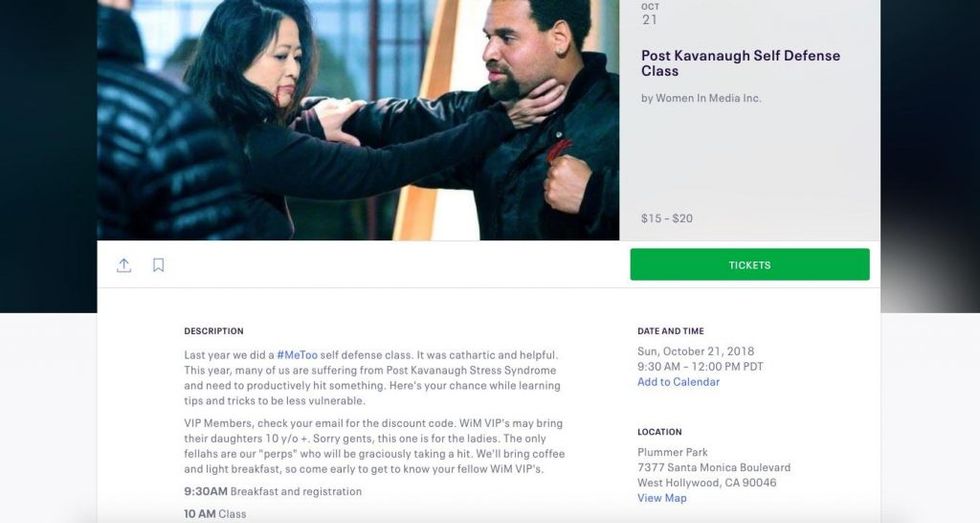 Image source: EventBrite
Who can participate?
According to the event description, the class is for "ladies" only — with one exception: "The only fellahs are our 'perps' who will be graciously taking a hit."
Who's teaching the class?
The instructor is Toy Lei, a "martial arts teacher, stunt choreographer and actor/director" who's been training in martial arts for 18 years and teaches Kung Fu "every Sunday when she isn't on set."
"The class I'm offering is an introduction to self defense," Lei noted. "We are not gonna come out being Rocky, but hopefully you will have more knowledge and therefore more confidence walking on the street, being at a late night party, and being alone publicly."
Kavanaugh was accused of sexual assault by college professor Christine Blasey Ford, who claimed the alleged incident occurred when they were teenagers more than 35 years ago. Ford's accusation delayed Kavanaugh's confirmation and dominated headlines. Ford testified regarding her allegations before the Senate Judiciary Committee. Kavanaugh also testified and denied the allegations.
What else?
The class is scheduled for 10 a.m. at Plummer Park in west Hollywood. Participants are asked to "wear flats, but bring heels." Coffee and a light breakfast will be provided. The fee is between $15 and $20. There are no refunds.
Women in Media Inc. on Friday didn't immediately answer TheBlaze's questions about Post-Kavanaugh Self-Defense Class.
The group describes itself as "intersectional" and says it "encourages gender balance in film and entertainment industries by providing networking, professional development, and advocacy for above and below the line women and all genders who love making movies with them."