Bisexual actress Anna Paquin hit out at critics who said that she isn't "queer enough" because she's married to a man.
Paquin has been married to fellow actor Stephen Moyer since 2010.
What are the details?
The actress entered the comments section of one of her recent Instagram posts to tackle critics.
Paquin, 38, recently posted on Instagram a reminder that LGBTQIA+ Pride Month begins in June.
The graphic read, "Hey! FYI (for those unaware) June is LGBTQIA+ pride month. So the folks who put their bigotry on display in the comment sections of my recent posts why don't you hit that unfollow button right now."
In the comments, she added, "[A]nd go f*** yourselves. #bipride #lgbtquiapluspride[.]"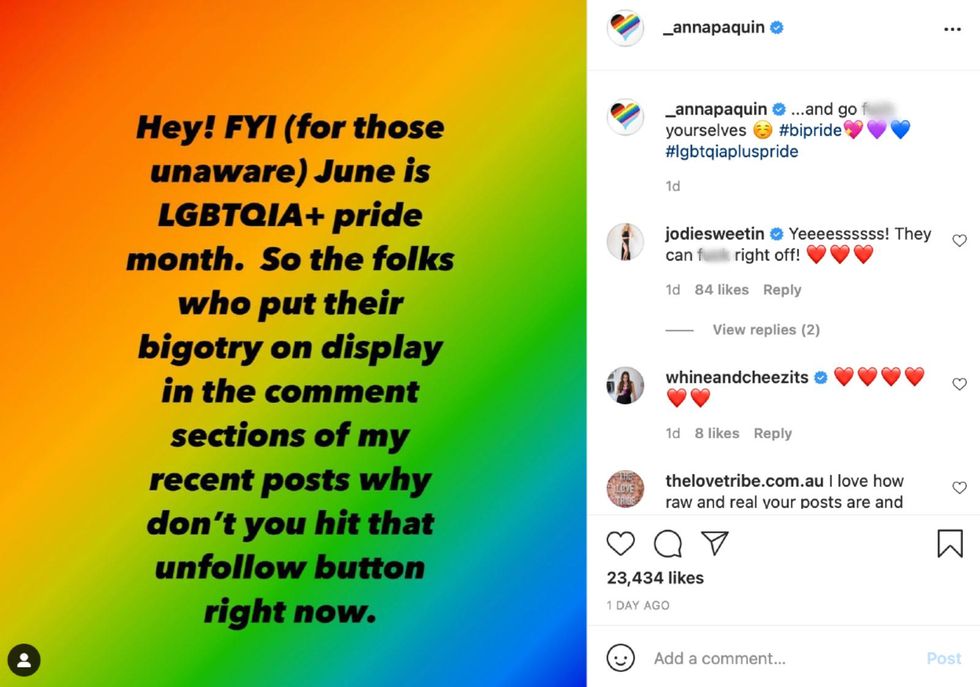 Image source: Instagram.com screenshot
In a comment later shared to Paquin's Instagram story, People reported that a social media user blasted the actress because they were "tired of seeing 'bi' celebrities constantly advocate for it only to end up conventionally married to men with multiple children, living out the so-called white-picket-fence life."
Paquin hit back and said, "Ah yes ... the 'you aren't queer enough' BS," and added, "I'm a #proudbisexual who is married to a wonderful human who happens to be a man. ... If he doesn't have a problem with it why should anyone else?"
What else?
In 2014, Paquin told late legendary broadcaster Larry King in 2014 that just because she is married to a man doesn't mean her bisexuality is a "past-tense thing."
"Are you still straight if you're with somebody? Doesn't mean you're not, if you were to break up with them or you were to die. It doesn't prevent your sexuality from existing. It doesn't really work like that," she insisted.
In 2012, the actress told the now-defunct Zooey magazine that her sexuality is but a "minor biographical detail" but believes speaking up for members of the LGBTQIA+ community is vastly important.
"If you're going to talk about some cause in a way that's meaningful, you should identify why it means something to you," Paquin said at the time. "For a bisexual, it's not about gender. That's not the deciding factor for who they're attracted to."