Kai Brown is a 35-year-old single mom with two small children who wants to protect her family, the Cincinnati Enquirer reported.
So despite her fear of guns, Brown attended what may have been the largest women-only concealed carry certification classes in Ohio earlier this month, the paper said.
"It's my right to carry ... so I want to be able to," she noted to the Enquirer. "It's wonderful to be surrounded by many different women from many different walks of life. And we're all, you know, here to protect ourselves."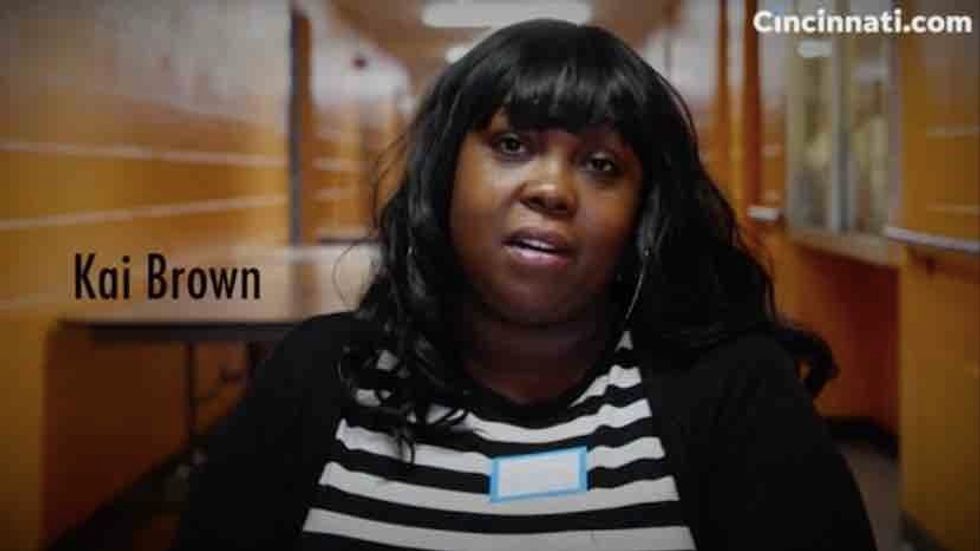 Image source: Cincinnati Enquirer video screenshot
The class took place in the basement of New Prospect Baptist Church, which holds one of the largest black congregations in Cincinnati, the paper noted.
But two Saturdays ago, it was home to 179 women firing .22-caliber handguns, the Enquirer said.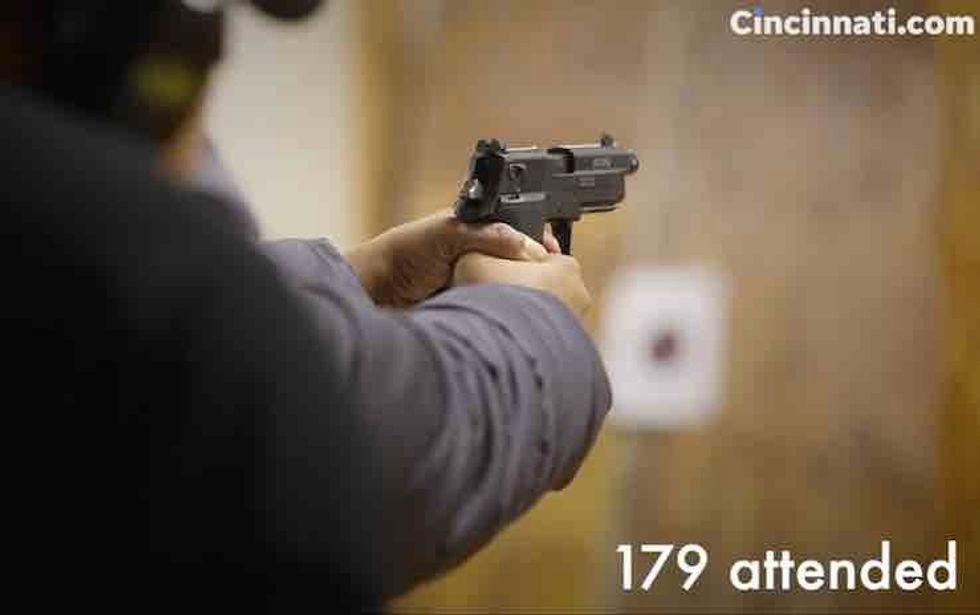 Image source: Cincinnati Enquirer video screenshot
The paper added that students repeatedly said they were tired of being afraid — of guns, of being home alone, of walking in some neighborhoods.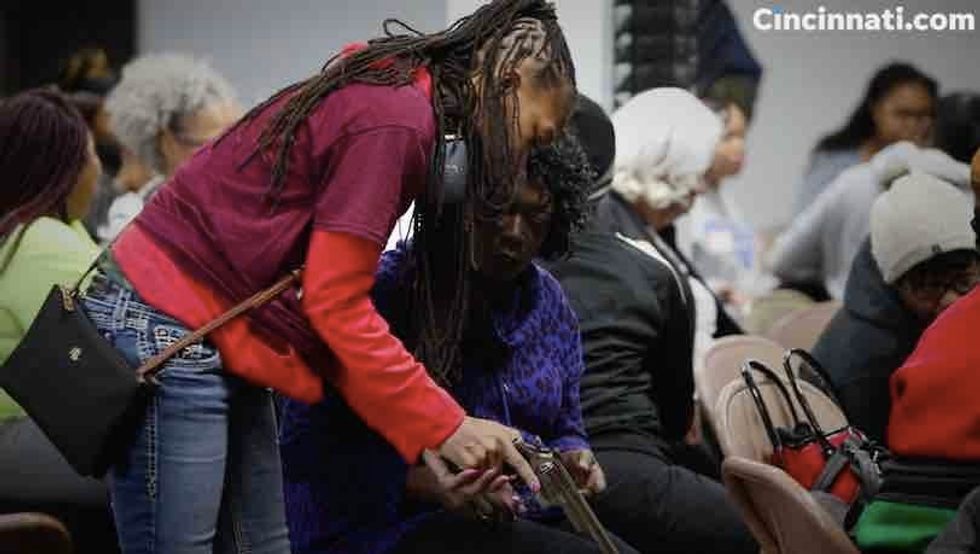 Image source: Cincinnati Enquirer video screenshot
For Brown, it appeared to be a struggle to just hear gunshots much less pulling the trigger herself — but the paper said her instructors were kind, encouraging, and helpful.
Finally, she took a deep breath — and fired.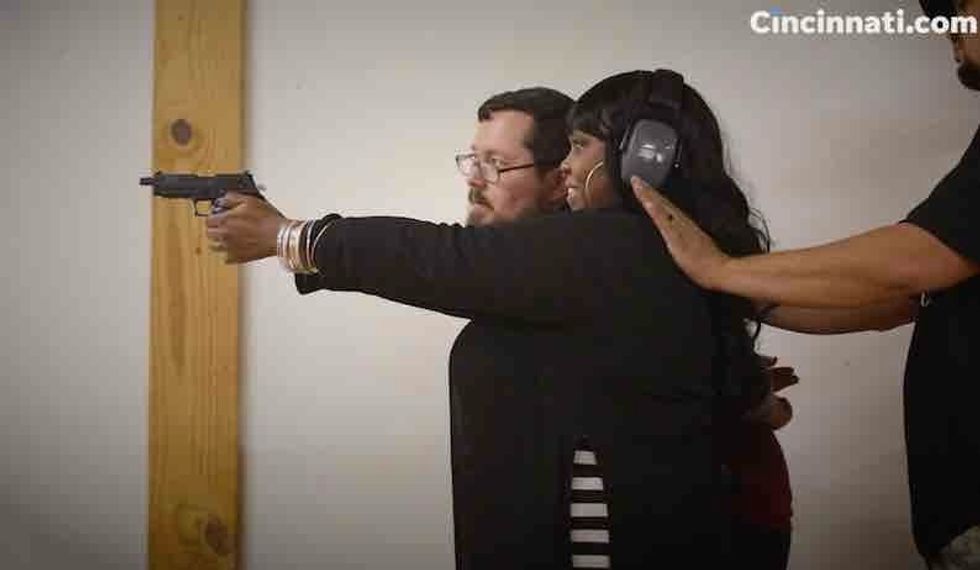 Image source: Cincinnati Enquirer video screenshot
"It's evident that that fear is still there," Brown told the Enquirer, adding that "you have to be prepared" due to the times we're living in.
What's the background?
The church's pastor, the Rev. Damon Lynch III, along with Cincinnati City Councilman Jeff Pastor — a Republican who appeared at the class with a T-shirt reading "All gun control is racist" — organized the class, the paper said.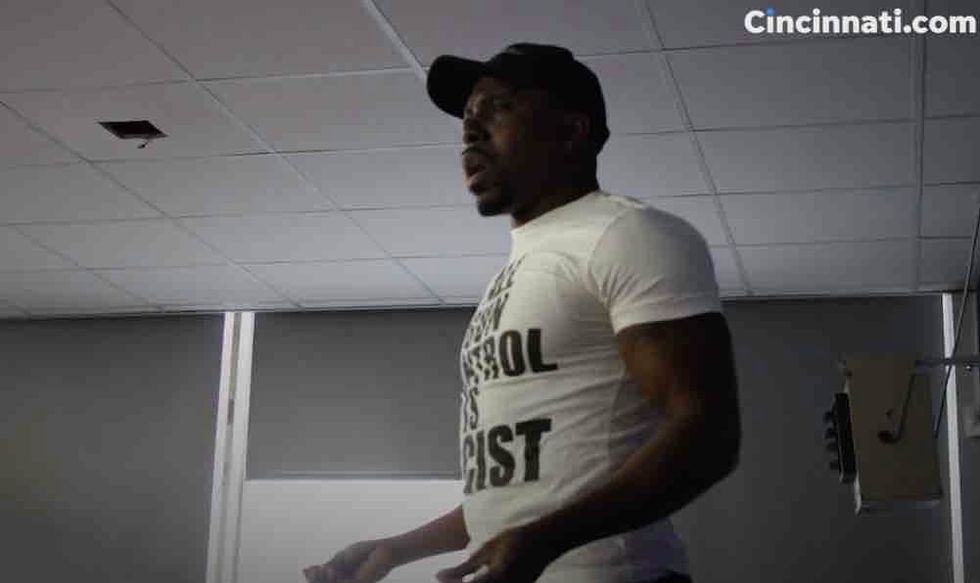 Image source: Cincinnati Enquirer video screenshot
Here's a clip of Jeff Pastor speaking to the class:

And after it was announced in early January, the CCW class sold out within a week, the Enquirer said.
More from the paper:
Two hundred women signed up. Despite an early morning snowfall that made driving treacherous, 179 women turned out for the class, all with varying comfort levels with guns. Some had never touched one. Others owned a gun, but wanted the license needed to carry it with them. Some came because their moms or sisters or friends suggested it.

The class was taught by certified CCW licensing firm Arm the Populace. It was an intense, nine-hour class, complete with a built-just-for-the class shooting range in an empty storage area above the church's community center.

Women paid $25 each to cover the cost of the space, cheaper than the typical $65 class fee.

Arm the Populace, a Cincinnati-based company that offers firearms and personal defense training, donated its time. It billed the class as the largest CCW class of all women ever in Ohio.

A spokesman for the Ohio Attorney General's Office, which keeps CCW records, said the office does not track class size, but from his experience, 179 women in a class could be the largest. The office does not keep CCW permit statistics by race.
The numbers
The Enquirer pointed to a 2017 Pew report on "America's complex relationship with guns" that found gun ownership varies quite a bit when race and gender is taken into account: About 39% of men said they own a gun as opposed to 22% of women, and while 36% of whites said they're gun owners, only about 25% of blacks and 15% of Hispanics said they own guns.
In addition, nearly half of the white men said they own a gun compared to about a quarter of white women and nonwhite men — and 16% of nonwhite women, the paper added, citing the report.
But at the church CCW class, 169 of the 179 attendees were black, the Enquirer said.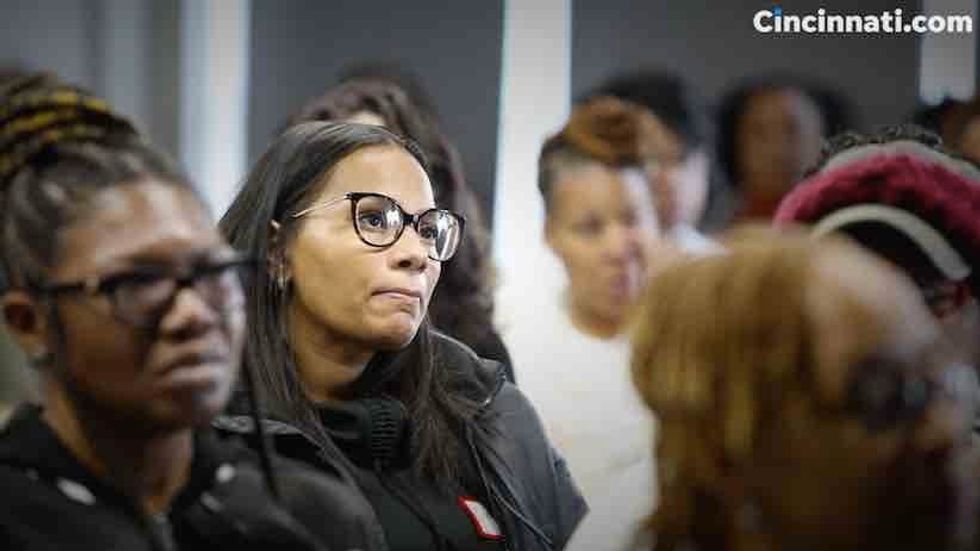 Image source: Cincinnati Enquirer video screenshot
Douglas Cooper, Arm the Populace's founder and chief instructor, started the class by saying that "the Second Amendment is for everyone," the paper noted.

Rev. Lynch agreed.
"I'm not a gun lover; I don't own any guns, but people have Second Amendment rights to own a gun," he told the Enquirer. "In the African American community, the conversation is usually about buying guns back. But if people are lawfully trained and learn how to be responsible, they will probably never use one. It sets them on a different course. As opposed to a person who gets a gun and thinks, 'I have to go shoot.'"

Which, Lynch added to the paper, is a "good thing."