In the wake of a viral video showing restaurant patrons in Vancouver, British Columbia, yelling at health inspectors to "get out!" as they delivered closure orders to the owner for COVID-19 violations earlier this month, yet another clip is getting attention showing the same scenario in another part of Canada.
What happened?
The clip shows a pair of Alcohol and Gaming Commission of Ontario agents — a man and a woman — speaking Saturday with a Simmering Kettle employee across a counter, Barrie Today reported.
Suddenly a male customer standing near the counter begins arguing with the male agent and saying he and his colleague are trespassing at the Barrie establishment.
"You can't prey on weak people, okay? And I'm not one of those people," the customer tells the agent, adding that "so, you listen to me: there is an unlawful order here ... leave! You're trespassing!" The customer then threatens to call police on the agents.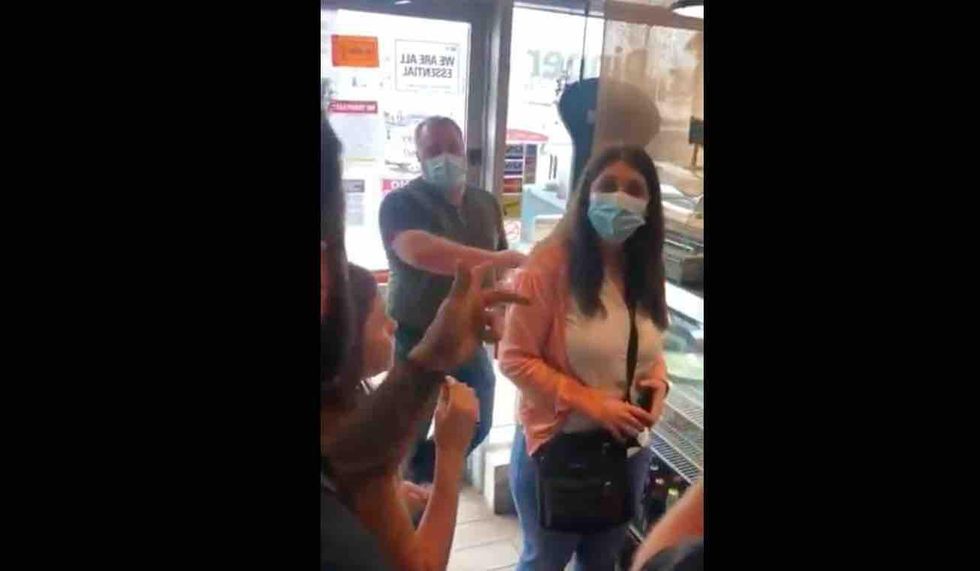 Image source: Twitter video screenshot via @ASmith89058723
As the male agent pleads his case, the customer tells him, "You're not welcome here." And with that, voices in the background pipe up and demand that the agents leave — and amid repeated shouts of "get out!" the agents comply.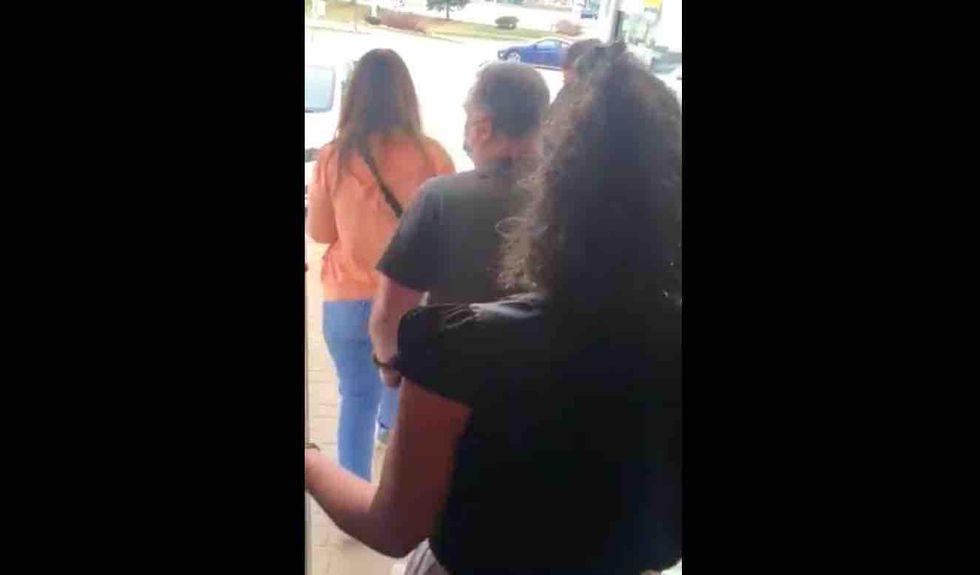 Image source: Twitter video screenshot via @ASmith89058723
Here's the clip:

So I took a drive to the simmering kettle in Barrie and enjoyed a great meal. While there, 2 agencies showed up to… https://t.co/bylGpXXJDV

— A Smith (@A Smith) 1618100946.0
What did the powers that be have to say?
The AGCO said in a news release that "compliance officials" indeed faced patrons who had "gathered and demanded that the COs leave the premises because they 'were trespassing'" and then after advising the restaurant that it was "failing to facilitate the inspection" the agents left "for their own safety," Barrie Today reported.
The Simmering Kettle has stayed open despite a provincial shutdown order, the outlet added, noting that owner Shalu Persaud has received a $1,125 fine and must appear in court June 4 for continuing to breach the provincial order.
Then on Tuesday, the AGCO announced it had "issued an order of interim suspension of the liquor license" at the Simmering Kettle "for reasons of public interest and safety," Barrie Today noted.
What did the restaurant owner have to say?
Persaud told the outlet that with all the attention her stay-open stance has received, she doesn't know half the people who come to her restaurant right now.
"We've had people from Windsor, Toronto, Caledon, everywhere, coming in to buy and support," she noted to the outlet. "Everyone is fed up with this and the whole world is ready for a change. This is about our freedom."
Persaud also told Barrie Today that "this is not about serving food or serving alcohol. It's about being able to breathe and walk and talk when you feel like it and not when someone dictates it to you."