Vancouver By-Law - Health-Inspectors, kicked out of restaurant by supportive customers.youtu.be
What are the details?
British Columbia last Monday ordered a three-week ban on indoor dining to combat a third wave of the COVID-19 virus, Global News said, adding that a business can be fined $2,300 while individuals can be fined $575 for non-compliance — and there's a separate fine for belligerent behavior related to enforcement of COVID-19 orders.
With that, a liquor coordinator and provincial health officers entered Corduroy Restaurant and issued a a full closure order Saturday, Vancouver police told the outlet.
And video apparently of that very same event showed officials — seemingly the only people wearing masks — in the restaurant laying down the law to owner Rebecca Matthews, Global News said.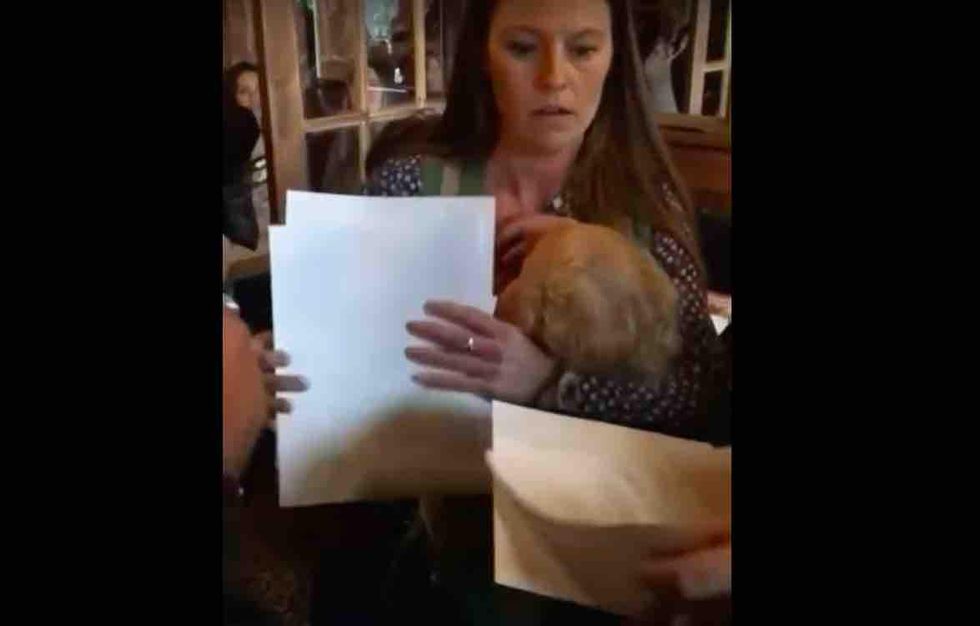 Image source: YouTube screenshot
Matthews tells the officials — who are handing her numerous papers — that they're trespassing on private property and that she doesn't recognize their jurisdiction, the outlet added.
Soon diners began their "Get out!" chant. Seconds later, one of the officials turned, raised his hand at a colleague as if to signal surrender, and they walked out the door.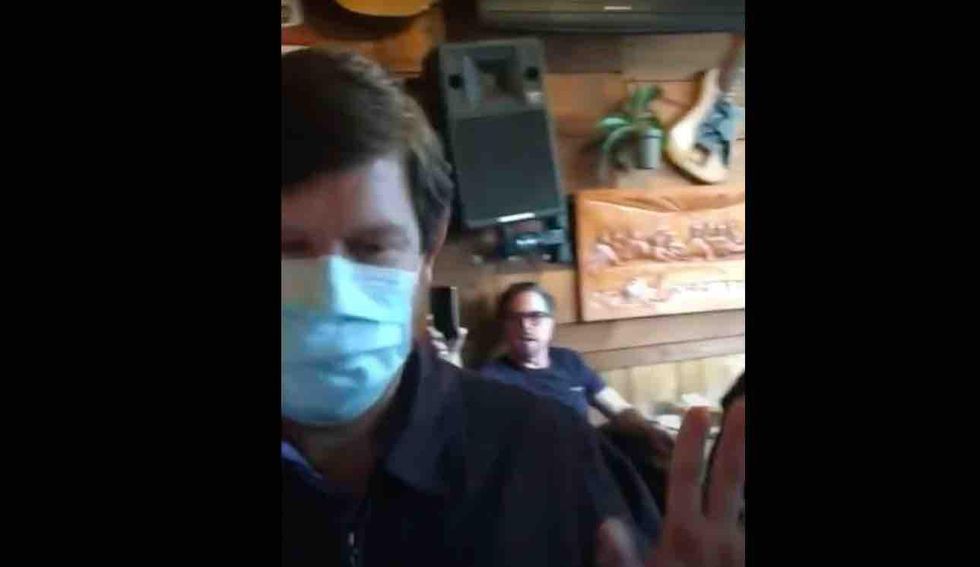 Image source: YouTube screenshot
Cheers and applause quickly followed.
Matthews told Global News she intends to continue defying the ban since she needs the income from her business to feed her family. She added that the province is unfairly targeting restaurants while allowing other businesses to stay open, the outlet noted.
Matthews added to Global News that she doesn't see a difference between indoor and outdoor dining. And during a "save small business" rally Friday, she questioned the reliability of COVID-19 testing and called for the end of restrictions she said were doing more harm than the virus, the outlet reported.
What do the powers that be have to say?
Vancouver Coastal Health told Global News that "any alleged violations of closure orders are taken very seriously and are thoroughly investigated."
Health Minister Adrian Dix added to the outlet that he's "frustrated with the behavior [at the restaurant]. No one misunderstands the rules. We are enforcing that closure order, and it is being enforced right now, and it will be enforced."
Public Safety Minister Mike Farnworth on Saturday called Corduroy Restaurant's non-compliance "disgraceful" and said besides receiving fines businesses also can have their liquor or business licenses pulled.
Here's another clip of the "Get out!" chant: