A Democrat lawmaker from Arizona was caught on video swiping Bibles from a state House lounge, after which she apparently hid them.
Say what?
KTVK-TV reported that the security team at the Arizona Capitol placed a camera in the House's members-only lounge to get to the bottom of how Bibles were vanishing.
Sure enough, they weren't just disappearing into the ether. Resulting video shows Democrat state Rep. Stephanie Stahl Hamilton pilfering two Bibles in just minutes, KTVK said.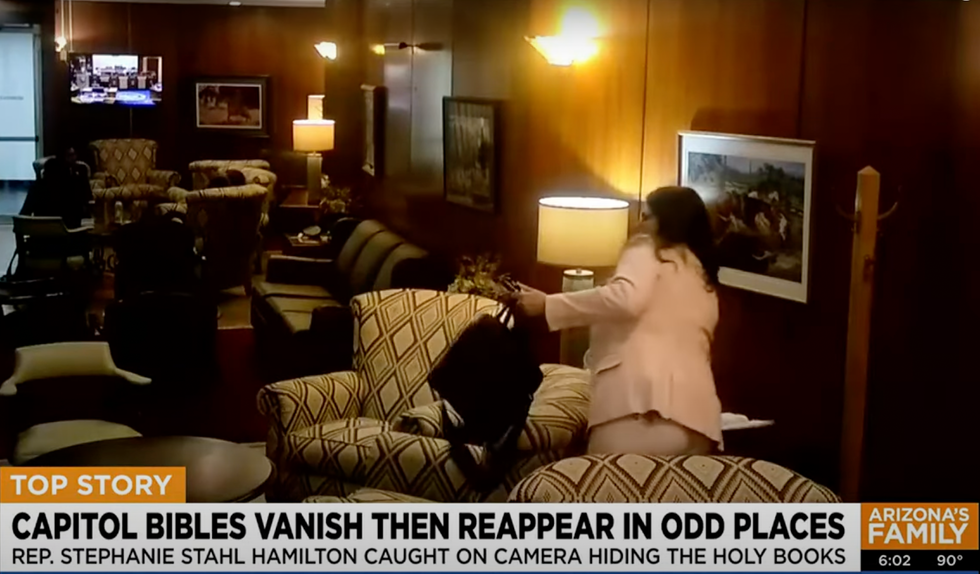 Image source: YouTube screenshot
The act didn't sit well with Republican Speaker Pro Tempore Travis Grantham, the station said.
"When I'm watching that, I'm thinking, 'Well, this is obviously someone who's got some purpose and some intent, and they know they're doing something bad,'" Grantham told KTVK.
They once were lost, then were found
The House's security team found one Bible "buried in the members-only lounge furniture," the station said. And the other? Believe it or not, KTVK said Good Book #2 was located in the "community refrigerator."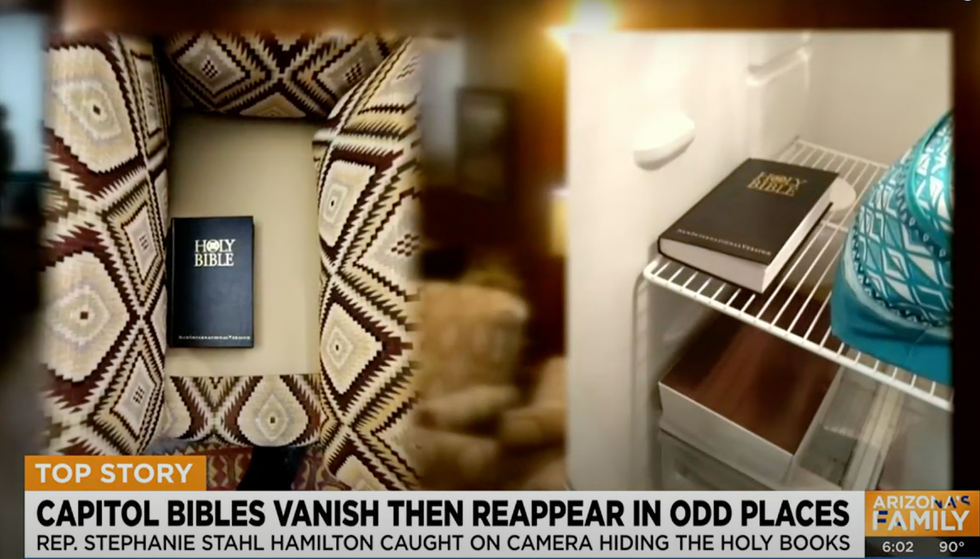 Image source: YouTube screenshot
Stonewall it!
The station said it tried to get a comment from Stahl Hamilton — but to no avail. So a KTVK reporter and camera operator confronted her for an explanation. But hilariously she walked away in a couple of different directions as though she were being quizzed on the contents of Hunter Biden's laptop: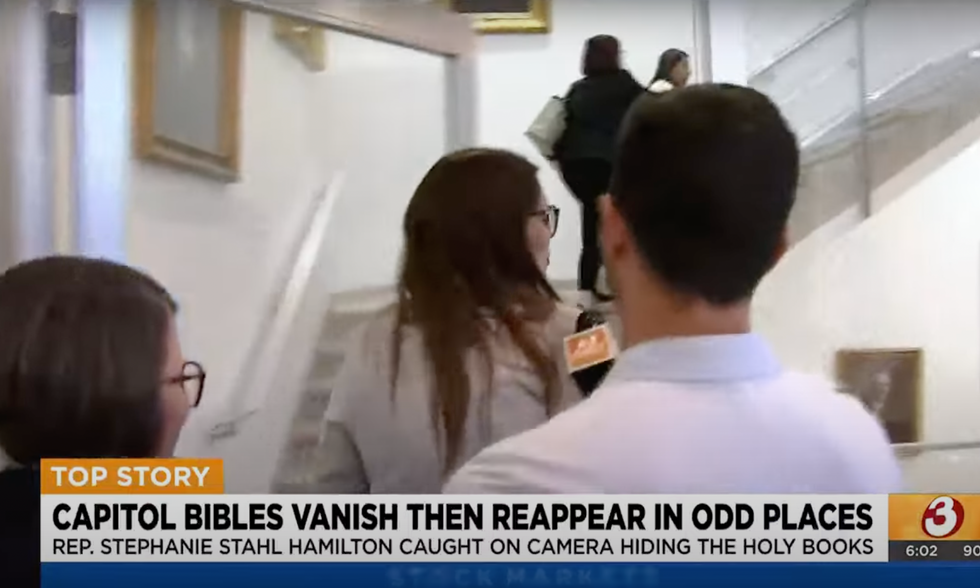 Image source: YouTube screenshot
It gets even better — or worse?
Turns out Stahl Hamilton is an ordained minister, KTVK said — which would seem to push this badly executed caper into even wackier territory.
"Just a little playful commentary on the separation of church and state," Stahl Hamilton finally said in a statement, the station added. "I am a Presbyterian minister so I obviously don't have a problem with the Bible."
Grantham still wasn't amused, telling KTVK, "For an ordained minister to do that, again, it's nonsensical. I have no clarity as to why it happened."
Sources said Stahl Hamilton made no complaint to leadership about the Bibles in the members-only lounge, the station reported.
Arizona Democrat minister lawmaker caught hiding Biblesyoutu.be
Like Blaze News? Bypass the censors, sign up for our newsletters, and get stories like this direct to your inbox. Sign up here!