© 2023 Blaze Media LLC. All rights reserved.
Box office bomb: Disney's 'Elemental' animated movie about xenophobia, featuring its first non-binary character, could be Pixar's worst-earning opening ever
The new animated movie "Elemental" is Disney's first film with a non-binary character. However, the children's movie is flopping at the box office in its opening weekend, and could be the lowest-earning Pixar movie in the studio's history.
The movie – which is rated for children ages 6 and up – "tackles" racism and xenophobia. The film also features Disney's first-ever non-binary character.
The plot of the movie is about humanized elements such as fire, water, earth, and air living in Element City. However, a romance is sparked between a fire element named Ember Lumen (voiced by Leah Lewis) and a water element named Wade Ripple (voiced by Mamoudou Athie). However, the elements are opposites and a relationship between the two could prove dangerous.
The Hollywood Reporter said of "Elemental," "A high-concept pitch that could only be rendered via dazzling state-of-the-art computer animation; a serious overarching theme about ethnic strife and racial tolerance; humor for both kids and adults, although this one is more geared toward the 10-and-under set; a plot that hits all the right beats at exactly the right time."
MovieWeb wrote, "Pixar's 'Elemental' addresses racism and xenophobia with spectacular CGI animation."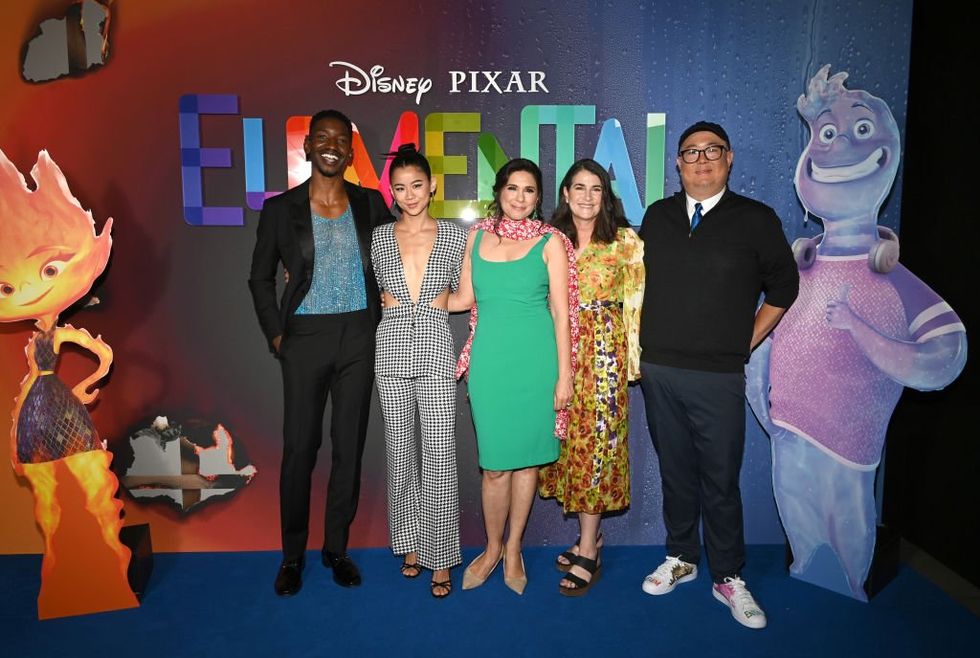 Kate Green/Getty Images for Walt Disney Studios Motion Pictures UK
USA Today notes that "Elemental" "does not shy away from the issue of racism," immigration, and xenophobia.
"Where Wade comes from a well-to-do aquatic clan that lives in a fancy high rise, Ember is an immigrant from the world of fire who is bent on honoring her parents by taking over their shop, which peddles things fire people would eat (that would be wood)," the article read.
"At one point in the movie, after Ember's father, Bernie, seems to recognize Wade, Ember says, 'Not all water people look alike,' an allusion to the sentiments that many ethnic groups can relate to when being stereotyped. In another scene, Ember is yelled at by Element City citizens who tell her they don't want fire people around," the outlet said.
"Elemental" directer Peter Sohn admitted that the movie had a bleaker tone, "I lost both my parents during the making of this movie, and I was angry at the world and that was starting to show."
Pixar chief creative officer Pete Docter reportedly had to confront Sohn over the discouraging and grim tone of the children's movie.
"The xenophobia aspect had become a loud piece in the movie, but in honoring my parents, it felt like the wrong thing," Sohn said. "The intent was to make something hopeful that focuses on something anyone can connect to, which is gratitude toward those people who sacrifice for you."
The movie features Disney's first-ever non-binary character – Lake Ripple (voiced by Ava Hauser).
The LGBTQ advocate website Pink News claimed, "Hauser's character Lake is Wade's younger sibling, and although they aren't a major protagonist in the story, their presence is a major win for non-binary representation."
"Elemental" is the 27th feature film from Pixar Animation Studios, but it also could be one of the most disappointing.
CNBC reported, "Disney's animation rut continued with the release of 'Elemental,' which is expected to have the second-lowest opening of any wide-released Pixar film in the studio's history. Estimates peg the film's debut at $29.5 million, just higher than the $29.1 million 'Toy Story,' Pixar's first-ever theatrical release, which opened in 1995."
ScreenRant noted, "Depending on where it falls, this could be the lowest-earning opening weekend Pixar has had since 'Toy Story's $29 million take in 1995. Even then, 'Toy Story's box office take has not been adjusted for inflation, making 'Elemental's box office figures even more disappointing."
Variety said, "But there's no sugar-coating the debut of 'Elemental,' which landed by far the worst start in modern history for Pixar, ranking below some of its more forgettable attempts like 2015's 'The Good Dinosaur' ($39 million) and 2020's "Onward" ($39 million)."
"Elemental" appears to be a box office bomb since the animated movie's budget is reportedly a staggering $200 million.
Like Blaze News? Bypass the censors, sign up for our newsletters, and get stories like this direct to your inbox. Sign up here!
Elemental | Official Trailerwww.youtube.com
Want to leave a tip?
We answer to you. Help keep our content free of advertisers and big tech censorship by leaving a tip today.
Paul Sacca is a staff writer for Blaze News.
Paul_Sacca
more stories
Sign up for the Blaze newsletter
By signing up, you agree to our
Privacy Policy
and
Terms of Use
, and agree to receive content that may sometimes include advertisements. You may opt out at any time.