If one were to compile a list of the groups most despised by left-wing media personalities, at the very top of it are religious conservatives, followed, in a very close second, by conservative minorities.
Though I was a Democrat for most of my youth, as an American of Cuban heritage, I'm intimately familiar with this bigotry. Cuban-Americans, along with Nicaraguans and Venezuelans, tend to vote more conservative than other Hispanics. Our reason for doing so is understandable: Our families fled socialist dictatorships in Latin America and far-left parties that dubbed themselves "progresistas."
Rather than respecting this decision, trying to understand it, or using the power of persuasion to change our minds, too often, the go-to method of the left is to disparage, ridicule, and shame conservative minorities into submission.
Univision anchor victim-shames anti-socialist Hispanics
This tactic was on full display on Sunday afternoon when Univision anchor Enrique Acevedo singled out Florida Hispanics who refuse to support Sen. Bernie Sanders' presidential campaign.
"Maybe the problem is not @BernieSanders, but voters in Florida and how they've been manipulated by politicians in Washington who really don't care about democracy and freedom in Cuba, Nicaragua or Venezuela," Acevedo replied to a tweet by anti-Trump GOP pundit Ana Navarro-Cardenas, who fretted about the impact that Sanders would have on down-ballot Democrats.
Maybe the problem is not @BernieSanders, but voters in Florida and how they've been manipulated by politicians in W… https://t.co/HLgv7Z2BfO

— Enrique Acevedo (@Enrique Acevedo) 1581887506.0
Acevedo's views on anti-socialist Hispanics are clear: He believes that Cuban, Nicaraguan, and Venezuelan Americans are easily manipulated rubes who are routinely duped by conservatives into voting against their own interests. While not a novel accusation, his comments are morally obtuse.
For anyone to say that the issue is not with the fact that Sanders has spent his entire adult life enamored with communist tyrants, but rather that the real "problem" lies with the survivors of those tyrannies, is reprehensible victim-shaming that our culture would not tolerate in any other setting.
While so-called progressives or "limousine leftists" (as a friend calls them) have a wellspring of sympathy for a variety of groups they deem as having been victimized by society, they have nothing but scorn for conservative Hispanics. The noble compassion that is extended to certain minorities is consistently denied to those who should be the most conspicuous to them: The victims of their ideological allies.
We will continue voting our values
None of this is new. As I have previously noted, the first time I heard Marco Rubio speak was at a Cuban American National Foundation luncheon in 2008, where he remarked that conservative exiles are the only ethnic minority that is politically correct for the media to mock and ridicule. This seemed true to me then, and it has become clearer over the years.
Maybe it's because most people who meet me cannot immediately discern that I am a Cuban-American — or more likely because our country has made immense progress on racial discrimination — but I have never experienced a hint of bigotry from the MAGA hat-wearing Republicans that Hillary Clinton disgracefully labeled "deplorables" and that Acevedo and others want Hispanics to fear. Instead, the conservatives I have encountered in barn-red rural communities across the country have been among the kindest people I have ever met.
In fact, the only times when my ethnic background has been used against me have been by leftist Twitter trolls who have called me a "gusano" (worm), Fidel Castro's preferred attack against those he deemed "enemies of the revolution." Yes, the same communist revolution that Bernie Sanders said made him "very excited," while people like my family were being kicked out of their country or executed. According to people like Enrique Acevedo, I guess we're just supposed to overlook Sanders' sordid sympathies and statist fantasies.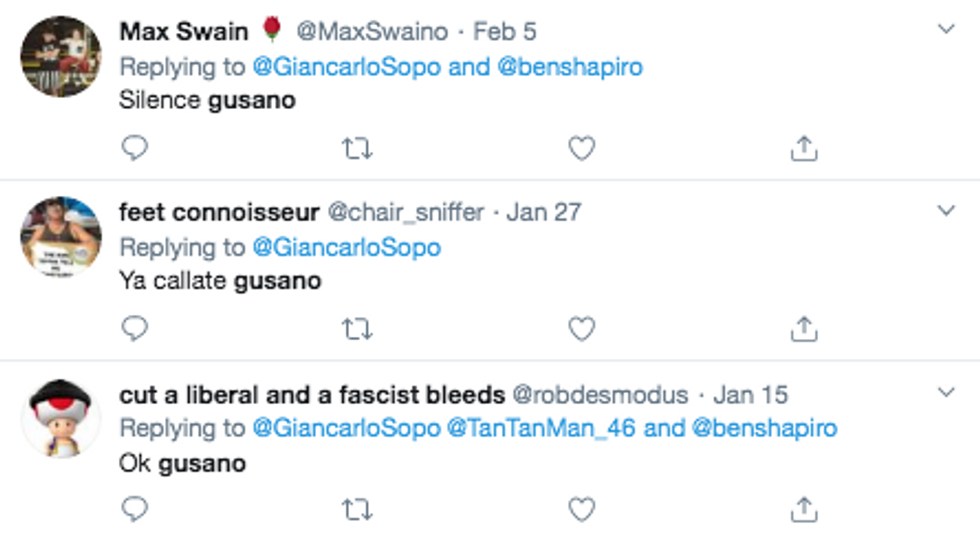 I have a better idea, Enrique.
People from my community, like-minded Americans, and I will continue disregarding the edicts of our self-appointed moral overlords and voting in accordance with our conscience. This includes doing everything we can to ensure that America does not elect a socialist in November, and yes, it also means that we will strongly support President Trump's re-election.
We will not be shamed for living out our values. Don't like the way we vote? ¡Jodete!