Plumes of black smoke billowed over an Ohio neighborhood Monday as crews released toxic chemicals from derailed train cars in danger of exploding, multiple outlets reported.
"You need to leave, you just need to leave. This is a matter of life and death," Gov. Mike DeWine (R-Ohio) said in a press conference earlier.

"Anyone who remains" in the impacted area faces "grave danger of death," according to a statement released by Governors Mike DeWine (R-Ohio) and Josh Shapiro (D-Pa.) Monday.
Officials in the area were "knocking on doors" urging people to leave in the days since the derailment. Those with children who refuse to leave, DeWine said at a press conference, would be "subject to arrest."
No injuries were reported in the derailment of the 50-car Norfolk Southern train last Friday, WTAE reported. The train, going from Madison, Illinois, to Conway, Pennsylvania, derailed near the Pennsylvania state line.

Ohio's and Pennsylvania's governors ordered an extension of the evacuation area Monday ahead of the controlled release, which officials estimated could burn for one to three hours.
DeWine, faced with "no good choices," opted for a controlled release of the chemicals and ordered an evacuation of an area one mile by two miles surrounding East Palestine, Ohio. The evacuation area includes both Ohio and Pennsylvania.
Vinyl chloride, the deadly chemical reportedly carried in five of the derailed train's cars, is unstable. If it were to explode, the ensuing disbursement of shrapnel and toxic fumes could be deadly.
"[The railroad] describes an explosion [with one or more of the cars] as potentially catastrophic," DeWine said in a press conference.
Vinyl chloride is potentially deadly if inhaled, making a controlled release risky as well.
"The controlled breach of several rail cars has been completed successfully under the supervision of experts and first responders,"
Norfolk Southern
said in an update. "We have been, and will continue, monitoring air quality with the Ohio EPA."
"The NTSB is the lead, federal investigative agency for this derailment," NTSB board member Michael Graham said at a media briefing Saturday.
The NTSB released footage of the smoldering wreckage, seen below.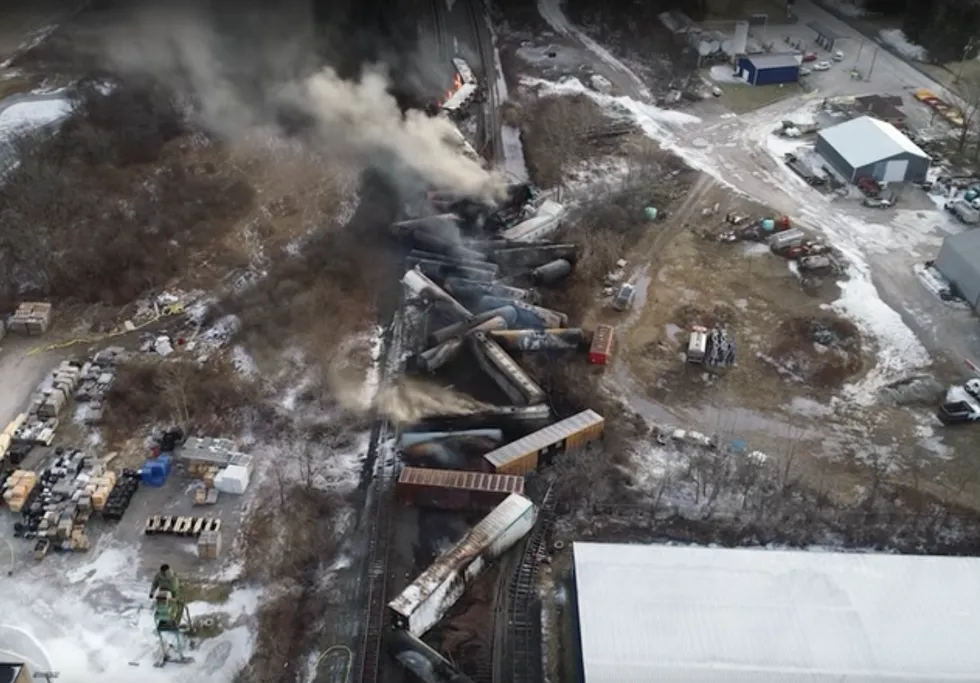 National Transportation Safety Board
"Our team methodically and systematically reviews all evidence and considers all potential factors to determine the probable cause and make any necessary safety recommendations."
Ohio's Emergency Management Agency continues to provide public updates on the situation.

Like Blaze News? Bypass the censors, sign up for our newsletters, and get stories like this direct to your inbox. Sign up here!