Shana Chappell — whose son, Marine Corps Lance Cpl. Kareem M. Nikoui, was killed in the terrorist attack at the Kabul airport — excoriated President Joe Biden in a Facebook post after meeting with Biden.
Chappell adds her name to the list of new Gold Star families who have harshly criticized Biden after learning their children died in the ISIS-K attack.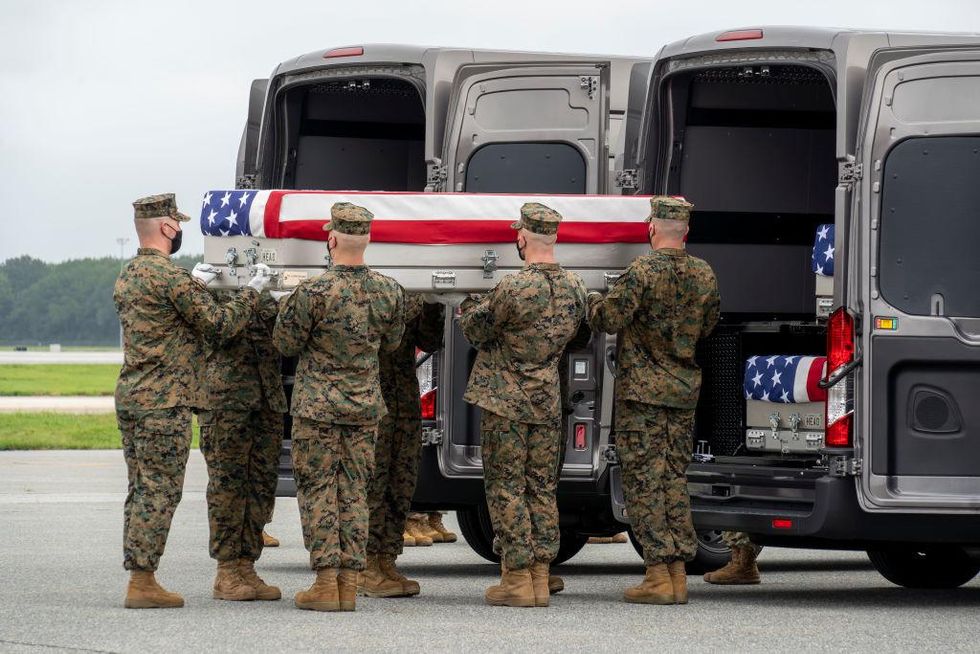 A U.S. Marine Corps carry team transfers the remains of Marine Corps Lance Cpl. Kareem M. Nikoui of Norco, California, on Sunday at Dover Air Force Base, Delaware. (Jason Minto/U.S. Air Force via Getty Images)
Chappell wrote on Facebook that while meeting with Biden on Sunday, the president allegedly rolled his eyes at her when she rebuffed his attempts to sympathize with her, and claimed Biden walked away from her when she expressed that she believed he was responsible for her son's death.

"Joe Biden This msg is for you! I know my face is etched into your brain! I was able to look you straight in the eyes yesterday and have words with you," Chappell began.
The grieving mother continued:
Remember i am the one who stood 5 inches from your face and was letting you know i would never get to hug my son again, hear his laugh and then you tried to interrupt me and give me your own sob story and i had to tell you "that this isn't about you so don't make it about you!!!" You then said you just wanted me to know that you know how i feel and i let you know that you don't know how i feel and you do not have the right to tell me you know how i feel! U then rolled your f***ing eyes in your head like you were annoyed with me and i let you know that the only reason i was talking to you was out of respect for my son and that was the only reason why, i then proceeded to tell you again how you took my son away from me and how i will never get to hug him, kiss him, laugh with him again etc… u turned to walk away and i let you know my sons blood was on your hands and you threw your hand up behind you as you walked away from me like you were saying " ok whatever!!!
Chappell called Biden a "weak human being," a "traitor," and said Biden turned his back on American service members.
"MY SONS BLOOD IS ON YOUR HANDS!!! All 13 of them, their blood is on your hands!!!!" Chappell wrote.
What have other families said?
The wife of fallen Marine Corps Lance Cpl. Rylee McCollum also said that Biden amplified their pain by not being respectful and only offering a "scripted and shallow" response to McCollum's death. She, too, claimed that Biden brought up his own family.
"You can't f*** up as bad as he did and say you're sorry," McCollum's sister, Roice, said afterward. "This did not need to happen, and every life is on his hands."
Two Gold Star fathers — Mark Schmitz and Darin Hoover — also bashed Biden for allegedly looking at his watch during the dignified transfer of the fallen U.S. service members at Dover Air Force Base on Sunday.
Hoover — who lost his son, Marine Staff Sgt. Taylor Hoover, in the terrorist attack — told Fox News host Sean Hannity that his family wanted nothing to do with Biden.
"We didn't want to deal with him," Hoover explained. "We didn't want him anywhere near us. We as a family decided that that was the way it was going to be."
Gold star fathers open up about the loss of their sons in Kabul attackwww.youtube.com