A grand jury refused to indict a woman charged with assaulting an 82-year-old pro-life activist outside Kentucky's only remaining abortion clinic, the Courier Journal reported.
Janaya Alyce Gregory, 32, was charged with second-degree felony assault after surveillance video showed her approaching Donna Durning outside EMW Women's Surgical Center April 12 and allegedly pushing her to the sidewalk. Durning was hospitalized with a broken leg that required surgery and rehabilitation.
What's the background?

During, a longtime anti-abortion activist, told the Courier Journal in a separate article she was at the clinic on the day of the incident as a part of the local "40 Days for Life" campaign involving her church.
From her hospital bed, Durning added to the paper she offered a crisis pregnancy card to a woman walking out of the clinic: "I said, 'Honey, if you ever need to talk to anyone, you can get help by calling this number."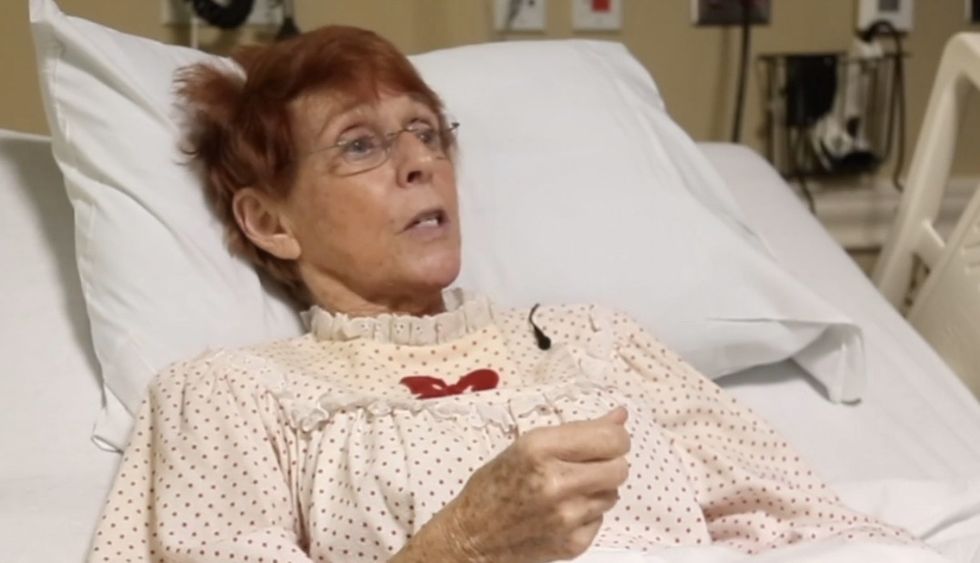 Image source: Courier Journal video screenshot
The woman initially ignored Durning but then "turned back around and charged at the victim, bumping [the] victim with her body and causing [the] victim to fall backward," the Courier Journal reported, citing the criminal complaint.
Surveillance video shows the woman walking toward a waiting car as Durning approached her on the sidewalk. After the woman reached the car, she turned around, walked toward Durning, and appears to make contact with the victim.
The woman then appears to push During backward to the ground.
Durning added to the paper that "she just absolutely glared at me. She grabbed me by both of my shoulders and ... pitched me across the sidewalk. I landed on my left side and my left arm and my head."
The video shows the woman getting into the car's passenger seat. While the car leaves the scene, the Courier Journal said one of the people with Durning took note of the car's license plate number, and police found the woman who is also the registered owner.
Here's the surveillance clip:
Woman seen on video pushing Kentucky abortion clinic protester charged with assaultyoutu.be
Gregory pleaded not guilty and was released on her own recognizance, the Courier Journal said, adding that a Louisville Metro Police detective reviewed video surveillance and compared it with Gregory's driver's license photo.
Black Lives Matter: Victim guilty of 'violence ... in the name of Christianity'
Following the grand jury's decision last week, Black Lives Matter Louisville issued a Facebook post accusing During of "violence ... in the name of Christianity" toward those "seeking services for their reproductive health."
More from BLM:
"We should call this what it is: another form of state sanctioned violence; domestic terrorism. Day after day, anti-choice protesters show up to intimidate and violate the bodies and space of people seeking reproductive healthcare at these clinics. Anti-choice protesters care so much, in the name of their God, that they'll use their body, hands, spit, signs and even loud speakers to prevent people from seeking services. This is violence. All the while, police are on hand and do nothing. Do absolutely nothing to visible intimidation and violent tactics."
"No one should protest folks receiving a medical procedure... including those receiving an abortion," Black Lives Matter Louisville added. "The procedure doesn't change that."

In addition, a "Janaya Gregory Legal Defense Fund" raised over $1,000 as of Tuesday and called Durning a "habitual anti-choice protestor" who "staged a fall while harassing" Gregory.
Anything else?
The Courier Journal said April's incident wasn't the first time Durning has faced such opposition: A 2017 video shows her being pushed to the ground while holding a sign that says "Ask to See Your Ultrasound," and a police spokesperson noted During's name was listed as a victim in a 2005 assault at EMW.
Here's an interview with During from her hospital bed after the April incident:
(H/T: LifeNews)