© 2023 Blaze Media LLC. All rights reserved.
Homeowner orders intruder to leave, but instead intruder starts moving toward homeowner — who opens fire 'after four, five, six' warnings: 'I had to stop him'
Mark Ream didn't have much of a choice.
The Sedalia, Missouri, homeowner told KMIZ-TV he and his wife and their 2-year-old child were sleeping Wednesday morning when his wife thought she heard a noise in their residence in the 600 block of East 17th Street.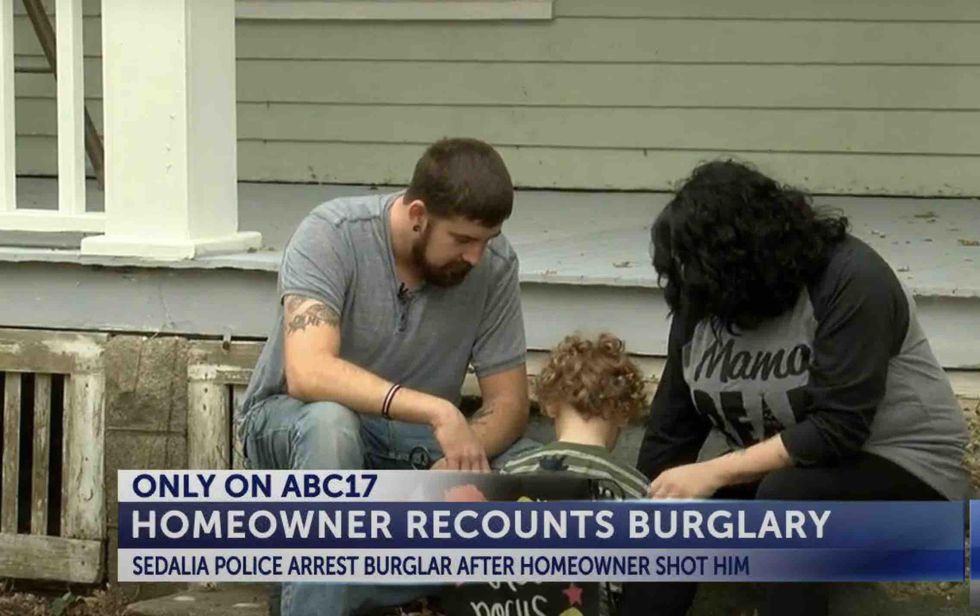 Image source: YouTube screenshot
"We heard footsteps," Ream recalled to the station. "She actually woke me up, and I went to investigate. I grabbed my pistol."
What happened next?
Ream told police he found the suspect — 52-year-old Daniel Schnack — in an enclosed back porch, KMIZ reported.
The homeowner said he told Schnack to leave the residence, the station said — but added that the suspect started to move toward him.
"He was standing back here, just kind of looking out the windows … and I opened the door and seen him and said, 'Hey, what are you doing on my porch?' and that's when he turned around and started walking toward me," Ream recalled to KMIZ.
Ream said he gave the intruder multiple warnings, but to no avail — so he finally pulled the trigger and shot Schnack once in the leg, after which the intruder took off, the station said.
"I didn't want to shoot him at all, but after four, five, six times of asking him to leave and him still coming at me and then getting as close as he did to the bedroom, I had to stop him," Ream told KMIZ.
What happened to the suspect?
Police found Schnack at Bothwell Regional Health Center, where he was being treated for non-life-threatening injuries, the station said.
Police noted to the station in a separate story that Schnack was charged with first-degree burglary and harassment in connection with the incident and was being held on a $50,000 bond.

What did police have to say about the homeowner?
Commander David Woolery with Sedalia police told KMIZ that homeowners have the right to protect their families: "From our investigation, from everything we've seen so far ... which is still open that the homeowner did what was reasonable to do, and we're not currently filing for charges on the homeowner."
Homeowner shoots burglary suspect in Pettis Countyyoutu.be
Want to leave a tip?
We answer to you. Help keep our content free of advertisers and big tech censorship by leaving a tip today.
Sr. Editor, News
Dave Urbanski is a senior editor for Blaze News.
DaveVUrbanski
more stories
Sign up for the Blaze newsletter
By signing up, you agree to our
Privacy Policy
and
Terms of Use
, and agree to receive content that may sometimes include advertisements. You may opt out at any time.