Meghan Markle has spent days being "upset and overwhelmed," refusing to watch the entirety of a "South Park" episode that mocks her and her husband, Prince Harry, according to the Spectator.
The episode of the cartoon called "The Worldwide Privacy Tour" mocks the couple's claims of victimhood and wanting to be left alone by showing them in many cases with signs that say "stop looking at us" and "we want our privacy."
According to the Spectator, Markle and the prince are so bothered by their portrayals that they have been "taking it out on each other."
As well, the outlet's sources claim that Markle "is annoyed by 'South Park' but refuses to watch it all."
While Markle is not named in the episode, the often-parodied royal family are again referred to as "Canadian royalty" and in this case "the prince and his wife."
A clip from the show depicts the characters going on a talk show, chanting "we want our privacy" as they make their way onto the stage. The host suggests that the prince's "Instagram-loving" wife doesn't actually want privacy, which sends the prince into a tirade.
In another scene, the royal couple have moved into a house in town, which is covered in banners that say "leave us alone" and "respect our privacy."
After noticing the house, Kyle, who lives across the street, tries to convince himself to ignore it and says "I don't care" before going inside.
Peering from her window, the wife shouts, "He victimized me! ... It's because I'm an ethnic woman!"
"He can't do that!" the prince screams before saying, "Wait, you're ethnic?"
Also, in attempt to change their "brand," the pair get get profiles at an ad agency, where the prince's wife is labeled as "Sorority Girl. Actress. Influencer. Victim."
Image courtesy Fox News / Comedy Central
The "South Park" creators have poked fun at the royal family many times, including the marriage of Prince William in 2011 with the episode called "Royal Pudding." In the episode, the cartoon mocks royal wedding traditions, inserting its own such as "the prince putting his arms into a large bowl of butterscotch pudding, the princess scraping them clean and smearing the pudding on her own face."
Like Blaze News? Bypass the censors, sign up for our newsletters, and get stories like this direct to your inbox. Sign up here!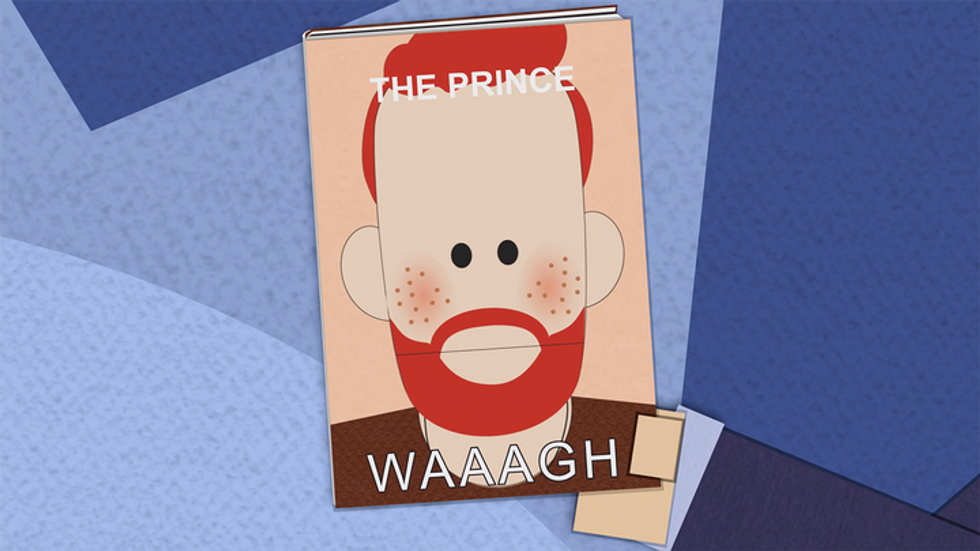 Image courtesy Fox News / Comedy Central