© 2023 Blaze Media LLC. All rights reserved.
Mood of Instagram star Meatball dramatically shifts after her arrest; Philly cops say they got word she livestreamed 'what stores and what locations to loot'
Instagram star Dayjia Blackwell — aka "Meatball" — was full of smiles, laughter, and bluster when night fell Tuesday.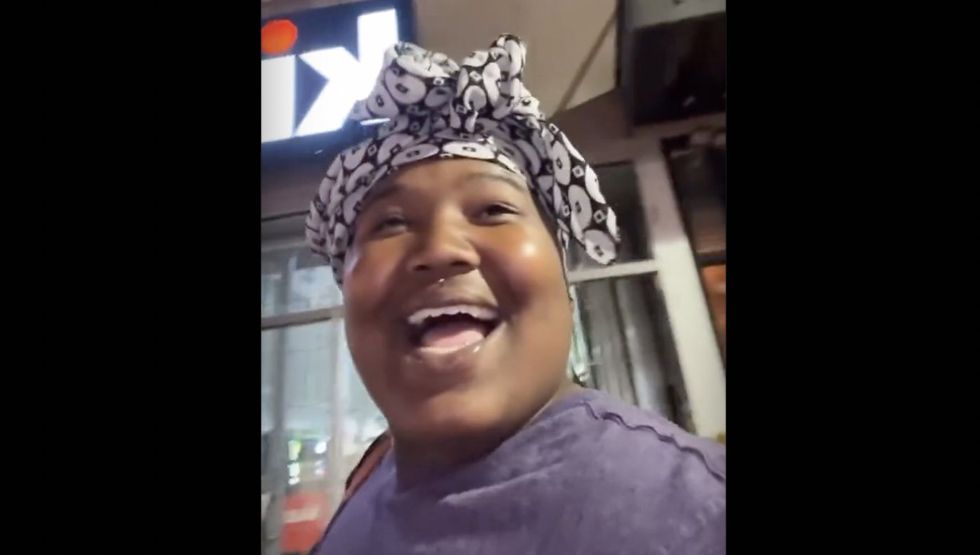 Image source: Instagram video screenshot via @OffTopicShow2
Looting was underway in Philadelphia, and Blackwell was on the streets, livestreaming it and reacting to it.
Who can forget her war cry that "everybody must eat!" as a crowd looted a business behind her? Except it wasn't a supermarket suffering a break-in; it was a liquor store.
Content warning: language:
You see, earlier Tuesday, a judge dropped all charges against a city police officer who fatally shot 27-year-old Eddie Irizarry during an August traffic stop, and Blackwell apparently was keyed up.

"What we doing tonight behind this injustice tap in?" she wrote on Instagram, the Philadelphia Inquirer reported. Blackwell, 21, boasts an Instagram follower count now climbing toward 200,000.
The paper said that after a peaceful downtown protest ended around 7:30 p.m., Blackwell was in Center City with other young people and asked, "What store we going at first, y'all?" The Inquirer said someone replied, "Apple Store."
Police told the paper that Blackwell went to seven locations where looting took place. Cops on Thursday added to TheBlaze that they received information that Blackwell was livestreaming "on social media what stores and what locations to loot."
The following tweet contains a large number of Blackwell's videos showing the looting and her reactions to it:
Police added to TheBlaze that Blackwell "gave various locations throughout the city while inside her red Pontiac. Officers observed the red Pontiac at a gas station on the 5600 block of Rising Sun Ave. with the female that officers observed on social media sitting inside the car."
What happened next also was captured on video, courtesy of WTXF-TV's Steve Keeley. (Content warning: language):
Police told TheBlaze that Blackwell was placed into custody and charged with criminal conspiracy, burglary, criminal trespass, criminal mischief, riot, use of communication facility, theft-[receipt of stolen property], and disorderly conduct. The Inquirer said she was among 52 people arrested.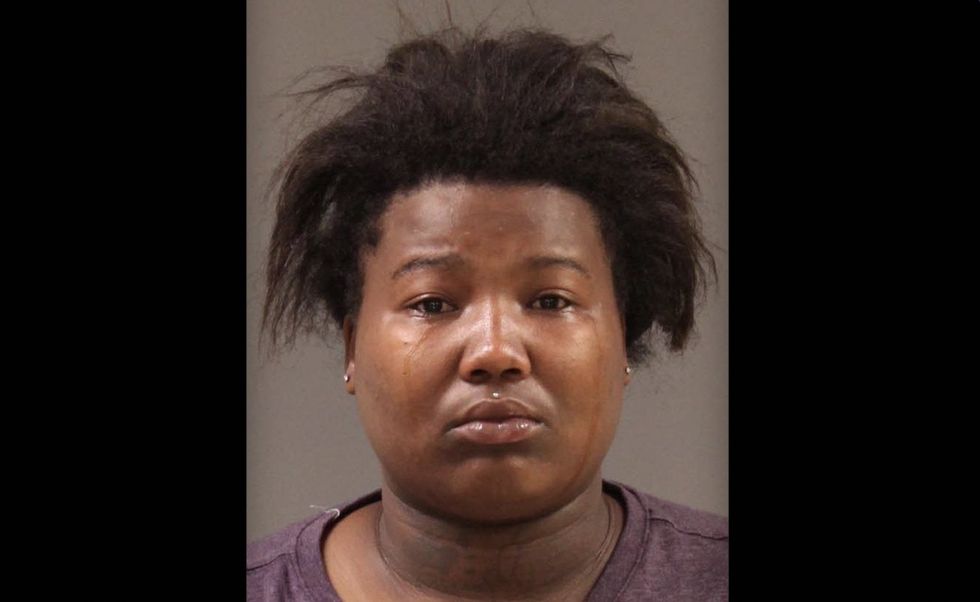 Image source: Philadelphia police
WTXF-TV reported that Blackwell was arraigned early Thursday morning and that her bail was set at $25,000.
A man who answered at Blackwell's Olney address said he had no comment about the arrest, WTXF said, adding that police indicated her social media streams and others like it will be used to identify more suspects.
Based on Blackwell's latest Instagram videos, it appears that Blackwell has been released.
Anything else?
Acting Police Commissioner John Stanford told the Inquirer in an earlier story that the looting "had nothing to do with the protests" for Irizarry: "What we had tonight was a bunch of criminal opportunists take advantage of a situation and try to destroy our city."
"It's disgusting," Stanford added to the paper. "Our city can't afford this nonsense."
The Inquirer also noted that on Wednesday, a woman who said she was Blackwell's mother went on Instagram herself and promoted hats that Blackwell sells on her page.
"Going to get my kid," she posted on her Instagram story, the paper said, which was followed by, "Beanies for sale $50. Free meatball."
Woman accused of encouraging Philadelphia looters live on social media among 52 arrestedyoutu.be
Like Blaze News? Bypass the censors, sign up for our newsletters, and get stories like this direct to your inbox. Sign up here!
Want to leave a tip?
We answer to you. Help keep our content free of advertisers and big tech censorship by leaving a tip today.
Sr. Editor, News
Dave Urbanski is a senior editor for Blaze News.
DaveVUrbanski
more stories
Sign up for the Blaze newsletter
By signing up, you agree to our
Privacy Policy
and
Terms of Use
, and agree to receive content that may sometimes include advertisements. You may opt out at any time.