House Speaker-designate Nancy Pelosi said Thursday she told President Donald Trump she prayed for him, NBC News reported.
"I did tell the president that I prayed for him," Pelosi said at her Capitol news conference in reference to her contentious Oval Office meeting Tuesday with Trump and Senate Minority Leader Chuck Schumer (D-N.Y.), the network added.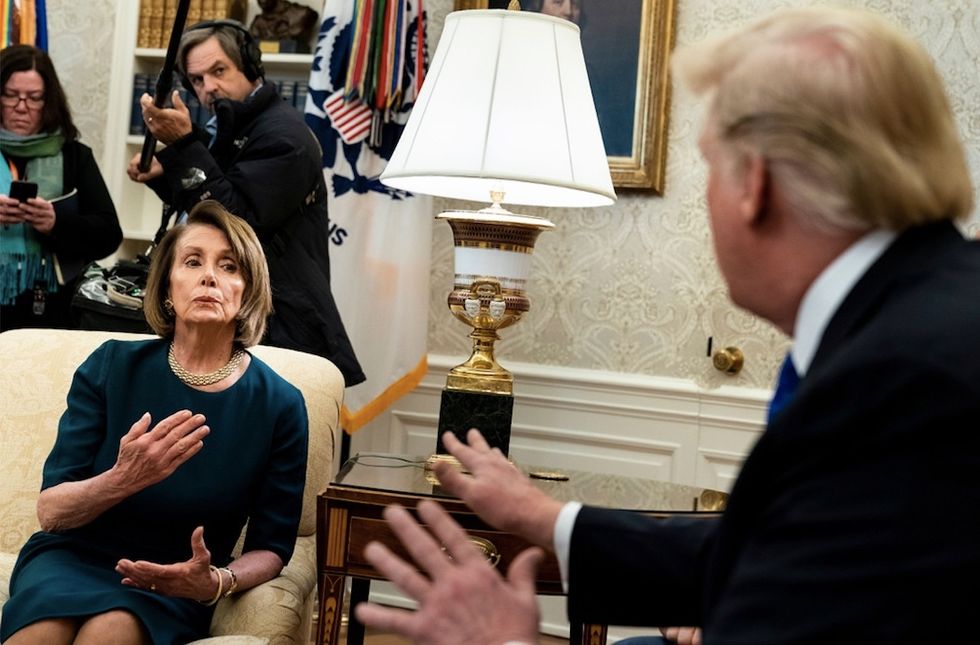 Presumptive Speaker, House Minority Leader Nancy Pelosi (D-Calif.) and President Donald Trump argue before a meeting Tuesday at the White House in Washington, D.C.RENDAN SMIALOWSKI/AFP/Getty Images
And what was Trump's reaction to Pelosi? According to the California Democrat, it was pure Trump.

"He said, 'That's news! Go tell the press.' So I am," she added to reporters.
Pelosi also said she prays Trump will "resist" a government shutdown. During the Oval Office meeting, Trump said he'd take responsibility for a shutdown if his border wall isn't funded.
'I told [Trump] about Solomon, King Solomon'
After the meeting, Pelosi said she spoke about the closed-door portion to reporters, NBC News said.
"I myself thought we would open the meeting with a prayer, which I did once we privately had the meeting outside the press — if you call that private because there were many people in the room," she said, according to the network.
"I told [Trump] about Solomon, King Solomon, when he was to become King of the Jews he prayed to God and said, 'How can I ever follow King David, King David, King of the Jews? I need you to give me great understanding and wisdom, Lord,'" Pelosi added, NBC News said. "And after he prayed and prayed and prayed, a guy came to him and said, 'Solomon, because you did not ask for longevity, great wealth, or vengeance against your enemy, I will give you more wisdom than anyone has ever had — the wisdom of Solomon.'"
Anything else?
Pelosi has noted before that she prayed for Trump, the network said, after his 2016 election to office and repeated the assertion in 2017.
Speaking of prayer, Pelosi last year met with the Dalai Lama at his temple in Dharmsala, India, and said the exiled Tibetan spiritual leader "prayed for me that I would rid myself of my negative attitude about dwelling on the negative too much."
Pelosi has called herself "a devout, practicing Catholic," yet her staunch pro-choice position on abortion stands in opposition to the church.