As TheBlaze previously reported, New York City's far-left Mayor Bill de Blasio blasted President Donald Trump's response to the coronavirus, telling Chuck Todd on NBC's "Meet the Press" Sunday that Trump — a New Yorker himself — "will not lift a finger to help his hometown."
"I can't be blunt enough," de Blasio added, in reference to getting ventilators from the federal government. "If the president doesn't act, people will die who could have lived otherwise."
As of Tuesday afternoon, there were 17,856 confirmed COVID-19 cases in New York City — about 32% of all cases nationwide. Nearly 200 New York City residents have died from the pandemic so far.
Hold on, there, Bill
But a tweet de Blasio posted a little over three weeks ago is, shall we say, not aging too well: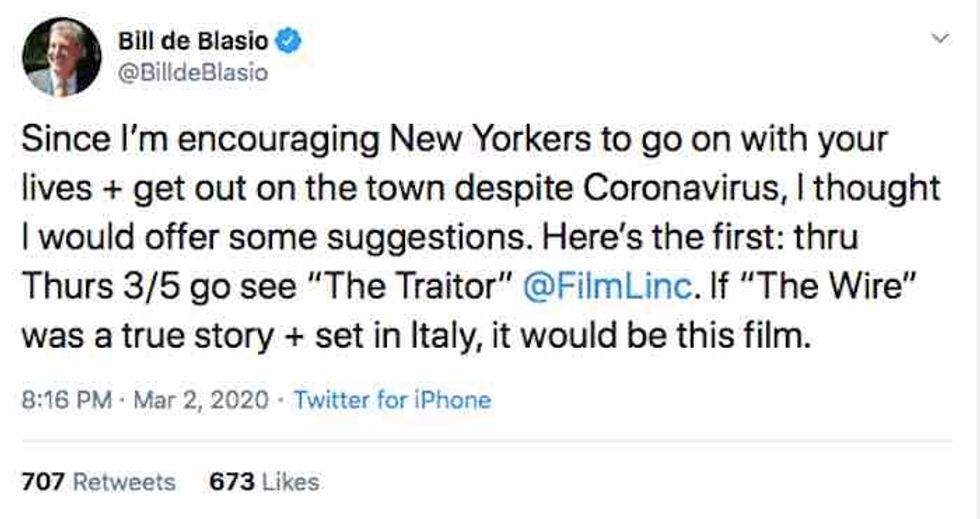 Image source: Twitter
"Since I'm encouraging New Yorkers to go on with your lives + get out on the town despite Coronavirus, I thought I would offer some suggestions," the mayor tweeted March 2. "Here's the first: thru Thurs 3/5 go see 'The Traitor' ... If 'The Wire' was [sic] a true story + set in Italy, it would be this film."
The day before de Blasio's tweet, the city confirmed its first coronavirus case, with de Blasio commenting that "from the beginning, we have said it was a matter of when, not if there would be a positive case of coronavirus in New York. Now our first case has been confirmed." He also said in a statement that health officials have been "in a state of high alert for weeks."
On Monday, the White House's coronavirus response coordinator, Dr. Deborah Birx, said the coronavirus "attack rate" in New York City is five times higher than in other areas of the country, The Hill reported, and that 28% of those in the city tested positive for COVID-19 compared to 8% in the rest of the America.
"Clearly the virus had been circulating there for a number of weeks to have this level of penetrance into the general community," she said.
On Tuesday, the White House announced that all visitors who recently left New York City are to self-quarantine for two weeks in order to control the coronavirus spread.
How are observers reacting to his March 2 post?
As you might guess, commenters on de Blasio's tweet were not very kind to the mayor:
"I wonder how many cases of #coronavirus the expert virologists from @seattleflustudy can trace back to this excellent advice from New York City Mayor using virus genome sequencing."
"At this point it was over a month after Trump stopped travel and de Blasio still hadn't ordered any supplies or organized efforts, so forgive me if I don't want to listen to him blame Trump."

"No wonder New York City is the USA's

#WuhanVirus

repository;

@NYCMayor

@BilldeBlasio

TOLD people to spread the virus!"
"And yet...Orange Man Bad."
"Yet NYC's problems are some how @realDonaldTrump fault. Uh huh."
"You are absolutely irresponsible, derelict in your duty, and unfit to be mayor."
"How can de Blasio sink lower? Abandon his responsibilities as Mayor of NYC, blame Feds for his lack of leadership, and turn himself into Siskel & Ebert."
Anything else?
De Blasio has been having a rough time on the job since his tweet. The city's teachers almost went on strike in the form of a "sickout" because de Blasio wouldn't close schools, the Washington Examiner reported, adding that Democratic New York Gov. Andrew Cuomo stepped in March 15 to override the mayor's decision to keep schools open.
In addition, de Blasio was harshly criticized last week for visiting a gym the morning after they were closed across the state due to the coronavirus outbreak.
In a statement, the mayor's office said de Blasio hit the gym "one last time" to keep him "grounded" — behavior that health officials warn will further spread COVID-19.