During a Coronavirus Task Force press briefing Tuesday, President Donald Trump took a question from Chief White House correspondent Jonathan Karl of ABC News, who pointed out that Trump "lashed out" at a Democratic leader almost every day since his address to the nation last Wednesday about the pandemic:
Mr. President, I want to bring up what you referred to just a short while ago about politics. In your address to the nation, you said we have to put politics aside, stop the partisanship, and unify together. But this morning you criticized the Democratic governor of Michigan. Yesterday it was the Democratic governor of New York. You've attacked [former Democratic President Barack] Obama, you've attacked [Democratic presidential front-runner Joe] Biden. In fact, every day except one since that address, you've lashed out at a Democratic leader. Are you going to set the example on this?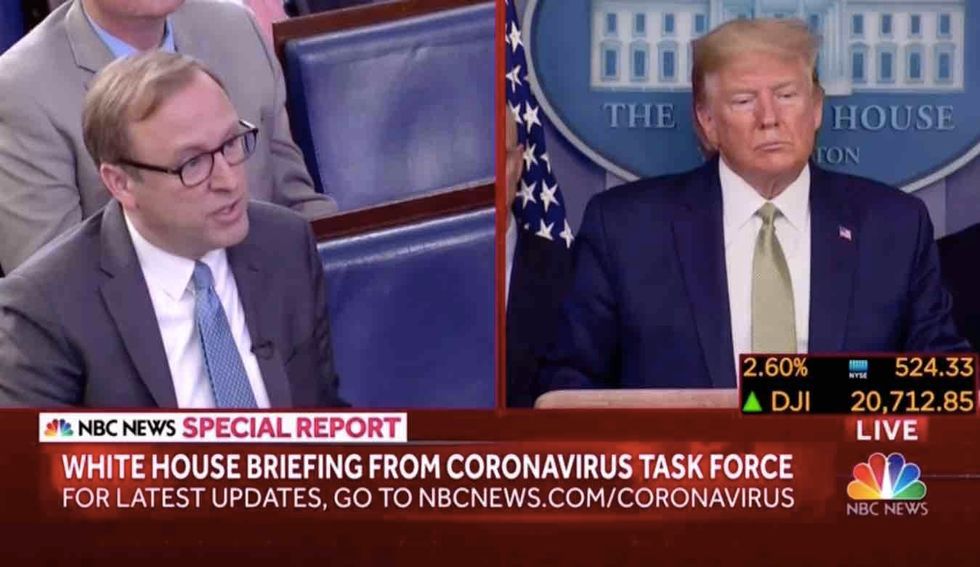 Image source: MRC-TV video screenshot
Trump did not tiptoe around Karl's query:

I only do that when I have to respond. I watched [Michigan Gov. Gretchen Whitmer] on television, she said something that was false, and therefore, I did do that. And I will continue to do that if they're not gonna play fair, because you know, they have the media on their side. I don't. I just have me. And if they're not gonna play fair, I'm gonna do that. If they are gonna play fair, there's gonna be nobody —
Karl tried to cut off the president's answer, but as we've seen many times before, Trump doesn't take interruptions lying down and kept right on with his response::
There's gonna be nobody better than Donald Trump in terms of bipartisanship. But if they're going to say things that are false, like the story that was written yesterday. A lot of people — I don't know, somebody, I think I know who — but they taped a conference call that I had with the governors. It was a good call; it was fine. I assume somebody's going to tape it. They handed it to various people, one of whom was the New York Times, and the New York Times chose to write totally inaccurately about it. It was a disgraceful thing; it was bad journalism. But you know, they do a lot of bad journalism, but we respond to that. And actually people get it, people get it. No, I want it to be bipartisan, and nobody's gonna be better than me. But when they attack me or the people — these incredible people behind me — I'm not gonna let them get away with that.
The Times' story Trump referred to in his answer indicated he "told a group of governors they should not wait for the federal government to fill the growing demand for respirators needed to help people diagnosed with coronavirus."
"Respirators, ventilators, all of the equipment — try getting it yourselves," the paper said Trump told governors during a conference call, a recording of which the Times said it received.
"The suggestion surprised some of the governors, who have been scrambling to contain the outbreak and looking to the federal government for help with equipment, personnel and financial aid," the Times added.
But according to the Washington Examiner, the president followed up that quote with a clarification that the White House would help governors with the effort to obtain medical equipment: "We will be backing you, but try getting it yourselves. Point of sales, much better, much more direct if you can get it yourself."
Trump also called out the Times on Twitter for misrepresenting him. The Times story as of Wednesday doesn't include the latter follow-up quote from Trump.
(H/T: Red State; NewsBusters)