The Notre Dame Cathedral in Paris, France caught on fire Monday. The extent of the damage is not known at this point, but videos taken from bystanders show substantial flames and large plumes of smoke rising from the roof of the building.
Here's what we know
Construction on the historic Catholic church started in 1163 and the edifice was slowly completed over the next couple centuries. Recently, it had been undergoing some much-needed restoration work. Just a few days prior to this, 16 bronze statues from the roof of the cathedral were removed and transported to be restored.
The BBC reported that fire fighters in Paris believe that the fire could be somehow linked to this work. Reuters, citing France 2 television, reported that authorities believe it was an accident.
The spire of the cathedral has fallen, and France 24 reported that the "roof has entirely collapsed" as well.
Reuters reported that no one has been injured in the blaze. This is Holy Week for Catholics, so Catholic churches would typically have more activity than usual, particularly iconic ones like Notre Dame, in addition to the usual tourist activity.
According to Axios, Notre Dame spokesperson Andrew Finot has told the media "Everything is burning, nothing will remain from the frame."
The fire has also spread to one of the cathedral's square towers.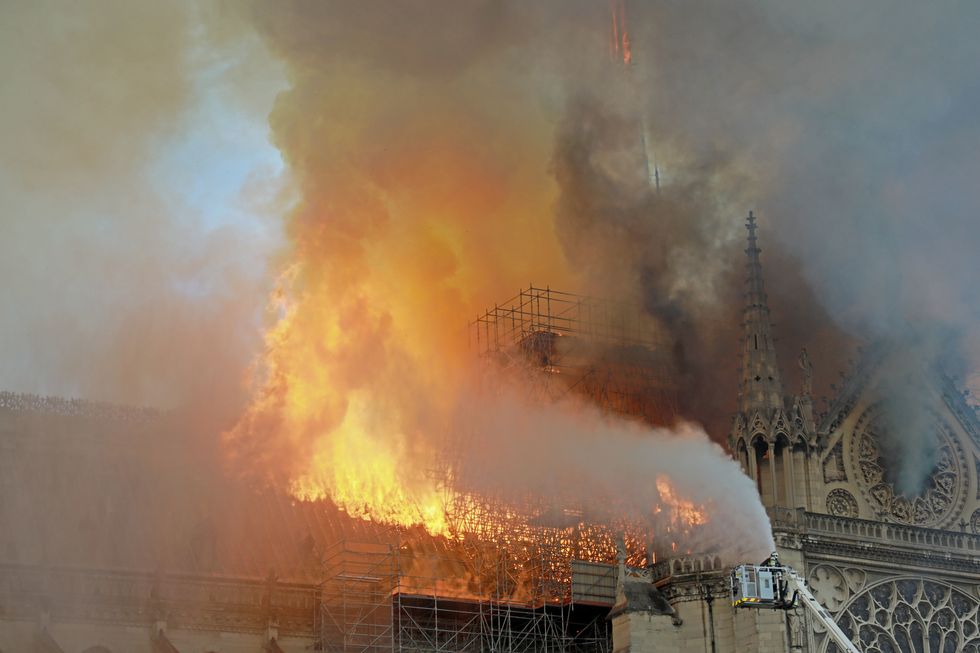 (ready) Firefighters scale scaffolding at burning Notre Dame Cathedral to fight the flames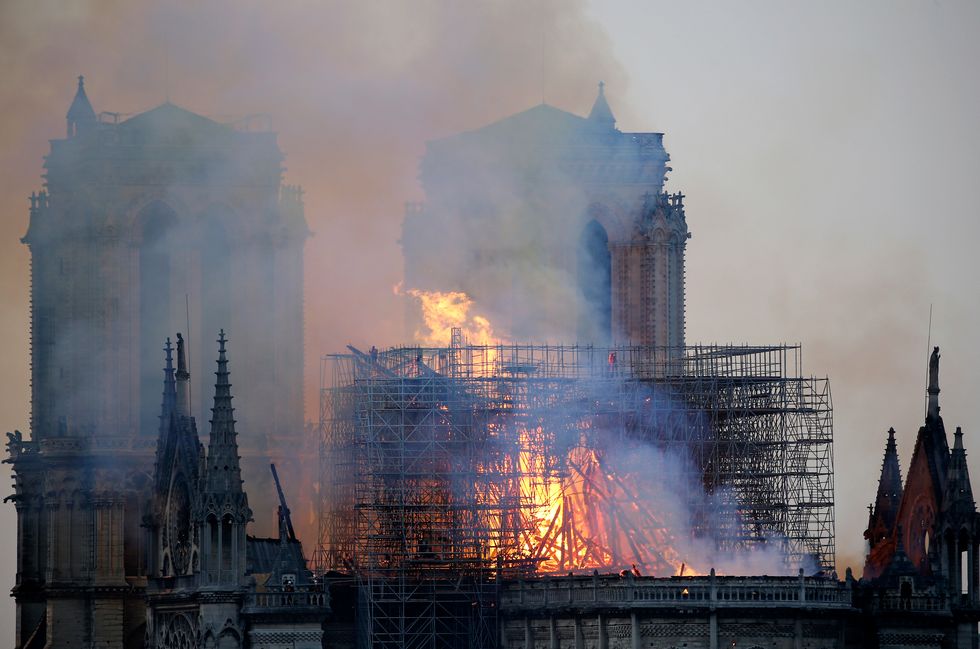 Chesnot/Getty Images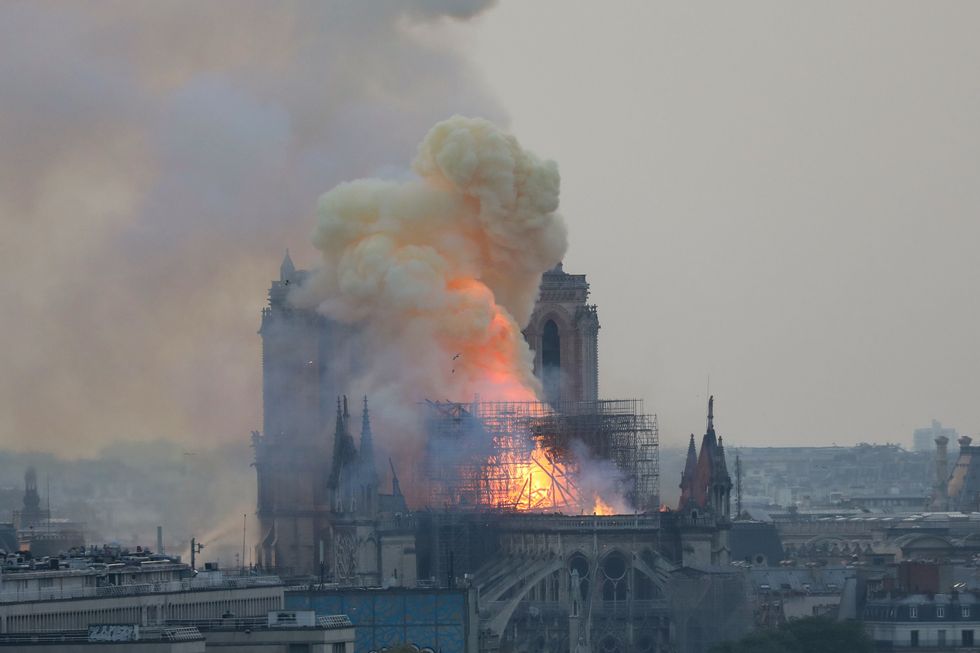 LUDOVIC MARIN/AFP/Getty Images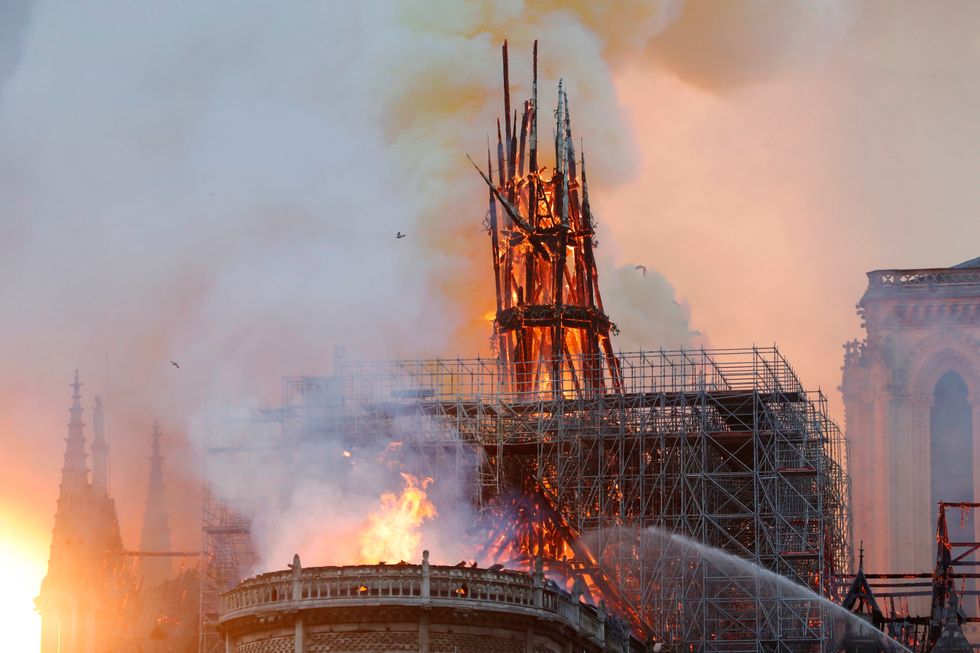 FRANCOIS GUILLOT/AFP/Getty Images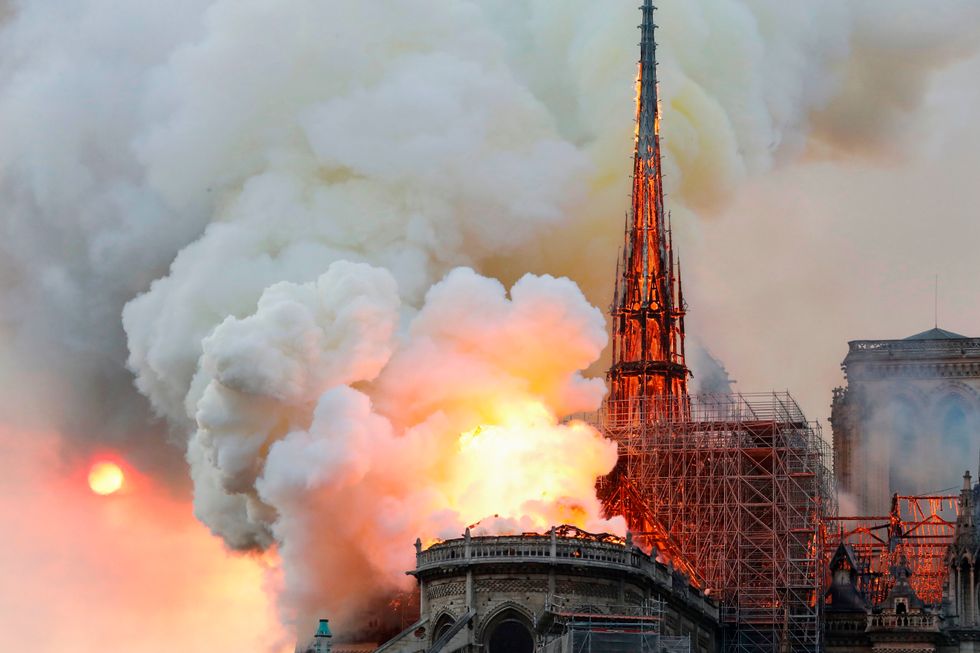 FRANCOIS GUILLOT/AFP/Getty Images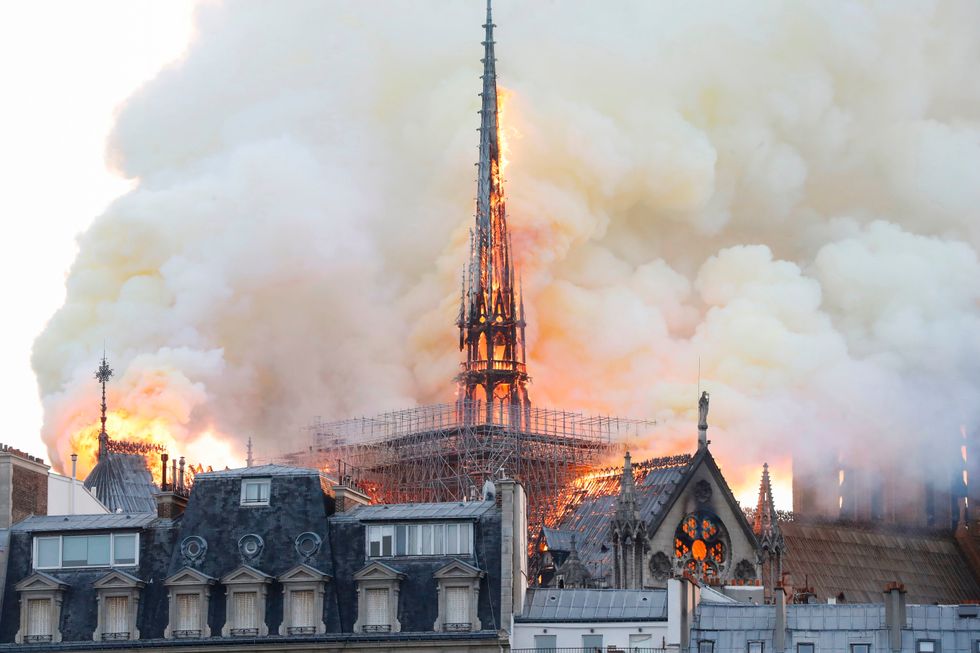 FRANCOIS GUILLOT/AFP/Getty Images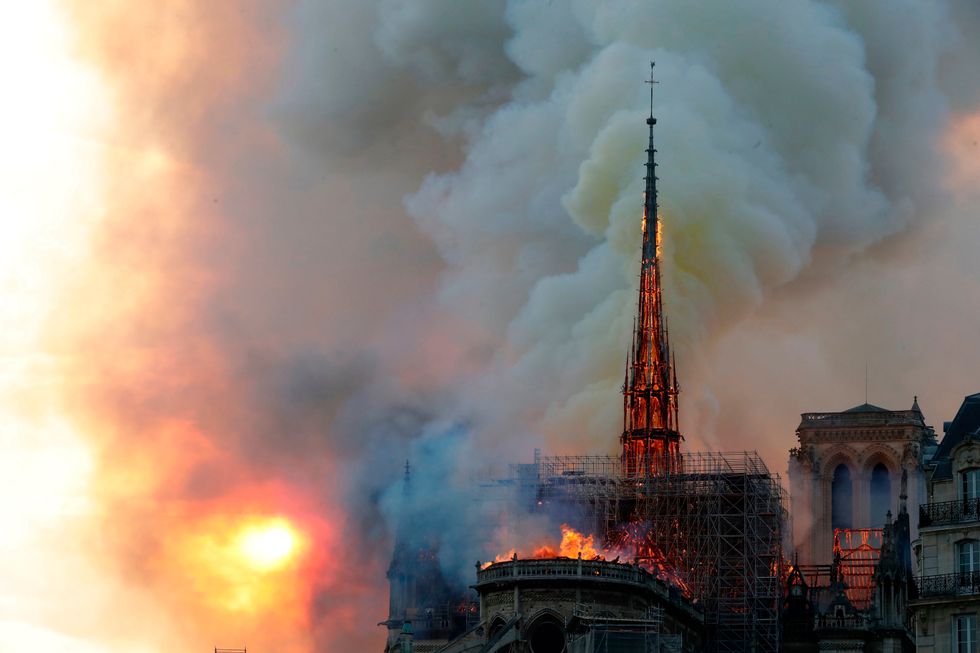 FRANCOIS GUILLOT/AFP/Getty Images
#NotreDame: 'The roof has entirely collapsed, there are flames coming out the back of the cathedral as if it was a… https://t.co/s7qBsPGU9v

— FRANCE 24 English (@FRANCE 24 English) 1555350459.0
"I literally just saw the 300-foot spire collapse under the flame," security expert says of destructive blaze at Pa… https://t.co/6MX0RYiKLE

— CBS Evening News (@CBS Evening News) 1555350898.0
Extraordinary image: fire fighters climbing up the scaffolding to fight the blaze #NotreDame #fire via… https://t.co/xphyUylXpM

— Henry Jones (@Henry Jones) 1555351794.0
BREAKING: Historic Notre Dame cathedral catches fire in Paris https://t.co/0Edwbsfb1l

— TheBlaze (@TheBlaze) 1555349297.0
The deputy Mayor of Paris says the spire of the world famous Notre-Dame cathedral in Paris has collapsed. 📸… https://t.co/ph0kAFBQTc

— Heart London News (@Heart London News) 1555351669.0
#BREAKING Paris mayor laments "terrible fire" at Notre-Dame Cathedral https://t.co/nuR68rHa7Z

— AFP news agency (@AFP news agency) 1555349334.0
#NotreDame en feu, c'est notre patrimoine qui part en fumée. Quel malheur je suis choqué. 😟😢 https://t.co/1JleqCtVJz

— Casting Politique (@Casting Politique) 1555349223.0
«Incendie majeur» à #NotreDame. (vidéo by @ecoursin) https://t.co/nKI0JoyzGJ

— Bob le Centriste (@Bob le Centriste) 1555348102.0
This is a developing story and will be updated as events warrant