A trio of dachshunds — Piper, Pickles, and Pepper — are kind of like kids to Walt Hickox and his wife.
"I don't have any kids, and my wife's kids are gone. We got together in 2006. We got [the dogs] shortly after. And that was our ... that was our family," Hickox told WESH-TV.
Last week, Hickox took Piper, Pickles, and Pepper outside his home in Daytona Beach, Florida, in the hopes they could scare off some "cats," the station said.
But instead they found a much bigger — and moreterrifying — visitor.
What happened?
A Ring doorbell video camera caught the moment a black bear bounded over a gate at the porch's entrance last Wednesday evening, the station said in a separate story on the incident.
The dogs actually headed for the gate just before the bear entered the screened-in porch.
"Apparently, it wasn't a cat that they were after because they went, 'Alright, that side is clear.' That's when the bear came out," Hickox told WESH.
He told the station the bear made a beeline for Pickles.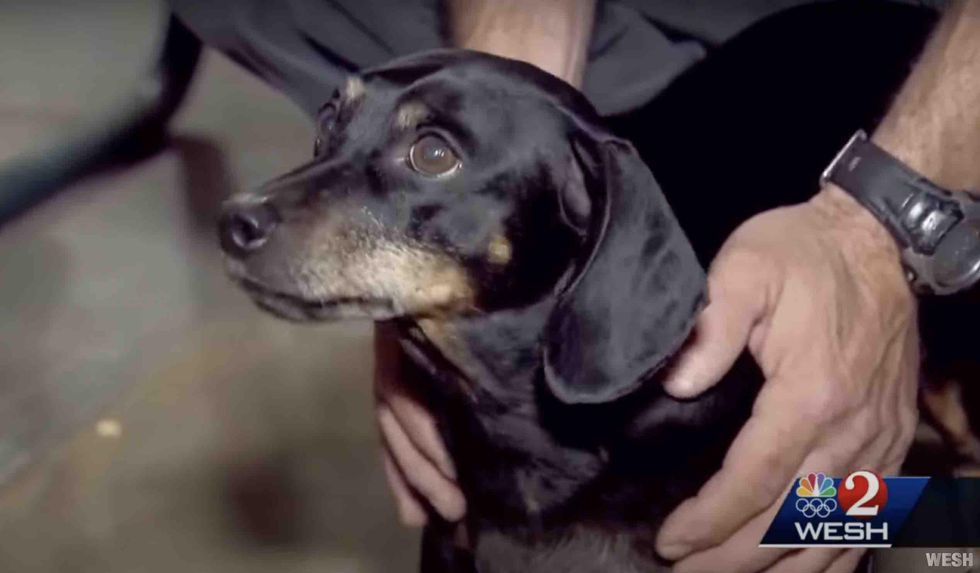 Image source: YouTube screenshot
But Hickox immediately turned and charged at the bear, which briefly tangled with Hickox before backing out of the porch. He moved a bench in front of the entrance.
Here's the clip of the terrifying encounter:
Video shows Florida man fending off bear to protect dogs youtu.be
"I just wanted to deflect the tension off the dog long enough for him to realize, 'Hey, there's a human in here, too,'" Hickox added to the station.
He said he even shared a surreal moment with the animal.
"I swear there was a fraction of time where the bear sat up and kicked his head to the side like, 'What are you screaming about?'" Hickox recalled to WESH.
The aftermath
The station said Kerry Hickox called 911 and told dispatchers, "My husband was just attacked by a bear, who do we get hold of to get this thing removed? He's got puncture wounds and scratches, but not enough for an ambulance or anything."
After he had time to process what had just gone down, Hickox understandably lost it.
"When I had time to just sit and stare, it all hit me," he told WESH. "And I started bawling. I couldn't believe how close to death I was. And I did it for my dog."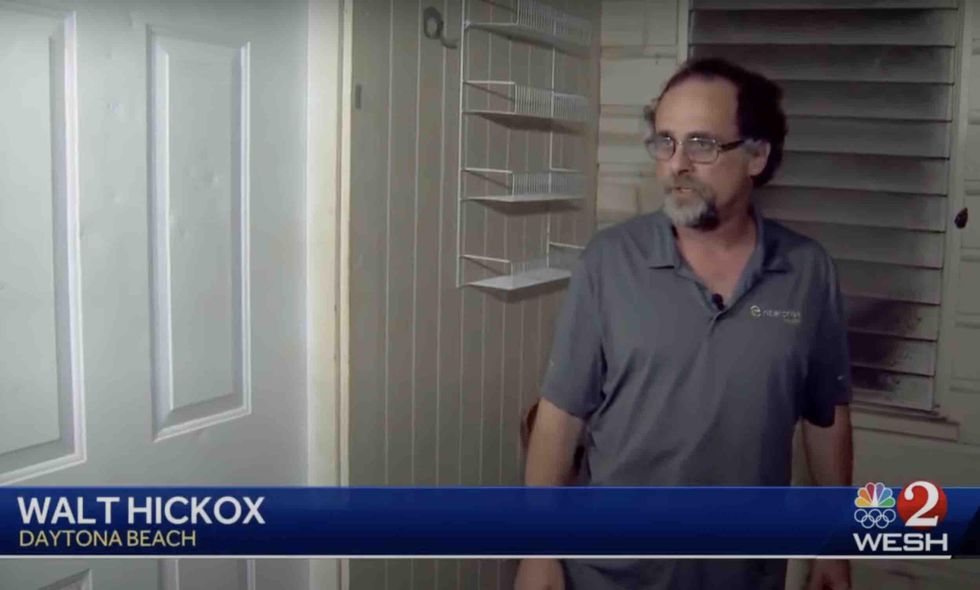 Image source: YouTube screenshot
Law enforcement and bear biologists tried without success to capture the bear, the station said, adding that wildlife officials said the bear will be humanely killed upon capture since it attacked a human. Florida Fish & Wildlife Conservation set a bear trap in the neighborhood, WESH noted.
Hickox told the station he doesn't want anything bad to happen to the bear, but he also doesn't want people to be in danger.
Wildlife officials added to WESH that if a black bear attacks, people should fight back aggressively like Hickox did.
"To reduce human-bear conflicts, remove or secure all food attractants from around your house and yard, including garbage, pet food and birdseed," officials added to the station. "To avoid an encounter between a bear and your dog, bang on your door and flip your house lights on and off to give the bear time to leave the area before letting your dog out. If your dog and a bear get into a fight, make noise and use your bear spray or a water hose if available. If the bear makes contact with you, fight back aggressively."
'I did it for my dog': Daytona Beach man attacked by bear speaks youtu.be