A male was caught on video brutally body-slamming a female on a parking lot surface in Auburn, Alabama, over the weekend after she tried to end her attacker's beatdown of another male.
What are the details?
Cellphone video captured the incident during which two college-age males were fighting in a parking lot in the 700 block of West Magnolia Drive on Sunday, WRBL-TV reported.
One male gained control in the fight, pinning down the other male and repeatedly punching him in the face and head, the station said, adding that the pinned-down male soon stopped fighting back.
A female soon tried to stop the beatdown by pushing the male who was punching the other male in the head, WRBL said.
With that, the male who'd been dominating the fight picked up the female by her waist with his right arm, spun her backward in mid-air, and slammed her on the parking lot surface, the station said.
At that point, both the male and female were lying motionless on the ground as the other male resumed punching the beaten-up male in the face and head, WRBL said.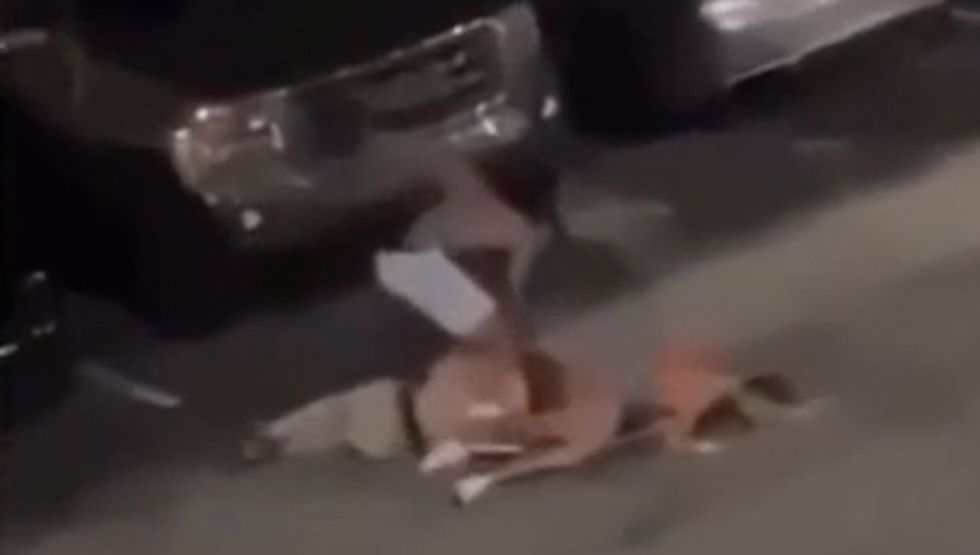 Image source: WRBL-TV video screenshot
What happened next?
During the investigation of this incident, 22-year-old D'Andre Frederick Hartwell of Auburn was identified as the male who body-slammed the female, the station said.
An arrest warrant was obtained, and Hartwell was arrested Tuesday at the Auburn Police Department on a second-degree assault charge, WRBL said, adding that Hartwell was taken to the Lee County jail and held on a $25,000 bond.
Police told the station the beaten-up male and female were taken to a hospital where they were treated for their injuries and released.
A police news released said, "[A]ll parties involved were acquainted prior to the incident," AL.com reported.
Like Blaze News? Bypass the censors, sign up for our newsletters, and get stories like this direct to your inbox. Sign up here!