Images have been revealed of schoolwork intended for middle-schoolers in Seattle and King County, Washington, that features lesson plans regarding gender ideology, transgender children, and sexual orientation.
The images, which have been viewed over 2.3 million times, include a list of terms including "gender queer" and "gender fluid," along with a worksheet on "Identity Definitions" that asks questions such as "[What is] a broad term that can include gay, lesbian and bisexual people, as well as others who don't identify as straight?"
Another activity sheet asks questions such as "How do gay, lesbian and trans people have sex?" along with, "Can you change your sexual orientation or gender identity?"
A lesson plan scenario includes an eighth-grade boy who believes he is transgender, who is encouraged by his mother to attend an "LGBT history month" event with his friend and also volunteer.
Extended lesson plans from the King County Public Health government website, which is cited at the bottom of the aforementioned worksheets, reveal similar curriculum explicitly intended for grades 4, 5, and 6. The curriculum is called "FLASH lesson plans for elementary school."
Under the "family" lesson plan, the children are to learn about gender identity and "how it relates to family."
The text reads:
"Gender identity refers to whether a person feels like a boy, a girl, both, neither or somewhere in between. A person knows their gender identity because of how they feel, not because of their body parts. Some gender identities include boy, girl, trans, and non-binary."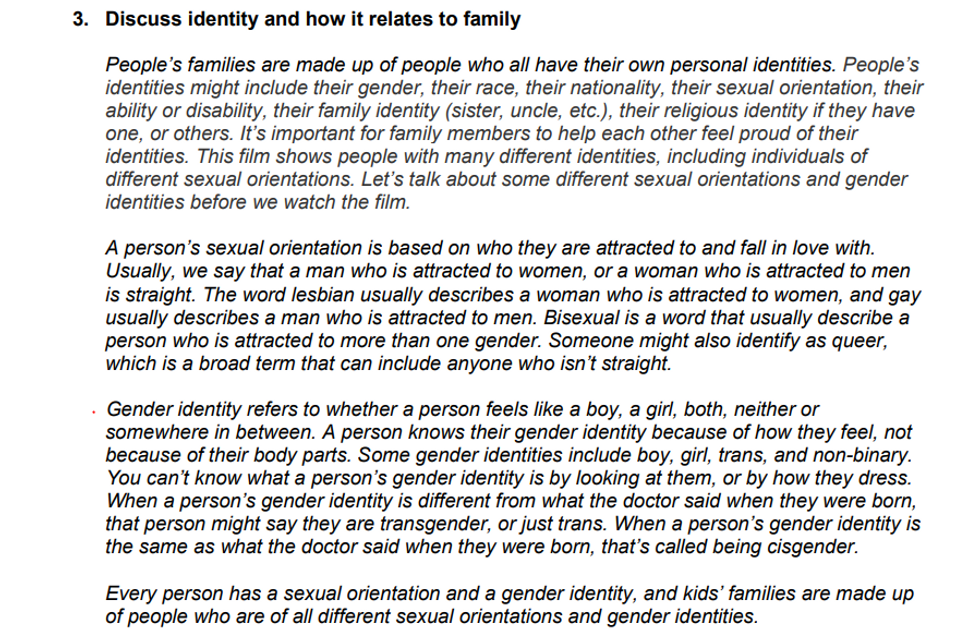 Image via KingCounty.gov
A link to an optional documentary portion of the lesson plan is provided, with a video called "That's a Family."
The video depicts children describing their families, including a young boy who says, "My two moms are Marilyn and Adrienne, and my two dads are Michael and, um, Barry."

One of the men has his hand around the other man's waist.
Under the "Gender Roles" page, much emphasis is placed on "stereotypes."
"Even though the stereotypes are about how men and women should act, people whose gender is non-binary feel these pressures too," the lesson plan declares.
"There are no jobs, clothes or toys that are just for one gender, and you can't tell a person's gender by what they wear or do," it continues.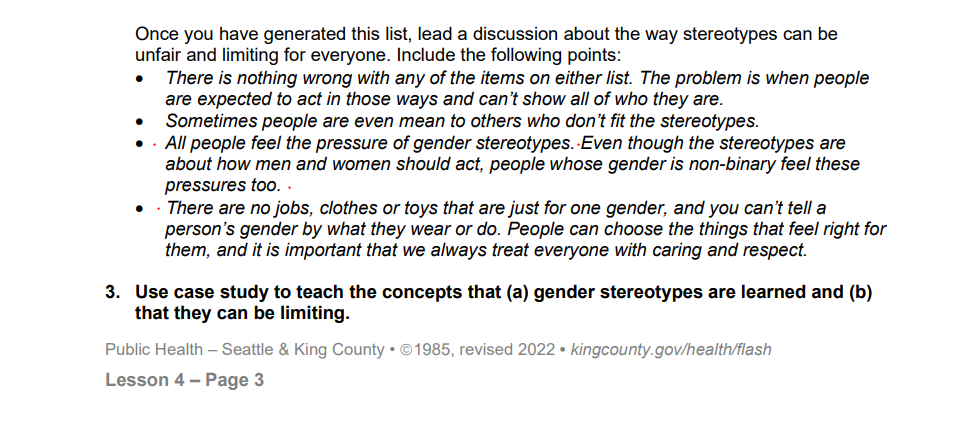 Image via KingCounty.gov
A provided scenario includes a 3-year-old becoming angry with his friend while playing house for suggesting that a mother would make lunch for a baby: "Antonio said, 'OK, you be the mommy.' Diep told him to go to work, so she could fix lunch for the baby. Antonio got angry. He yelled, 'Mommies don't fix lunch! I'm not playing with you anymore, Diep!'"
The lesson plan also includes homework questions such as "How has gender discrimination changed during your life?"
Like Blaze News? Bypass the censors, sign up for our newsletters, and get stories like this direct to your inbox. Sign up here!