CNN conservative pundit Scott Jennings blasted Jim Messina — an adviser to former President Barack Obama — for accusing Jennings of parroting Republican Party "talking points" during a heated exchange Wednesday.
What are the details?
Amid a discussion about GOP midterm gains among Latino voters, Jennings said regarding the Arizona Senate race that polling indicates "[Blake] Masters is close to [Mark] Kelly. I don't know if he's gonna win, but it's a very close..." Yahoo! Entertainment reported.
Messina — who was White House deputy chief of staff for operations under Obama and the former president's 2012 campaign manager — shot back, "Do you want to bet money on that race?" the outlet added.
"Do I want to bet money?" Jennings replied, according to the outlet. "You wanna bet money on the governor's race?"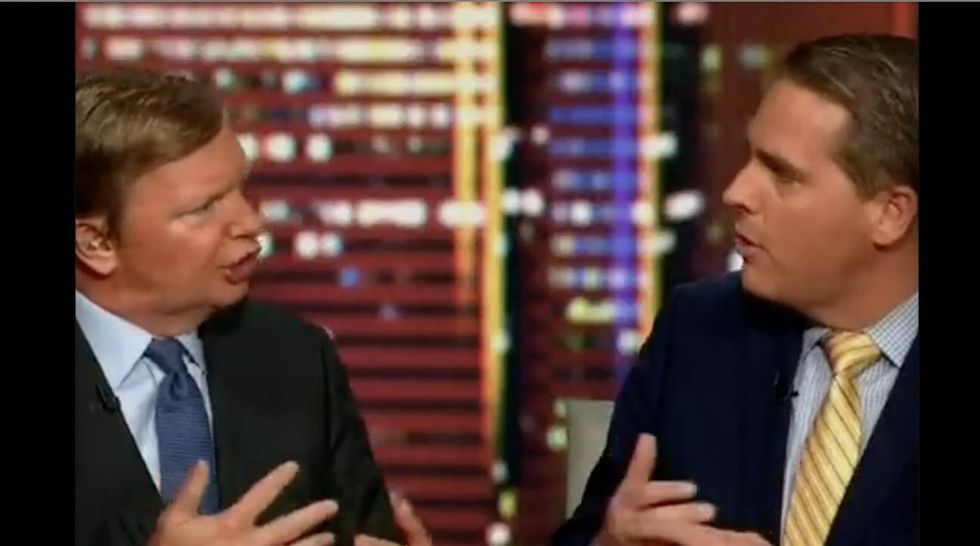 Image source: Twitter video screenshot via @Acyn
"You're just holding the Republican line in everything you've said tonight," Messina told Jennings, the outlet said. "Let's be in the middle."
The outlet added that Messina continued accusing Jennings of parroting the GOP line.
"C'mon," Messina said. "Enough with the talking points."
Jennings had quite enough.
'You're an absolute jerk!'
"I feel like your debate with Karl Rove that you had before you came here — like, your ears are clogged," Jennings told Messina.
"No," Messina replied. "I'm just concerned that the RNC gave you the talking points and now you can't shift."
"I tell you what, man, do you have a single friend?" Jennings asked Messina sarcastically before getting a tad angry. "You're an absolute jerk! Unbelievable."
Alisyn Camerota tried to tone things down, hilariously sounding a bit like a teen trying to stop a high school fight: "Guys! Guys! Guys! Stop!"
Jennings just got angrier.
"I'm sorry, I don't come on here and read talking points! You know me, and you know me, and you," he said angrily, pointing at Camerota, Laura Coates, and Ana Navarro one by one, the outlet said.
Speaking to Messina, Jennings added that "I don't even know you, and you come on here and insult me …"
Camerota then held up her hand and pleaded for an end to the "ad-hominem attacks."
"I don't want to be accused of reading talking points," Jennings added.