© 2023 Blaze Media LLC. All rights reserved.
Douglass Mackey was convicted of a felony for making a meme. But the joke is on the rule of law.
Tucker Carlson sat down with Douglass Mackey last week to discuss his upcoming seven-month sentence to the American gulag. It was an illuminating and frightening interview.
For those who may have missed this story, it involves a young man, Mackey, who operated an anonymous Twitter account and went by the pseudonym "Ricky Vaughn." Mackey shared pro-Trump memes in the run-up to the 2016 presidential election and was what was known to the Twitteratti as a "s**t poster." He published several tweets urging people to vote via text message.
One of the tweets he shared was an image that looked like it could be from the Hillary campaign with this message: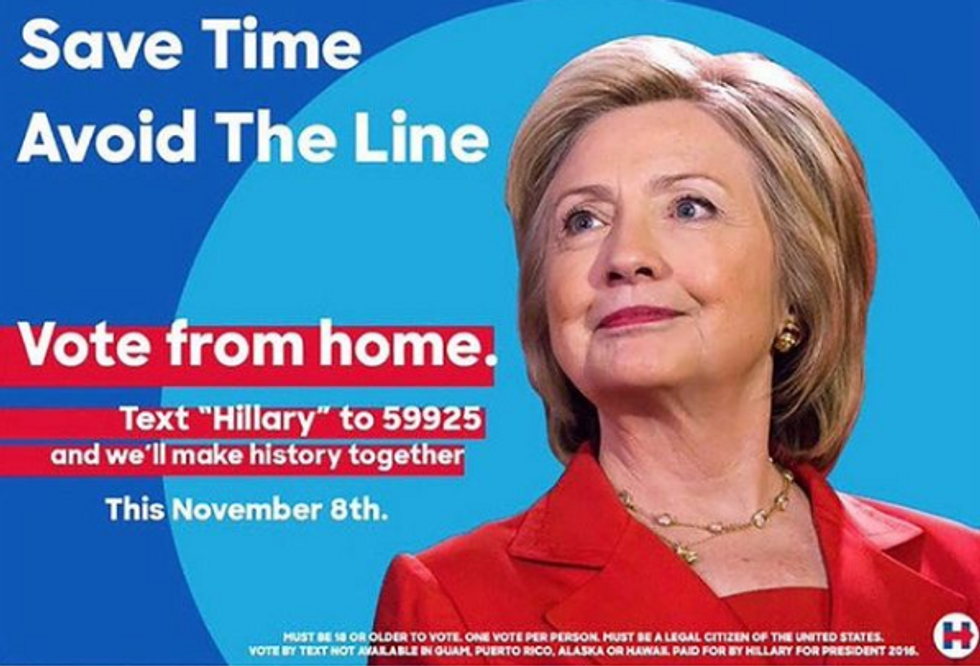 Screenshot
For that meme, Mackey was convicted of a felony and will serve seven months in a federal penitentiary.
You might be asking if there are some extenuating circumstances, some dark political machinations behind him. Sadly for our rule of law, there are not. No one has alleged Mackey made money with the account. He ran it instead, he has said, because he believed in Donald Trump's presidential campaign.
The Justice Department charged Mackey in 2021 with several counts of conspiracy against rights. However, the government could not produce a single voter who was swayed by Mackey's meme.
"One of the foundational rights we hold as Americans, a right that many fought so hard to obtain, is the right to vote. The defendant weaponized disinformation in a dangerous scheme to stop targeted groups, including black and brown people and women, from participating in our democracy," declared United States Attorney Breon Peace.
Even more concerning is that Mackey didn't create these memes; he reposted them after finding them floating around cyberspace. It needs to be repeated: A man is heading to prison for sharing a joke meme.
If Mackey is guilty of a crime, it's sharing a hacky bit. But unless the FBI starts raiding open mics and Homeland Security arrests and deports Hannah Gadsby, this prosecution looks more than a little bit like politically motivated revenge.
Making stupid jokes about voting via text or urging voters to go to the polls the day after the election is hardly new. Reason magazine in 2013 used the joke in a headline.
Left-wing "comedian" Kristina Wong made the same joke at the expense of Trump voters and continues to breathe free air. She still has the tweet up! The fact that she's a Pulitzer Prize finalist and can't beat a MAGA pseud for originality should tell us something about the degradation of the arts.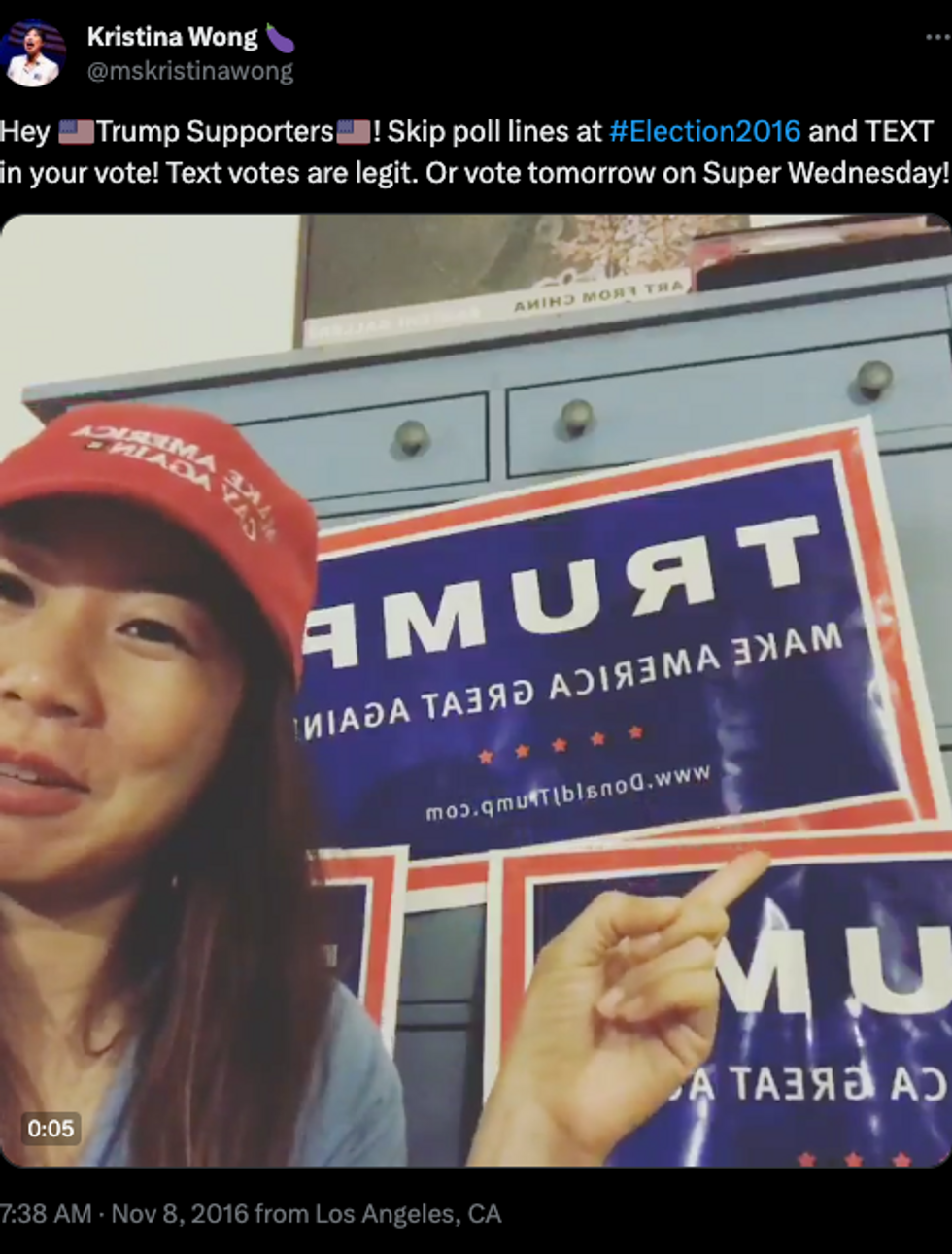 Screenshot
Another example, surely to test any notion that we're not living in a simulation, is a clip from 2012, when then-Vice President Joe Biden clearly subverted democracy by telling David Letterman, "Early voters will receive a $5 million donation from Donald Trump." OK, that's just weird.
There is something absurd about the most powerful people on the planet attacking comedy accounts; Hillary Clinton gave an interview cheering Mackey's arrest. What's less funny is the gleeful schadenfreude sober journalists displayed when Mackey's sentence was handed down in October. The trampling of the First Amendment seems to send America's fourth estate into ecstasy.
What is tragic is that a man has had his entire life upended and is set to report to jail in January for a joke. "In the old America," Tucker Carlson told Mackey, "this would provoke an uprising. You can't do that. You're not allowed to arrest people for criticizing you."
When I met Mackey and his wife in person a few months ago, it was hard not to feel a seething rage about what had happened to him. Mackey's wife was pregnant at the time. When you read about totalitarian regimes silencing opposition, you assume you'll never get to meet one of those people, and you never imagine the regime in question would be your own government. Even if you think Mackey is a bad person — the Huffington Post identified two vaguely anti-Jewish memes among literally thousands of his posts — or if you despise Donald Trump, make no mistake: The weaponization of the courts is aimed squarely at the American people. If they have the power to jail people for jokes, who knows what they will try next? They have no limiting principle.
When I spoke to Mackey a few days ago, he expressed gratitude for all the support.
"I want to thank all the supporters who have funded my legal defense, raised awareness of the case, and supported myself and my family otherwise," he said. "This legal defense is funded by the American people. I don't have access to millions of dollars, or even the hundreds of thousands necessary to appeal this case to the higher courts."
Mackey said his legal team plans to appeal his case to the U.S. Court of Appeals for the Second Circuit and possibly to the U.S. Supreme Court "if necessary."
"Although I am innocent," Mackey said, "this case is not even really about me. Winning this appeal will ensure that the DOJ can no longer abuse this statute to harass Americans for their political views, no matter what those political views are."
Mackey has a GiveSendGo campaign to help pay his legal fees. You can watch the Tucker Carlson interview here:
Want to leave a tip?
We answer to you. Help keep our content free of advertisers and big tech censorship by leaving a tip today.
Managing Editor, Return
Peter Gietl is the managing editor for Return.
petergietl
more stories
Sign up for the Return newsletter
By signing up, you agree to our
Privacy Policy
and
Terms of Use
, and agree to receive content that may sometimes include advertisements. You may opt out at any time.