Democratic Senator Dianne Feinstein (Calif.) faced criticism over a viral video of her interaction with kids advocating for the Green New Deal, which sparked a bizarre Twitter feud.
The group, Sunshine Movement, touts itself for organizing "an army of young people" to advocate for solutions for global warming, adding, "This dark time in America must end."
Their video went viral after Sen. Feinstein appeared to react to their demands in a condescending and dismissive manner.
"This is how @SenFeinstein reacted to children asking her to support the #GreenNewDeal resolution -- with smugness + disrespect," the official account for the group tweeted. "This is a fight for our generation's survival. Her reaction is why young people desperately want new leadership in Congress."
The progressive advocacy group MoveOn released a scathing response to Sen. Feinsten.

"In this video, @SenFeinstein was rude, dismissive, and out of touch," they tweeted. "Instead of talking down to her constituents who'll deal with consequences of climate change their whole lives, she should start supporting real climate solutions in line with what's needed to address the crisis."
Feinstein released a statement after the public outrage, but mistakenly called them the "Sunshine Movement."
"I want the children from the Sunshine Movement to know they were heard loud and clear," Feinstein responded in the tweet. "I have been and remain committed to doing everything I can to enact real, meaningful climate change legislation."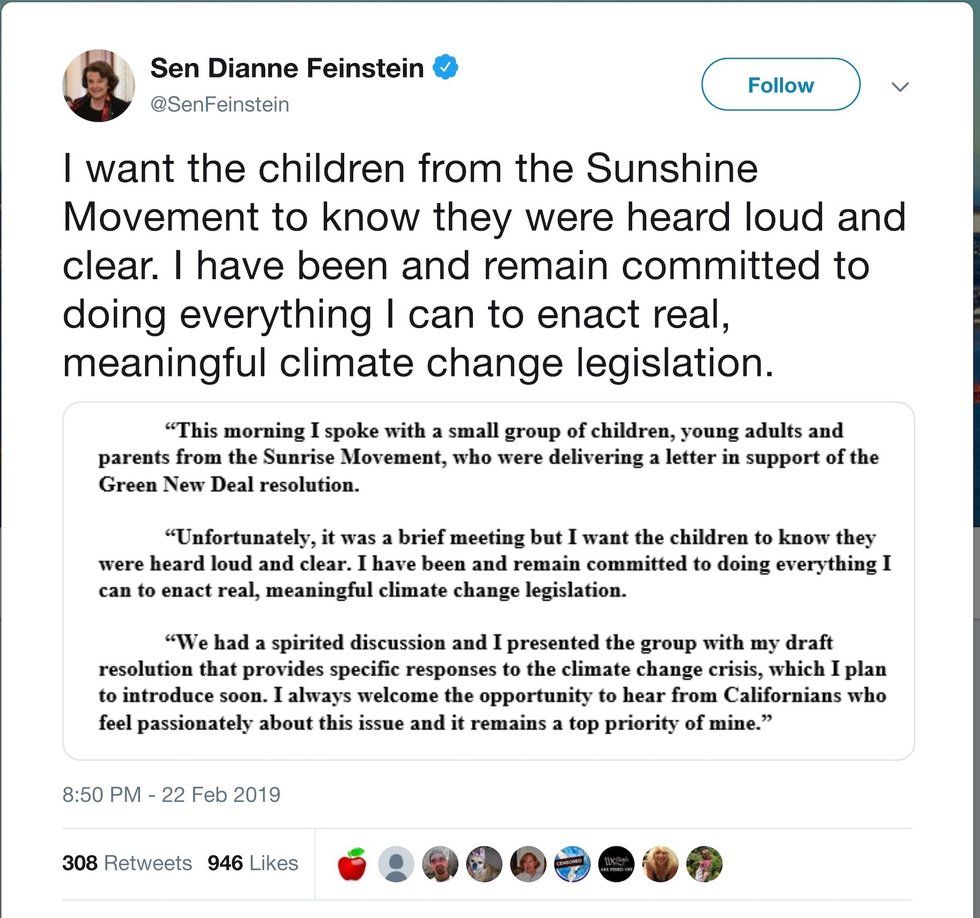 Image Source: Twitter screenshot
The organization offered a curt and snarky response.

"If you @-ed us you would have gotten our name right," they tweeted.
Feinstein had not responded yet to their mocking missive, but she deleted the tweet with the typo and replaced it with their name corrected.
Here's the video of the interaction:
Sen Feinstein Dismisses children pushing for #GreenNewDeal: "You didn't vote for me" www.youtube.com