© 2023 Blaze Media LLC. All rights reserved.
Horowitz: 120 doctors ask JAMA to retract misleading Colombian study downplaying efficacy of ivermectin
Why is there such an agenda to discredit cheap, repurposed drugs?
We knew this would happen. The health establishment didn't use fabricated data from a study authored by a science fiction writer and porn star (later retracted), as they did with hydroxychloroquine, but it was almost as bad.
No, they didn't find any harm from ivermectin, but after every study showing the amazing efficacy of ivermectin against SARS-CoV-2 at every stage of the disease, the media breathlessly promoted a Colombian study supposedly showing no statistically meaningful benefit among those COVID-19 patients who were treated with it.
Last month, a group of Colombian researchers published a study inthe Journal of the American Medical Association (JAMA) concluding that, contrary to the findings of every other study, ivermectin showed no signs of bettering outcomes in COVID-19 patients in Cali, Colombia. "Among adults with mild COVID-19, a 5-day course of ivermectin, compared with placebo, did not significantly improve the time to resolution of symptoms," concluded the authors. "The findings do not support the use of ivermectin for treatment of mild COVID-19, although larger trials may be needed to understand the effects of ivermectin on other clinically relevant outcomes."
After ignoring dozens of other studies on ivermectin for months, the New York Times got hold of this study the day it was published and penned an article titled, "Popular Drug Does Not Alleviate Mild Covid-19 Symptoms, Study Finds." I immediately thought this sounded suspicious, given all the evidence that ivermectin helps against even more severe symptoms.
It turns out that the study design was flawed from the beginning, in addition to the fact that the study's own results do not bear out the conclusion posited by the authors. In a letter signed by 120 doctors, concerned clinicians who have successfully treated patients with ivermectin note the following flaws with the design:
The study's flaws span subject population, design, execution and controls. The small sample size (n = 400) had a median age of 37 and a BMI of 26, making them extremely low risk for COVID-19 hard endpoints. Faced with this low-relevance study group, the study authors improperly changed primary endpoint midway, moving the main endpoint to full symptom resolution by day 21. This self-reported subjective endpoint, obtained through telephone survey, is not credible for avoiding nondifferential nullward bias of the results.
Anyone who has paid attention this past year knows that people in their 30s who aren't overweight rarely get severe symptoms, and most suffer quite unremarkable symptoms that are some degree less than a flu. To attempt to prove improved outcomes with a group like this never made any sense.
The letter also highlights three other flaws with the study:
The authors incorrectly administered ivermectin on an empty stomach, reducing drug bioavailability in lung tissue, the critical drug target, by a factor of roughly 2.5. Additionally, ivermectin is readily available over-the-counter in Colombia, where sales have been ubiquitous (1.6 doses per COVID-19 case) in Cali during the study period.[2] Lack of serum testing in the study prevented identification of subjects who may have used the drug at intervals longer than the study lookback.
Thus, you literally had a placebo control group where they didn't ensure they were not taking ivermectin! It would be bad enough not to control for this factor (the primary study point) in an area where ivermectin was not widely available. But it turns out that the department of health in the state of Valle del Cauca – where this study took place – began distributing ivermectin to COVID patients right when the study period began.
Also, just from June to July of last year when the study period began, over-the-counter sales of ivermectin in the Cali region quintupled — to the point that there were more doses administered than number of recorded COVID patients. Given the popularity of the drug in that region at that time, it's inconceivable that a number of those who tested positive in the placebo group did not avail themselves to this drug. In fact, so popular was ivermectin in Valle del Cauca during the study period that during the week of July 5, Google searches for "ivermectina" outpaced searches for "vacuna covid" (COVID vaccine) by a factor of 33.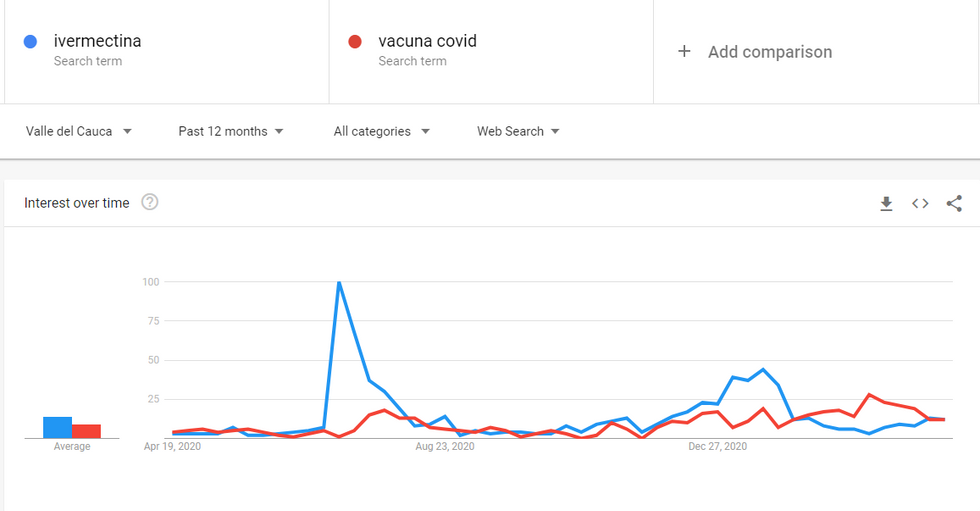 Contrast that to the U.S., where ivermectin is essentially unknown outside small circles.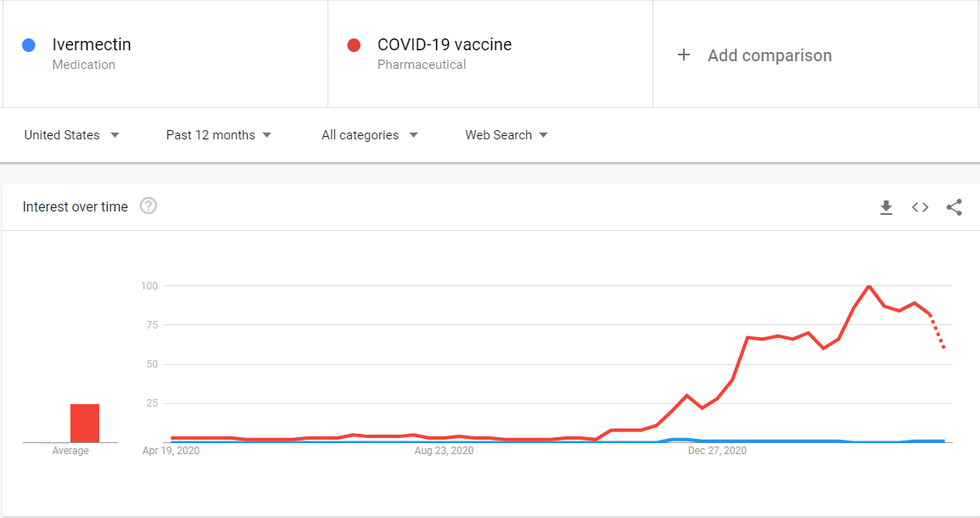 Thus, Cali, Colombia, was probably the worst place to study outcomes against those who weren't officially administered ivermectin but were not prevented from taking it on their own preventively, as many people in the region were doing.
The doctors protesting this study originally sent this letter to JAMA to be published, but after JAMA declined, the authors posted it as an open letter on their own landing page.
There are also ethical questions about the Colombian study, because TrialSite News forced the authors to admit that they did not tell the study participants they were receiving ivermectin. Instead, they referred to the drug as "D11AX22 Molecule." While this point does not have bearings on the results of the study, it does show they violated participant consent rules, which raises questions about the broad ethics and agenda of the authors.
The Front Line COVID-19 Critical Care Alliance (FLCCC), which is the lead group in the United States promoting ivermectin as the staple of COVID early therapeutic treatment, wrote a paper calling into question the protocols of the study, noting that a labeling error substituted 38 ivermectin doses as part of the placebo group. They also accuse the authors of a conflict of interest for receiving grants from "Sanofi Pasteur, a vaccine manufacturer; Janssen, a J&J vaccine partner; and GlaxoSmithKline, Merck, and Gilead, which manufacture COVID-19 drugs."

Those relationships were properly disclosed on the study's conflict of interest disclosure.
Gilead is the maker of Remdesivir, the super expensive drug that is being used in nearly every hospital with zero evidence of efficacy. Despite its price tag, and the fact that the WHO found Remdesivir use in 11,000 patients across 400 hospitals in the world had "little or no effect on hospitalized patients with Covid-19," it is still being used as the only major treatment.
So why is there such an agenda to discredit other cheap, repurposed drugs but then use expensive, ineffective drugs or questionable vaccines without applying a fraction of the same scrutiny? Follow the money.
Sadly, lives are being lost in the process. As German immunologist Dr. Peter Schleicher recently
said
, "It is completely incomprehensible that there is no approval for this [ivermectin] in Germany. We would have thousands fewer deaths to complain about" (translated from German via Google translate).
Want to leave a tip?
We answer to you. Help keep our content free of advertisers and big tech censorship by leaving a tip today.
Blaze Podcast Host
Daniel Horowitz is the host of "Conservative Review with Daniel Horowitz" and a senior editor for Blaze News.
RMConservative
more stories
Sign up for the Blaze newsletter
By signing up, you agree to our
Privacy Policy
and
Terms of Use
, and agree to receive content that may sometimes include advertisements. You may opt out at any time.