Nobody in the GOP Senate or the White House is taking notice of what might be the worst and most heinous criminal alien crime committed in American history. We must discuss closing the multiple criminal alien loopholes that violate laws duly passed Congress.
At least 19 Texans were allegedly killed by someone who should never have been in the country, who had been in jail for other crimes and should have been deported. What if I told you that if we merely enforced and tightened existing laws, unvetted foreign nationals like this would never be able to commit subsequent crimes? "Do something!!," you would say, right?
Well, not a single major elected official is even talking about this case, much less calling for emergency congressional action to deal with the loopholes. And unlike with El Paso, this crime was actually 100 percent avoidable through public policy, and the course of action would not implicate a fundamental right. After all, there is no right to immigrate, as there is a right for Americans to bear arms.
This man should never have been here  
Billy Chemirmir, like many people who gamed out our immigration system, came to the United States on a tourist visa in 2003, only to indefinitely overstay his visa, according to Breitbart.com's John Binder. That should have rendered him an illegal alien, and had our government fulfilled its promise in 1996 to construct a visa tracking exit-entry system, as later recommended by the 9/11 Commission, he would have been out of the country. Not only was he not deported, he wound up using a loophole to get a green card in 2007 by marrying an American citizen, according to Binder's sources. He then racked up a significant criminal history, including two DWIs in 2011 and an assault on a girlfriend resulting in bodily injury in 2012.
Yet this criminal from another country, whose presence here was originally illegal and who should have been deported, continued to remain in the country.
That brings us to the present. Chemirmir is now charged with the murder of 12 senior citizens whom he is alleged to have killed by smothering them with pillows over the course of three years – 2016-2018 – long after he should have been deported.
Thanks to his attempted murder of others who survived to tell the horror tale, Chemirmir was finally arrested on March 20, 2018, and charged with the murder of 81-year-old Lu Thi Harris that day. According to a timeline of events by the Dallas Morning News, the day before that arrest, Chemirmir allegedly smothered a 91-year-old Plano resident, but she survived and was able to help identify the suspect. However, it wasn't until this May that police brought forward the murders of other seniors, now possibly totaling 19. He was charged with the murder of another 11 in May for smothering his victims with a pillow and has recently been linked to the murders in seven other civil lawsuits of plaintiffs against the Tradition-Prestonwood senior living facility.
The alleged murders took place between May 2016 and March 2018 in Dallas and Collin Counties. He is accused of pretending to be a maintenance worker and gaining entry into several nursing home facilities as well as private homes in retirement communities, with the intent of murdering the helpless victims and stealing jewelry. Nine of the victims are alleged to have been residents of Tradition-Prestonwood.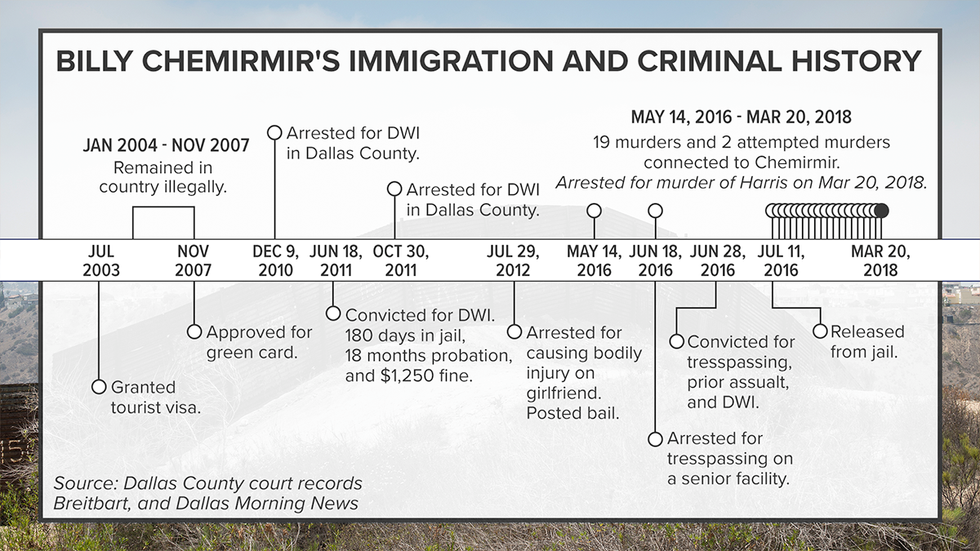 Chemirmir is currently being held in the Dallas County jail on $11.6 million bond while authorities investigate 750 other deaths in the area to see if the same M.O. was present in any other cases where there is suspicion about the cause of death. Some of the bodies of those previously thought to have died of natural causes had to be exhumed during the investigation.
ICE initially placed a detainer on him when he was arrested in March 2018. But it was too little, too late. Thanks to the endless lack of enforcement of our foundational sovereignty laws, this man was allowed to remain in the country after multiple opportunities to remove him.
Why was this man able to remain in the country without raising questions?
"Obviously Chemirmir should never have received a visitor visa to begin with, and he was able to take advantage of the near complete lack of enforcement and near complete lack of deterrents to overstaying," said Jessica Vaughan of the Center for Immigration Studies, who used to vet visa applicants as a foreign service officer with the State Department. "It's not clear how he was able to secure employment for the four years that he was in the country illegally, and this should be investigated."
While the main focus of local media is on malfeasance at the senior facilities, this is a much bigger national public policy issue, according to Vaughan. "Not only should authorities investigate suspicious deaths where he worked, but ICE should be looking at all of his employers and subject them to audits to see if they have knowingly engaged in illegal hiring or at least be required to clean up their hiring so as to avoid hiring illegal workers in the future."
We are collectively wringing our hands as a nation trying to figure out how to prevent very tough cases of first-time mass shooters. But why is there no soul-searching about an alleged mass murderer, a criminal alien, on the multiple levels of breakdown in law enforcement? Where are the hearings, DHS investigations, and media inquiries into why he was given a green card, why he was given work before the green card, why he wasn't on anyone's radar after he committed more crimes, and whether Dallas's lax immigration enforcement policies had anything to do with it?
Among the many foundational immigration laws that have been gutted by lawless executive action is section 212(a)(9)(b) of the INA, which bars anyone who "has been unlawfully present in the United States for one year or more" from returning to the country for 10 years. Rather than being offered a spousal visa in 2007, Chemirmir should have been removed and barred from entry for 10 years because he was in the country illegally for four years. Yet the executive branch has erroneously exempted visa overstays (as opposed to border-crossers) from the bar, even thought the law is clear that it applies to them: "An alien is deemed to be unlawfully present in the United States if the alien is present in the United States after the expiration of the period of stay authorized by the Attorney General or is present in the United States without being admitted or paroled." There is discretionary waiver authority for "hardship," but it has been abused by past administrations.
Why isn't the Trump administration calling on DHS to change the regulation to comport with the 1996 law, which passed the Senate unanimously and was designed to completely end illegal immigration as we know it?
Keep reading...
Show less