After the election, I suggested to members of the media that they get out of their bicoastal mindset and visit the heartland. More media folk are taking the advice, and now some folks at the HuffPost are jumping in a bus for a road trip of their own. This is a good thing, but I have a few pieces of advice for the team at the HuffPost.
First up, here's what the Huffington post is doing. In what is dubbed the "Listen to America" tour, a bus will take HuffPost staff to 23 cities in 22 states. Trump won every state they are visiting. That's great, until you realize exactly where they are visiting. By and large, while the states voted for Trump, almost every city they are visiting voted for Hillary Clinton.
Here's their map.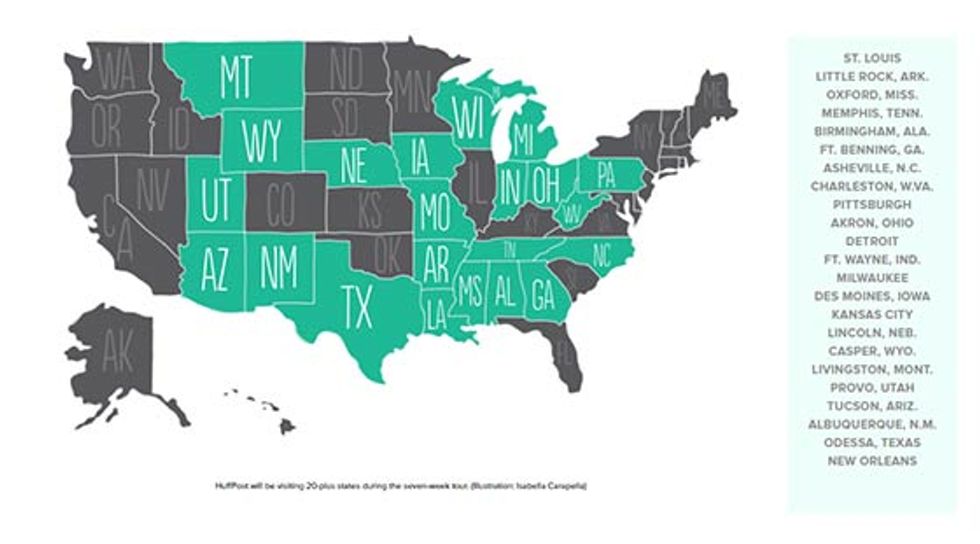 So here's my advice to the HuffPost team. If you are dead set on going to those cities for events, if you really want to "listen to America," do yourselves a favor along the way. Make sure the bus doesn't travel on interstates. Every city except one that HuffPost is visiting is on an interstate highway. The one that isn't is within 25 miles of an exit.
Driving on the interstate isn't really getting to know America. What you see is exit after exit with McDonald's, Home Depot, Fairfield Inn, and a multitude of other things you can see within 25 miles of New York City or the nation's capital. To really see America, and get the perspectives of the people who overwhelmingly voted for Donald Trump, take the back roads.
On the back roads you will visit the shells of manufacturing towns, in the middle of nowhere, that the economy has passed by. Those places by and large don't exist near the interstates. You'll find diners that, while they may not make avocado toast, will allow you to interact with people as they go about their day, not because they showed up to be heard at an event.
For myself, I'm on a quest to drive through every county in the United States. I'm up to 1151 of the 3124 counties and county-equivalent municipalities in the country. After this story is published today, I'm planning on jumping in my car and visiting about 40 more this weekend.
1151/3124 Counties travelled through. Out to hit 40 more this weekend. HEre's the current map#3124Before50pic.twitter.com/fZudDSoZTA

— Rob Eno (@Robeno) July 14, 2017
As I wrote in November:
Take some time to get off the highway and tour the country on back roads. You'll see the small towns that aren't booming because the Dow just reached a new high, or because all your friends just got their annual bonus. You'll see and meet people struggling to survive, not because they can't figure out how to split their $3200 a month Williamsburg two bedroom, but because they can't piece together $75 for this week's rent. The culprit? Last year's factory closure and the lack of handyman day work.
When you get off the highway and on to back roads, you'll meet the folks that the global economy has left behind. The stories of black, white, and other Americans will help you understand why, when the news tells them the economy is booming, they look at the CNN anchor like he has three heads.
You'll also learn that contrary to what the New York elites say, these aren't people that are proud to be on government assistance. The Northeast Megalopolis can't figure out why these people "vote against their own interests," but you'll see a population whose own interest is work. These people want another chance, not to continually suck at the teat of government.
I truly applaud the folks at HuffPost for making an effort. I hope they take this advice and don't just drive their bus down the interstate in a marketing ploy.
To really visit America, you need to get off the interstate, into the small towns. If your destination serves avocado toast, you probably haven't ventured that far outside your comfort zone.
How do we stop the mainstream media from warping the national narrative? We push back together. With the truth. Be the first to receive CRTV's free weapon against the worst the media has to offer. Introducing WTF MSM!?