Just how prominent of a role has Mexico's viral peak played in the resurgence of the more serious cases in our country? Hidalgo County, Texas, one of the most heavily trafficked border-crossing counties, recorded 31 deaths Tuesday, more than the daily total in all but six states.
Over the past few weeks, it has become increasingly clear that the highest concentration of deaths in this generally milder wave of the virus is coming from the border. [You can read the series here, here, here, here, and here.]  Every day, the stark contrast in data from border counties becomes increasingly too obvious to ignore.
It's truly shocking to see a county like Hidalgo rack up 31 reported deaths in one day. To put this in perspective, all but six entire states recorded fewer deaths Tuesday. The exceptions were California, Arizona, Texas, Florida, Alabama, and North Carolina.
Special thanks to @JTUGS! Since June 1st confirmed cases per 1k residents. Hidalgo County has grown 1300%. Harris County 285%. @RMConservative@NahasNewman

— wyatt (@wyattsheepie) July 15, 2020
Hidalgo County's death toll, given its population size and density relative to Texas's big cities, defies the trend in every non-border state where we see the larger and denser counties rack up exponentially more deaths. Even before Tuesday's record deaths in Hidalgo, the county had nearly twice as many deaths from the preceding six days as Harris and Dallas counties! Harris County, which includes Houston, is roughly three times more populous and is five times more densely populated than Hidalgo.
Perhaps there is something genetically unique about this border county? Not at all. If that were the case, we'd have seen the trend of Hidalgo eclipsing Texas's population centers from day one. In fact, Hidalgo County recorded just 23 virus deaths from the beginning of March through June 23, a fraction of the deaths in Dallas and Houston up until that point. In other words, the dynamic in Texas tracked closely with that of other states where most of the deaths were in the major cities, not in outlier counties like Hidalgo.
It certainly wasn't the reopening of Texas on May 1 that caused the surge in Hidalgo. Their deaths actually went down to near zero from mid-May to mid-June – right during the window you would typically see those deaths occur, had the reopening played a role.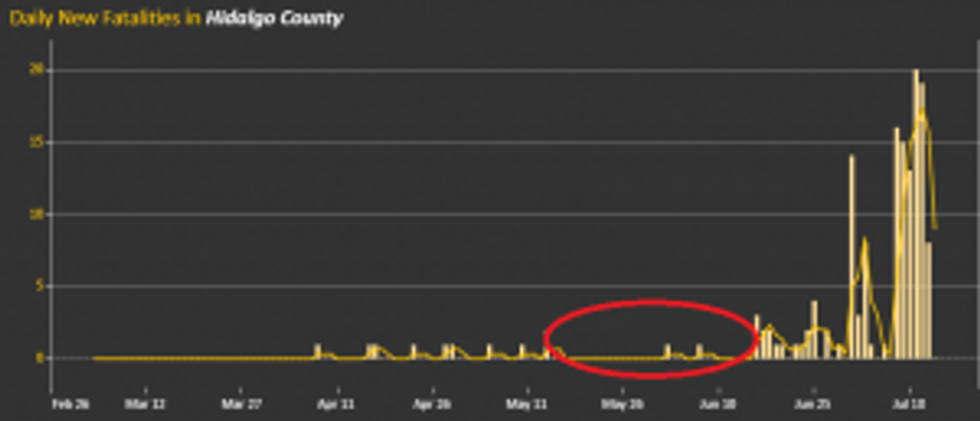 Hidalgo County, Texas, deaths by date. (Texas Department of Health COVID-19 dashboard)
The obvious culprit is the cross-border traffic both from travelers, citizens, and illegal aliens. The surge in deaths beginning in late June coincides with the peaking of deaths in Mexico, particularly in Tamaulipas, right during the beginning of June, which perfectly jives with the 21-day average infection-to-death duration.
What changed right around June? While border apprehensions by Border Patrol were down during March and April because of the new turnback policies against illegal aliens, the numbers surged again in June, coinciding with Mexicans getting sick from the virus. Border apprehensions increased by 40% during June, almost exclusively driven by single adults. Even before the new policy changes, we were not offering liberal immigration accommodations to single adults. So why would they be incentivized to come? Could it be that many of them were coming for care and were fleeing the disastrous hospitals in Mexico?
The trend and timing of increased border apprehensions by border sector is even more remarkable. The virus seems to have come to western Mexico first in Baja California (south of California), then migrated east to Sonora (south of Arizona) in May and then to Tamaulipas (south of Texas) in June. Apprehensions in the Rio Grande Valley were up 47% over May! All the news reports [Washington Post, Reuters, and Kaiser Health News] of Mexican nationals coming for treatment in California were already being reported in May – long before the spike in Texas's Rio Grande Valley that didn't begin to materialize until a few weeks ago. Those numbers coincide perfectly with the increase in border crossings by sector.
Border apprehensions in the two California border sectors – San Diego and El Centro – increased from April to May 46% and 49% respectively. That is when those areas got slammed with cross border cases of COVID-19. They have continued to increase in June but by a smaller margin. The CBP border numbers are for illegal aliens, but they likely reflect the desperation in that part of Mexico as the virus hit, which we observed in green card holders and dual citizens who came for treatment.
The same dynamic played out in the Yuma, Arizona, sector. While the raw number of border apprehensions is much lower in this sector, the percentage increase from April to May was a whopping 150%. In June, the rate of increase slowed down to 30%. Which makes sense because we are now seeing the deaths in Southern California and Arizona level off.
This was all occurring before we saw any deaths in the Rio Grande Valley sector of Texas. In contrast to the other sectors, the RGV increased by just 9% from April to May, but then by 47% from May to June. And as always, they had the most raw number of apprehensions of any border sector.
The timing of this data shift coinciding with the spike in deaths rising along the border from west to east in May and then June demonstrates a remarkable connection between what is going on in Mexico and how it's driving the coronavirus spike on our side of the border.
Once again, the disproportionate number of deaths cannot be blamed on these counties being majority Latino, who seem to have an increased risk of death. Dona Anna County, New Mexico, which is 70 percent Latino, has had only 11 deaths. As I noted in the last article of this series, the difference is that New Mexico gets almost no illegal immigration and no legal border crossings because there is almost no civilization on the Mexico side of that border. Yuma County, Arizona, on the other hand, has 159 deaths, even though it's roughly the same size and of the same demographic composition as Dona Anna.
The ensuring lesson? As goes Mexico, so goes America's border counties.