Social transformation without representation.
Imagine a lawless federal policy whereby illegal alien families can pay cartels to smuggle in their teen children or relatives who then come to this country and fuel a pipeline of MS-13 recruitment – and their reward for doing so is getting amnesty – all at taxpayer expense! Well, that is exactly what is happening in small towns like Worthington, Minnesota, where, against the will of local residents, illegal aliens are able to traffic in their own children, have them resettled at taxpayer expense, and then force residents to pay for the cost of education, social transformation, and crime.
In a random act of journalism, the Washington Post profiled a farmer in the small town of Worthington, Minnesota, who is trying to end the resettlement of Central American teens in his town. The article, to anyone living outside the elite bubble of the Acela corridor, reveals just how unfair of a burden illegal immigration and refugee resettlement are on small towns. Except, that wasn't the intent of the elite writers and editors at the Post. They made the article all about race.
In a long report peppered with endless racial references to skin and hair color, the Post essentially accuses Don Brink, local farmer, school bus driver and Vietnam War veteran, of being triggered by "a stream of dark-haired children" in this once quiet southwest Minnesota town. But what most Americans will derive from this article is that a small town of 13,000 people now suffers from nearly the largest per capita resettlement of Central American teens (unaccompanied alien children, UACs) who are wrongly treated as refugees when they are trafficked here by their illegal alien relatives who themselves don't belong there.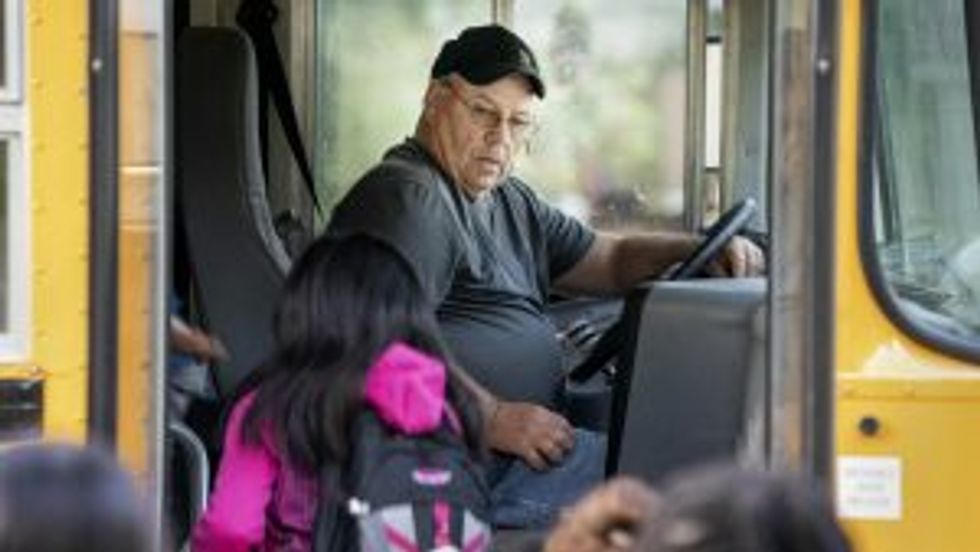 Don Brink, a semi-retired pig farmer, picks up students on his school bus route. (Courtney Perry | For the Washington Post via Getty Images)
Far from being upset about legitimate and peaceful immigrants who properly apply to come to this country, the people are dealing with the cost, social problems, and crime of an illegal alien chain migration scheme transforming their community carte blanche over a short period of time without the input of local residents. In fact, according to the Post, when the question of expanding schools at a cost of $79 million was brought to a vote in Worthington, the people rejected it overwhelmingly on five occasions.
Who is paying for the resettlement of a record number of these self-trafficked Central Americans teens? Well, this article gives us some insight into where they are being placed and how it burdens local communities. While many of the UACs have been placed in large metropolitan areas on the east and west coasts, "thousands more, however, have ended up in small towns like Worthington, where their impact is dramatic."
The post notes that over the past six years, Nobles County, Minnesota, has received more unaccompanied minors per capita than all but one county in the country. "Their arrival has helped swell Worthington's student population by almost one-third, forcing administrators to convert storage space into classrooms and teachers to sprint between periods, book carts in tow."
Why is nobody in Congress demanding an accounting for who is paying for this? The Post lists some other small communities being burdened by this, such as Manassas, Virginia; Scott County, Mississippi; and Texas County, Oklahoma. More UACs have been resettled this year than ever before, costing taxpayers billions of dollars.
It's not like these people will be earning enough money to pay for their forced entry into these communities. As the Post notes, the number of non-English speaking children in Worthington has nearly doubled since 2013, to 35 percent of students, and "[I]n the high school, where most unaccompanied minors are placed, it has almost tripled." The Post also reports on girls coming into the schools straight from the border while pregnant. There are so many social problems with mass numbers coming from indigenous areas of Central America. God bless those people and people from other troubled parts of the world, but it's not the job of small-town American residents to shoulder the burden of those problems in mass numbers forced upon the community without any orderly process of admission and assimilation.
How come nobody in the state or federal delegation in Minnesota is even asking the question of why American children should have to deal with such a costly and disruptive transformation to accommodate people here illegally?
Social transformation without representation is a general problem with the refugee program.  Minnesota has certainly had its share of problems with thousands of Somalis being resettled around Minneapolis in a short period of time without any input from local residents or study of the fiscal cost, crime, terror recruiting, and assimilation. The Trump administration is considering a proposal to allow local communities to reject it, an intuitive that cannot come quickly enough. But the so-called "unaccompanied alien children," almost exclusively from Central America, will continue to be placed in these communities without any local input. However, as we've noted before, they are the least legitimate refugees because almost all of them are self-trafficked by illegal alien families here and are not truly unaccompanied. As bad as chain migration is through the legal visa system, this is a form of illegal alien chain migration that the American people never voted for and is against statute.
Then there are the criminal problems, the one issue conveniently omitted from the Post story.  The single biggest driver of the resurgence of gangs, such as MS-13, is the influx of Central American teens erroneously resettled in this country through the UAC program. Up to 40 percent of MS-13 members arrested in recent stings were found to have been resettled in this manner. Also, where you have translational gangs, you have drug trafficking for the cartels. It's no surprise why the Minneapolis Star Tribune wrote a story last year on how "Mexican drug cartels turned Minneapolis into a meth hub."  At this pace, how much longer will it be until those gangs reach small towns like Worthington?
To the Washington Post writers, the only reason someone would oppose forcible transformation of a small community with an influx of very troubled illegal aliens who are costly and bring in gangs is because of race. Sure, I guess the residents would crawl over glass to embrace the crime, gangs, foreign language programs, pregnant high school kids, and the cost of education and crowded schools if their skin color happened to be lighter.
Despite their barely disguised race-baiting, the Washington Post gives away the farm toward the middle of the article: "Even as Worthington has changed, however, its tax base still depends largely on white farmers like Brink, pitting the town's future against its past."
They sure could have done without the reference to "white" farmers, but any sane American reading this expose empathizes with the local residents. American taxpayers – whether black, white, yellow or orange – being forced against their will to subsidize illegal aliens, is the ultimate violation of the underpinnings of our government by the consent of the people.
Social transformation without representation has nothing to do with race and everything to do with making the American people pay for the rope to hang themselves against their will. The Washington Post might not have intended this, but they did a great service by exposing the truth of what is happening to so many towns across America thanks to the the refusal of our government to enforce immigration laws as originally drafted.
#mc_embed_signup{background:#fff; clear:left; font:14px}
/* Add your own MailChimp form style overrides in your site stylesheet or in this style block.
We recommend moving this block and the preceding CSS link to the HEAD of your HTML file. */