I was an A student back home (well, unless we're talking about math… but that's another story).
But there I was, sitting in a class at Universidad del Valle de Atemajac in Guadalajara, feeling about as dumb as a box of rocks.
Sure, I "spoke" Spanish, but I had only been there a week and there's only so much my high school textbook taught me.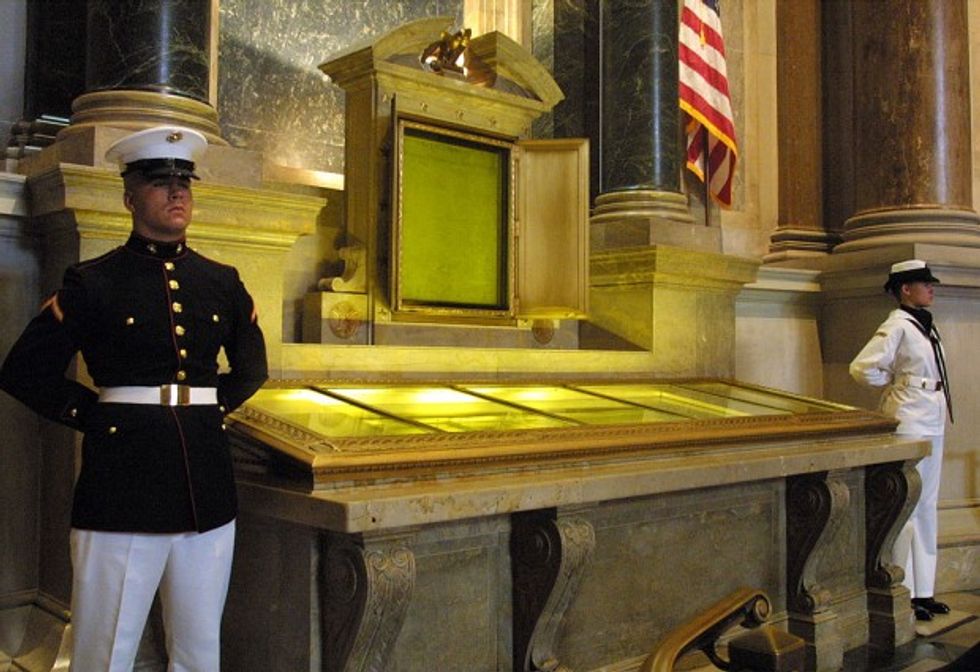 An honor guard stands next to the original copies of the Declaration of Independence, the Constitution and the Bill of Rights July 4, 2001 at the National Archives in Washington, D. C. (Alex Wong/Getty Images)
There I was, lost in a sort of "foggy" understanding of the material. As you can imagine, I definitely didn't get as much out of the class as I could have.
Fast forward a decade or so, when Illinois lawyer David Shestokas noticed people in a similar predicament.
Years earlier, he had already started addressing a void in this country's historical literacy—writing and speaking extensively about the U.S. Constitution.
"As I thought about how divided the country often seemed, I realized that it was the lack of knowledge of our founding that allowed people seeking power to drive us apart," he said. "I thought it was important to do what I could to bring us together. That's when I started my online writing, which became my own website, then a radio show, and now books in both Spanish and English."
And then it dawned on him: The opportunity to bring people together around our founding principles could be made so much bigger.
Enter "Cápsulas Informativas Constitucionales," a Spanish translation of our founding documents and the historical context and debate around them.
This one-of-a-kind effort brings the essence of what makes the United States different to the hands of millions of Americans who can more easily learn in Spanish. As a recent interview with Reflejos.com put it, "For the first time, America's Spanish-speaking community, which often finds itself the subject of Constitutional discussion, has the opportunity to join these discussions in their own language."
Thanks to a good friend (whose work I highly recommend checking out!), I was introduced to David and had a chance to learn more about this project. So, what should you know about David and this rather amazing body of work?
Let's dig in.
1. David's grandmother escaped Communism in Lithuania.
And she's a big reason why he's bent on sharing our founding principles with as many people as possible.
"My grandmother came to the U.S. to escape the horrors of the Communist regime in Lithuania," David explained. "And her memory serves as my inspiration to teach about the freedoms we all have."
2. The idea began in the courtroom.
Over the course of his extensive career, David has been involved in thousands of court cases. As an Assistant State's Attorney for Cook County, Ill., many of the victims and defendants he dealt with were of Latino background. "To help in my work I began to study Spanish to better communicate with people I encountered in court," David said. "The first Spanish I learned enabled me to talk about these rights and assist Spanish speakers in the courtroom to understand important parts of the Constitution."
3. David got the idea from the founders themselves.
At the time of the Constitutional Convention of 1787, a whopping 37 percent of the population in Pennsylvania spoke German. And, since the document had to be ratified by at least nine of the 13 colonies, 1,500 copies were printed in German so these people could more easily study it as it was debated. A year later, the same was done for the heavily Dutch population of Albany.
David's just taken the idea a step further—he's not only worked to get the founding documents accurately translated into Spanish, but he's worked to get the historical context and explanation translated too.
4. He's got a partner in crime.
Meet Cuban immigrant and language expert Dr. Berta Isabel Arias. A good friend of David's, the widely-talented Arias played a major role in taking his "Constitutional Sound Bites" books and turning them into an expanded Spanish language version of the original.
5. Their work is the first of its kind.
While Spanish translations of the founding documents themselves do exist, David couldn't find anything about these documents in Spanish; nothing to really learn from. Dr. Arias did her own research as well—and also came up empty. So, they set out to fill the void. A year (and countless hours later), they turned "18th Century English into 21st Century Spanish," and "Cápsulas Informativas Constitucionales" was born.
6. Selling beer played an influential role in his work today.
David is an extremely well educated, tremendously accomplished individual—and his knowledge of the Constitution is impressive. Yet, he credits his pre-law days of selling beer with teaching him a lesson that's vital to his work's success today: explain things like you're just sitting around talking to friends.
Whether it's "Constitutional Sound Bites" or its Spanish cousin "Cápsulas Informativas Constitucionales," David wanted his work to be written in a way that would resonate with everyone—even those without a legal background.
7. It's so much more than just translation.
"Cápsulas " means "capsules." Think of the little pills you take when your head hurts, or the vitamin C you pop every morning. They're little bursts of amazingness; they bring quick relief to pain and boost to health.
Cápsulas does exactly that. Think of the long, verbose, extensive (and yes, occasionally "boring") content you need to sift through in order to learn and understand the Constitution.
Now try doing that in a second language.
"Our forebears may have appreciated poring over reams of long-form essays such as The Federalist Papers," David explained. "Modern citizens, however, are accustomed to getting information in short bursts and often from entertaining online sources."
We need to be nimble with the truth. And that's what "Cápsulas" helps us to do.
8. It's not a political effort.
Despite the past few months' contentious political environment, David stresses that this is not framed in terms of right or left. It's simply about making sure as many people as possible have access to understanding these principles that changed the world.
9. He's got a radio gig, too.
Thanks to southern California radio host Michael Hausam ("HausRules"), David has been able to take his "Constitutional Sound Bites" to the airwaves every week. Want to tune in? Click here!
10. He's far from done.
From current projects like recording audio versions of the books and expanding their Spanish language website, to future efforts including a children's book and "a special Latin American edition that connects American political leaders like Thomas Jefferson and James Madison to important Latin American leaders like Benito Juarez and Simon Bolivar," the duo is making amazing progress.
Look, I know we have a problem in this country: Today's immigrants aren't assimilating. And yes, not learning our language is a big part of that (which often sparks controversy whenever I or anyone else brings up the idea of making things available in Spanish).
But here's the reality: There are 37 million Spanish speakers living in this country today; Spanish speakers who (judging by David's tens of thousands of social media followers) are thirsty for this stuff.
Which means we've got a golden opportunity to bring real understanding of what makes this country exceptional to millions of people who—like I felt as I sat in a classroom in Mexico—simply find it easier to learn in their native language.
And if we can reinvigorate an admiration for our founding in as many people as possible, isn't that ultimately what we want?
For our Liberty Loving Latinos en Español, click here!
Mary Ramirez is a full-time writer, creator of www.afuturefree.com (a political commentary blog), and contributor to The Chris Salcedo Show (TheBlaze Radio Network, Saturday, from noon to 3 p.m. ET). She can be reached at: afuturefree@aol.com; or on Twitter: @AFutureFree
–
TheBlaze contributor channel supports an open discourse on a range of views. The opinions expressed in this channel are solely those of each individual author.