Sleeping that night never entered my mind. It had been the most emotionally draining day of my life. For the first time ever, the adults that I had always turned to as pillars of strength and guidance were unsure or scared themselves.
It was the first time every class at school just let the TV do the teaching. My classmates cried; others were angry. That day at lunch, the courtyard was quieter than normal and fewer of my peers were in the common areas, choosing to go home or be inside a classroom trying to make sense of what was happening.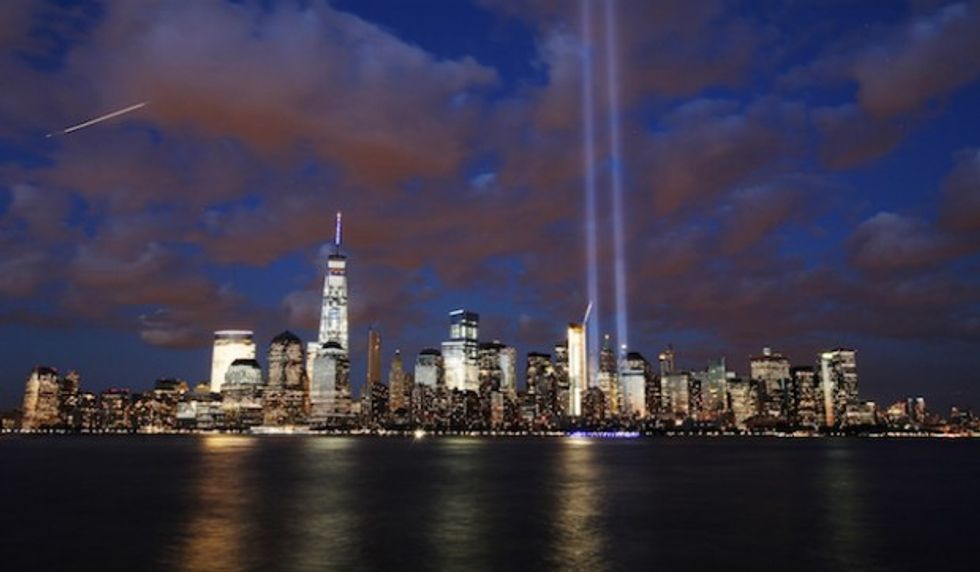 The Tribute in Light shines over the New York Skyline on September 11, 2015 in Jersey City, New Jersey . Today marks the fourteenth anniversary of the September 11, 2001 attacks when terroristists high jacked airliners and flew them in the World Trade Center and the Pentagon. (Photo by Kena Betancur/Getty Images)
The look of fear in the face of my history teacher and the tears from my child development teacher spoke volumes of what we were experiencing. Over a decade later I can still remember every detail. I'll bet you can too. And it's because we were wounded as a people, hurt by a force of pure evil.
And now everything we thought we knew about those events on September 11, 2001 is being called into question because apparently we weren't told the truth as to who was really involved after all. By not sharing the legitimate facts about how or why Saudi Arabia was connected to the most devastating attack on our soil since Pearl Harbor, the U.S. government has put itself in a negligent and shameful position.
Here are the top five reasons why we need to demand the truth behind the day that stole a piece of our national innocence.
1. The victims
Charles Burlingame was the name of the pilot whose plane was crashed into the Pentagon that day. And with him, the citizens of United States lost 2,996 of their friends, family and neighbors because of what happened. To have not presented the whole story is like spitting on their graves.
2. The military
Between 2001 and 2011, over 6,000 members of the U.S. armed forces were killed in combat as we invaded Iraq and Afghanistan under Operation Enduring Freedom. The war effort has left our country in massive debt and what little headway has been made in the countries has been undermined by the rise of ISIS. If the information provided to our military was incorrect or not complete, how could they ever finish the job properly or know what they were actually facing?
3. The widows
Terry Strada is a mother of three beautiful children and the widow of Tom Strada who died in the World Trade Center. She represents hundreds - if not thousands - of other widows who were directly affected by the attacks. To think that those still with us who have personal, tragic connections to the events of that Tuesday morning don't even know the true reason of why they no longer have their loved ones in their lives is an absolute insult.
4. Future generations
By scrubbing our history, the government is setting up the America of tomorrow to fail. If they don't know where we came from or how our past relationships have influenced their modern circumstances, they may make the same mistakes again. We're already making the same errors from the past that we do have full knowledge of - think Roman Empire - just imagine how misguided and troubled the next generation will be because they don't have the truth.
5. Anything less is immoral
I understand that the Kingdom of Saudi Arabia is one of our strongest allies in a terror-driven region of the world. They have taken on a lot of financial obligation for us as well. Which is why it's clear in this instance that our interests are overshadowing our principles. We are a nation that stands for justice, we stand for what's right. And while the credibility of our leaders and institutions continue to deteriorate, we should be able to agree that the truth will set us free.
There are 28 pages redacted from the 9/11 Report. Pages that former Senator Bob Graham said will likely embarrass the Saudis. The Obama administration tried hard to stop a bipartisan bill that ended up passing that now allows anyone who supported acts of terror to be held liable. This includes foreign sovereigns.
That President Obama claims this bill passing opens the floodgates for lawsuits to be filed by victims against terrorism affiliated countries is a weak argument. Because if there are other countries who are responsible for our pain and death, a lawsuit is the least they and we should be worried about.
Wade Heath is a speaker, columnist and founder of the Do Good. Be Great. millennial movement. Contact him: Events@WadeHeath.com
–
TheBlaze contributor channel supports an open discourse on a range of views. The opinions expressed in this channel are solely those of each individual author.