The war that has been quietly raging in Ukraine for three years has produced a casualty that literally landed in my lap.
On Aug. 24, 2015, while most of us enjoyed the dog days of summer, halfway around the world in Ukraine the life of an 11-year-old boy named Mykola was turned upside down.
Mykola was just like any American 11-year-old, but the landscape he lived in is not like America. He was playing tag with his brother and friends when he came across a crate of Rocket Propelled Grenades (RPGs). Being a curious 11-year-old, he picked up one of the RGPs and began running with it. When he was tagged by a friend, he tripped and fell. The RPG hit the ground and exploded.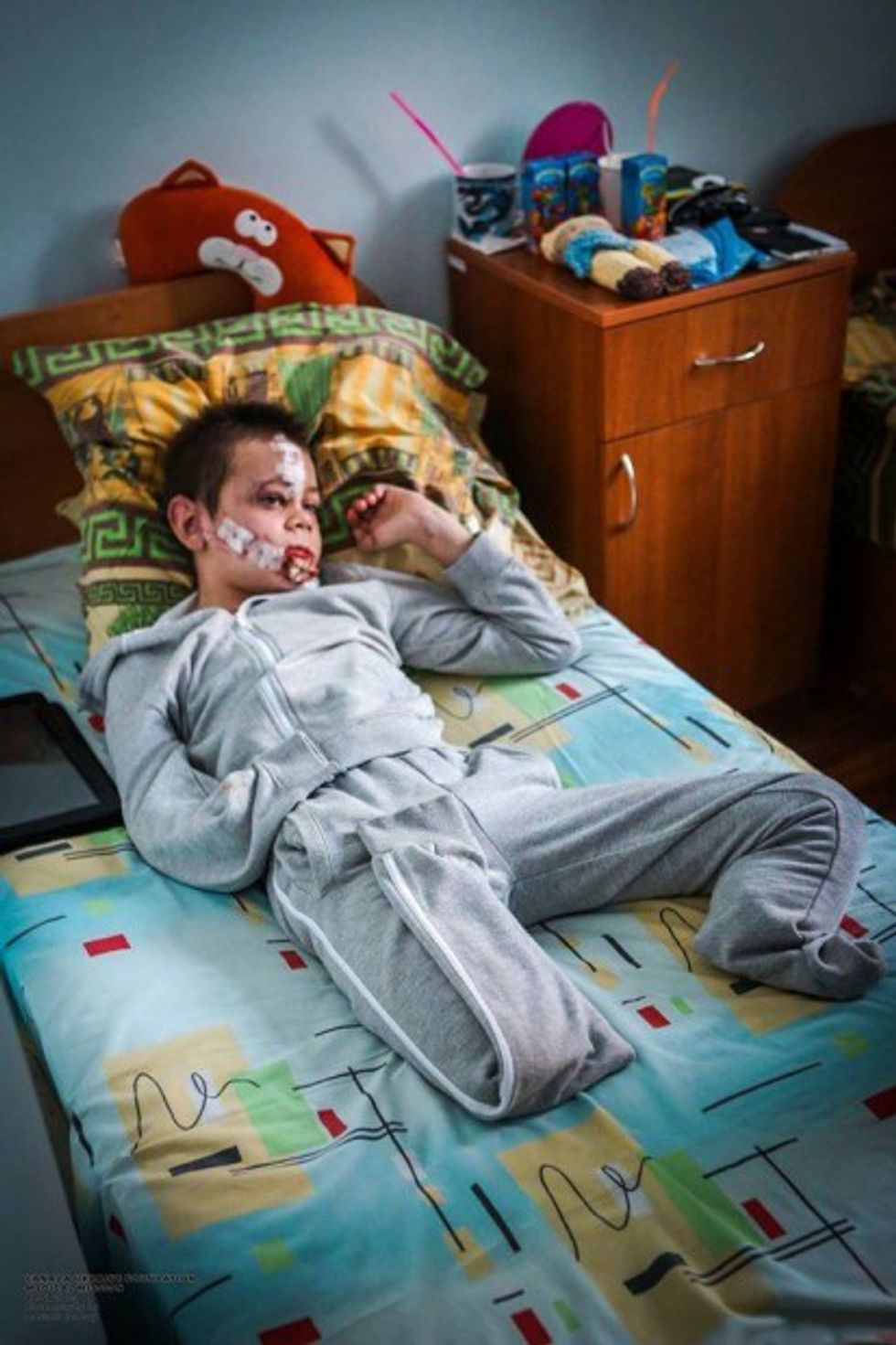 Mykola in Ukraine before he came to Canada. (Brian Kolfage)
The massive blast killed Mykola's brother and wounded his friends. Of those surviving, Mykola's injuries were the worst. He lost both legs and his right hand; becoming a triple amputee. He has no teeth, and he has internal injuries, hearing problems, and severe facial trauma; he faces a long road to recovery.
An unknown to the world, Mykola sat for three months in a hospital bed in Ukraine with no hope or future until a Canadian medical mission group found him in November and realized how important it was to get him to proper medical care.
By mid-November 2015, the media was covering Mykola and his tragic story.
Articles about him began appearing around the world. In one of them, a media reporter asked Mykola about a photo he had above his bed. It was a photo of another triple amputee holding his newborn son. Mykola explained to them that the photo was of an American soldier injured in a war. He said, "This is my hero. I want to be like him."
It was a photograph of me.
On November 24, I received a message through my website with the article and the photograph. In the article, I saw a child with the kinds of wounds that shatter seasoned war veterans. The wounds he had were similar to what I saw when I was hospitalized at Walter Reed Army Medical Center, seeing the worst of what war can do to a person. My heart sank for Mykola. I knew the demons he was facing.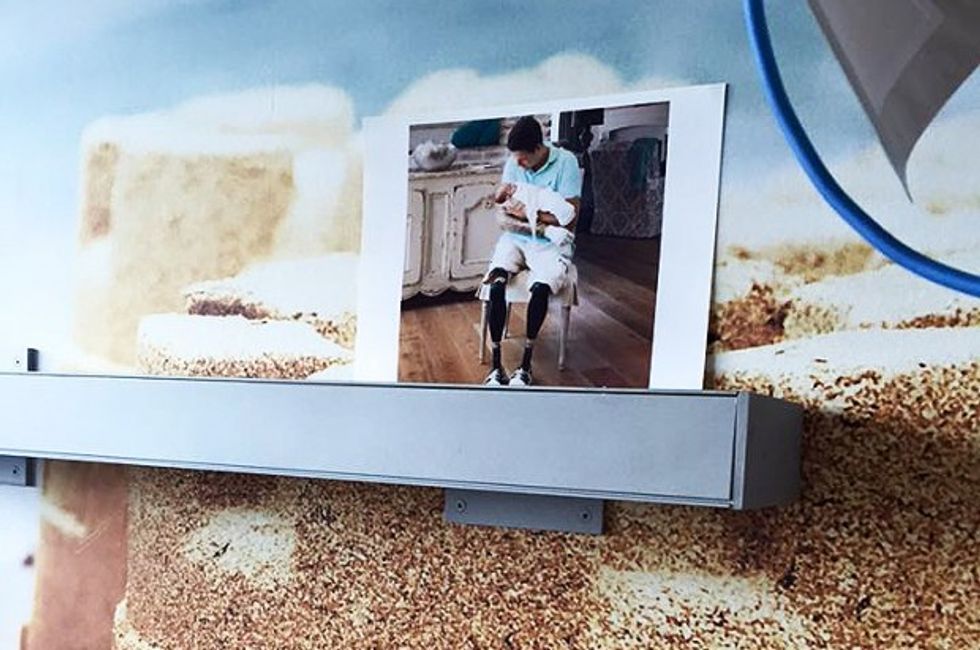 A photo of Brian Kolage and his son Beckham that sits over Mykola's bed. This is the photo that sent the media and hospital staff on a search to find Brian (Brian Kolfage)
I messaged a charity known as Veterans Airlift Command, which arranges travel on private planes for wounded veterans at no cost to the veteran. I explained to them Mykola's tragic story. And in less than fve minutes I was told that a jet from the Carrington Charitable Foundation would be made available to fly us round trip from Florida to Montreal.
On December 1, which also happened to be my birthday, I received word that Mykola had arrived at Montreal's Shriners Hospital. This day now had more meaning than ever before for both of us.
On December 13, my wife, Ashley, and I boarded the jet and headed north. The Shriners hospital staff told me that Mykola loved Legos and Star Wars, so en route we stopped in New York City. We went straight to the huge Lego Store at Rockefeller Center and bought Mykola the biggest Star Wars set they had, leaving the next morning for Montreal.
Getting off the plane, it was 30 degrees, but I had the warmest feeling knowing what was about to happen. When we arrived we were warmly greeted and taken directly to Mykola's ward. This was my moment to help Mykola.
When I walked into the room, there was Mykola, lying in bed, with no legs. He looked up at me, and after our eyes met, he abruptly turned away, curled up into a ball and cried. His mother tried to console him, but he kept crying. I asked all but the medical staff and the translator to leave the room.
I handed Mykola the Lego set, but he couldn't stop crying; I felt terrible. Then I took off my robotic prosthetic hand and laid it on the bed in front of his face. He suddenly stopped crying and was soon grinning like any 11 year-old boy might. I had his attention. I had his trust.
With only a couple of hours together, I communicated through the translator as much information as I could. I showed Mykola and others my video showing how I could swim, scuba dive, surf, walk, dress myself, drive, and just be independent. And then I explained how I even got my Bachelors degree in Architecture without my dominant right hand. By the end of our time together, Mykolas was smiling, goofing off, exhibiting a cockiness that he would conquer his challenge, and knowing that I was his friend.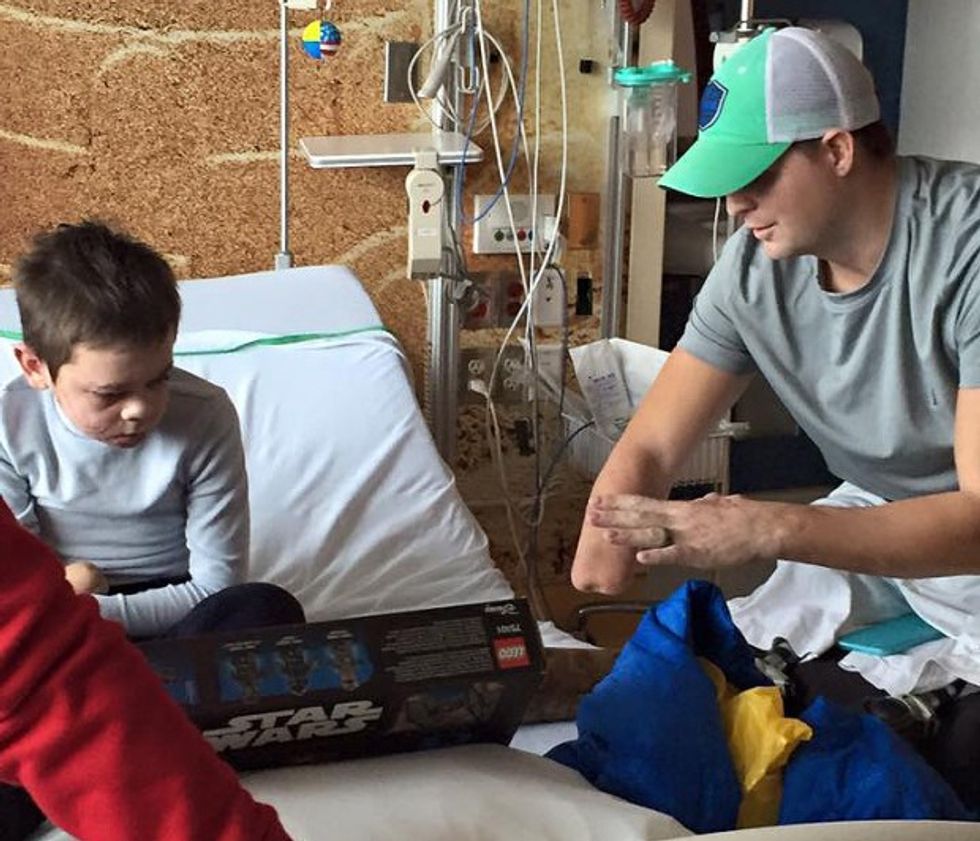 Brian Kolfage and Mykola checkout the lego set that the Kolfage family brought for Mykola. (Brian Kolfage)
The day following my time with Mykola, I received an email from the staff saying how excited he was, and how he couldn't stop talking about our visit and the videos that I showed him. I cannot describe how that makes me feel.
My wife and I are now back home in Florida but I can't stop thinking about Mykola and the battle he is facing, something I faced at twice his age. As we sit in the comfort of our homes this Christmas, wars rage on around the globe. So many that we've most likely forgotten that the war in Ukraine is approaching its third anniversary.
As Christians and Americans we need to not take for granted the freedoms and safety that our military provides us. Our children can run free outside and we dont have to worry about these things.
Life is at best uncertain, and while people measure a successful life in many ways, maybe the best measure is the impact we have on others.
If you want to help Mykola, please visit his website and Facebook page.
Brian Kolfage retired from the Air Force after being severely wounded in Iraq and is a 2014 graduate of the University of Arizona's school of Architecture. Contact Brian at BrianKolfagejr@gmail.com or on Facebook.
Feature Image: Brian Kolfage
–
TheBlaze contributor channel supports an open discourse on a range of views. The opinions expressed in this channel are solely those of each individual author.