"A fish rots from the head."
That ancient proverb was first put in writing five centuries ago by Erasmus, so it is said. It means the same in all cultures. The root cause of failure is leadership.
The leader sets the tone. The actions of the government are a reflection of the style and direction of the leader.
One month after being sworn into office, President Barack Obama introduced and passed an $832 billion dollar stimulus package to create jobs. The entire sales pitch was "shovel ready jobs."
It turns out that the money went to welfare and salaries for union dues paying public employees. Shovel ready jobs was a lie.
Later that same year we were told, "If you like your doctor you can keep your doctor. Period." That was a lie.
In 2010 Vice President Joe Biden said that Iraq would be one of President Obama's great achievements. We exited Iraq in 2012.
Former President George W. Bush warned us that leaving Iraq without a status of forces agreement in place would create a void that would be filled by our enemies.
Say hello to the Islamic State.
President Obama was not impressed: "The analogy we use around here sometimes, and I think is accurate, is if a jayvee team puts on Lakers uniforms that doesn't make them Kobe Bryant," He lied.
The military got the message and manipulated intelligence reports from the professional analysts to keep the intelligence in line with the president's public posture. They lied.
Retired Gen. Jack Keane, former vice chief of staff of the Army, said that this was the worst lying about military intelligence that he has seen since Vietnam. When you lie about facts in war people die.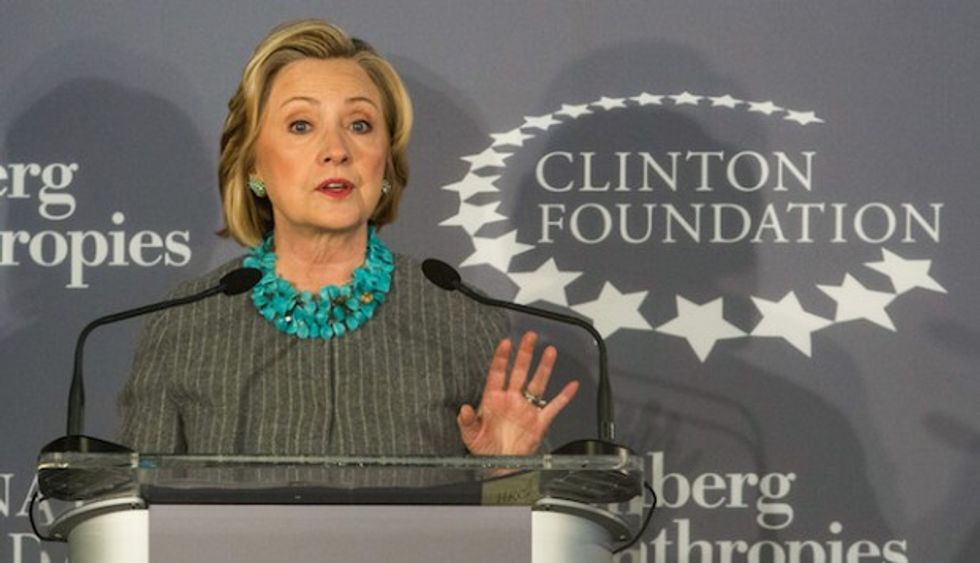 Former U.S. Secretary of State and first lady Hillary Clinton speaks at a press conference announcing a new initiative between the Clinton Foundation, United Nations Foundation and Bloomberg Philanthropies, titled Data 2x on December 15, 2014 in New York City. (Photo by Andrew Burton/Getty Images)
Former Secretary of State Hillary Clinton may become the 45th president of the United States. She has been at the top of political leadership in the United States for 25 years. She has a history of lying.
In one of her first acts as first lady she claimed that the White House travel office was corrupt and fired them all replacing them with trusted Arkansas friends. A court found her claims bogus. She lied.
Her first act as secretary of state was to arrange to handle her communications on a private server free from the prying eyes of Congress and the White House. She said it was to avoid using more than one device. She lied.
She said that she turned over all work-related communications to the Department of State. She lied.
She said that she neither sent nor received classified communications. She lied.
Recently discovered emails have shown that as secretary of state she arranged for favors to be done for large contributors to the Clinton Foundation.
Policy decisions taken as secretary of state clearly benefited entities that were generous to her family and to the Foundation.
The FBI requested an investigation based on allegations of corruption at the Clinton Foundation but their request was denied by the Department of Justice. The DOJ claimed that they looked into the rumors and found no evidence of corruption. They lied.
During 2011 and 2012 our embassy in Libya appealed to the secretary's office 600 times for additional security for the facility in Benghazi. Clinton's top advisors, following her lead, chose to ignore the requests.
When Benghazi was under attack 56 days before a presidential election Clinton spent more effort coming up with a lie about the event than trying to save the lives of Americans.
Deputy Director of the CIA Mike Morrell participated in concocting the lie that the attack was a protest caused by an Internet video that had been viewed only 800 times world-wide. That lie became apparent within weeks.
Morrell was on television last week continuing to insist that a video was partially responsible for the attack convincing us only that he is still following his leader.
Clinton personally signed a document granting Special Government Employee status to Deputy Chief of Staff Huma Abedin so that she could receive paychecks from the government, the Clinton Foundation and Teneo Holdings, a private company tied to Former President Bill Clinton, all at the same time.
In December of 2012 Ms. Abedin coordinated a dinner for the secretary in Ireland with contributors to the foundation at the request of Teneo Holdings.
Chief of Staff Cheryl Mills, while on the government payroll, travelled to New York City to interview potential top employees for the Clinton Foundation. I trust she wanted to ensure that they would be good team players.
The Clinton campaign claims that Mrs. Clinton had no direct involvement in any of the interactions between the State Department and the Foundation. They were merely interactions between aides. They lied.
Do we really want four more years of this?
"A fish rots from the head."
If you would like to be added to John Linder's distribution list please send your email address to: linderje@yahoo.com or follow on Twitter: @linderje
–
TheBlaze contributor channel supports an open discourse on a range of views. The opinions expressed in this channel are solely those of each individual author.