"We won the war!" - Raul Castro, reacting to President Barack Obama's announcement, Dec. 20, 2014.

"We are going to have diplomatic relations with the United States without having ceded one iota." - Convicted Cuban murderer/spy Gerardo Hernandez, July 17, 2015.

"Decisions on internal matters are NOT negotiable and will NEVER be put on the negotiating agenda in conversations with the United States. Cuba will NEVER do absolutely anything, not move one millimeter, to try to respond." - Josefina Vidal, director of U.S. affairs for the Cuban Foreign Ministry, in a humiliating smack-down of U.S. Secretary of State John Kerry's speech during the U.S. flag-raising in Havana, Aug, 14 2015.
"No means NO!" Feminists tell us that anyway. So you'd really think feminist-friendly males like President Obama and Secretary of State Kerry would "get" Castro's no-nonsense response to their goo-goo-eyed advances. I mean, there's nothing subtle or coy about it.
"Just leave the money on the table ... and don't disturb the cat on the way out!" It couldn't be much clearer.
And you can't accuse the Castro regime of failing to put their KGB-trained secret police where their mouths are. Kerry was barely back on the plane for the trip home this week-end after the flag-raising, when the Castro regime unleashed another massive wave of terror on Cubans dissidents. These beatings and arrests (mostly of women carrying flowers) came right on the heels of the wave of terror preceding last Friday's flag-raising.
"So what's the big deal, Humberto?" some ask. "I mean, so we formally open an embassy in Cuba, raise the U.S. flag, but don't we have embassies in repressive hell-holes all over the world?"
Many folks forget the series of U.S. surrenders that preceded this flag raising. Many forget that it was Castro always calling the shots — Castro making demand after demand of the cowering, bowing, hat-in-hand Obama administration. The demands were all met, promptly, cravenly.
Without these groveling and capitulations, you see, the U.S. would never have been allowed the privilege of providing Stalinist, terror-sponsoring Cuba with international diplomatic benediction — and many, many more dollars. We held the big prize, we held all the cards, we possessed the big-stick — yet we surrendered relentlessly and completely.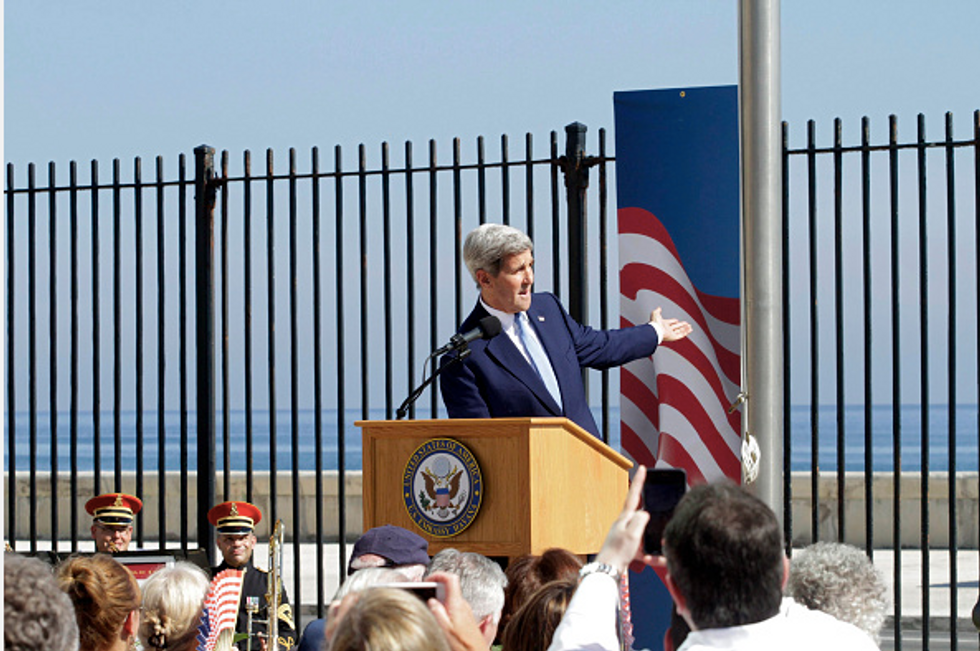 U.S. Secretary of State John Kerry gestures as he talks about US vintage cars parked outside the U.S. Embassy at the Malecon waterfront during the flag-raising ceremony, on August 14, 2015, in Havana, Cuba. (Photo by Sven Creutzmann/Mambo Photo/Getty Images)
"Laughing all the way to the bank," hardly does justice to what the multi-billionaire Castro family must be doing this week. The $7 billion they stole at Soviet gunpoint from U.S. businessmen in 1960 (after murdering a few who resisted) put nary a damper on last week's flag-raising.
Far from any damper — Fidel Castro himself emerged from his semi-retirement to demand "many millions in reparations from the U.S." He pulled a Moe Green from Godfather — "No! I buy YOU out!"
Alas, the stunt didn't work out too well for Moe Green. But who's to say it won't work for Castro? I mean we don't exactly have someone with the "assertiveness," shall we say of Michael Corleone for president, now do we?
Last week's further diplomatic benediction of Cuba by Obama means that the estimated $4.2 billion already flowing from the U.S. to Cuba annually will crank up nicely. This windfall resulted from Obama's flurry of executive orders abolishing Presidents Ronald Reagan and George W. Bush's travel and remittance restrictions to Castro's fiefdom. In brief, almost every year since Obama took office more cash has been flowing from the U.S. to Cuba than used to flow there from the Soviets at the height of their Cuba-sponsorship. Liberals and libertarians insist on calling such a state of financial affairs an "embargo."
From the very start of Obama's goo-goo-eyed flirtations Castro folded his arms, closed his eyes and raised his chin. Like Scarlett O'Hara with Rhett Butler he drove a hard bargain and made himself very, very clear. If the U.S. so craved his affection, so craved to further legitimize and finance his regime, we must first remove Cuba from the State Department's list of terror-sponsoring nations.
On bended knees the demand was met. The announcement came with a bow and a curtsy on May 29, 2015. Here's why it was so important to the Castro family:
This removal from the terror- list will allow the Castro family and their military cronies to further loot international financial institutions like the World Bank and International Monetary Fund. You're aware, I'm sure, who ultimately foots most of the bill for these international welfare agencies, badly disguised as lending institutions?
Fidel Castro said in a telecast on May 27, 1960, that U.S. action in halting technical aid was "reprisal" for U.S. "annoyance" over Cuba's giving a million dollars worth of disaster aid to Chile. He termed the U.S. technical aid "insignificant." Photo Credit: Britannica.com
Right. The U.S. taxpayer. And speaking of flag-raisings:
"I see that the flagpole still stands," said a choked-up Gen. Douglas Mc Arthur on March 2, 1945 as he entered devastated but liberated Corregidor. "Have our troops hoist the colors to its peak, and let no enemy ever haul them down."
A U.S. Army sergeant named Manuel Perez-Garcia was on Luzon during that victorious flag-raising. Perez-Garcia was born in Cuba but immigrated to the U.S. after Pearl Harbor to join the U.S. Army and volunteer for combat. At the time of that flag-raising he'd fought almost constantly for 14 months, through New Guinea and the southern Philippines. His purple hearts, Bronze Star and Silver Star with Oak Leaf Cluster said something about his role in that victory for freedom. We can only imagine how he felt when he finally saw his beloved stars and stripes fluttering over Corregidor.
Manuel Perez-Garcia, who also volunteered for combat and fought to his last bullet against Castro's Soviet-led troops at the Bay of Pigs in 1961, passed away in Miami in 2011 at the tender age of 102. Today his ashes along with those of his son rest in Arlington. Maybe he's lucky not to witness his beloved flag raised in Castro's Havana, within walking distance of political prisons and torture chambers, a smirking Che Guevara mocking it from banners and murals in every direction.
For Manuel Perez-Garcia and his Band of Brothers that flag symbolized victory and freedom. In Havana today it symbolizes U.S. surrender to the Stalinist cowards who destroyed and defiled their homeland, and craved to nuke their adopted one.
Feature Image: Shutterstock
–
TheBlaze contributor channel supports an open discourse on a range of views. The opinions expressed in this channel are solely those of each individual author.