© 2023 Blaze Media LLC. All rights reserved.
Can Donald Trump Be Taught New Tricks To Avoid the Left's Traps?
Sometimes even "old dogs" need to learn new tricks if they are going to avoid the pitfalls set for them by the left.
There is a lot of truth in the old adage, "You can't teach an old dog new tricks." However, I believe if you set your mind to it, anything is possible.
That being said, I'm beginning to lose hope that Republican presidential nominee Donald Trump can learn new "tricks of the trade" which are needed to keep him out of the traps the progressive left democrats constantly set for him. Unfortunately, it seems that Trump takes the bait each and every time.
The latest instance occurred recently when Trump made a comment about Democratic presidential nominee Hillary Clinton during a campaign stop in Wilmington, North Carolina.
"Hillary wants to abolish -- essentially abolish the Second Amendment. By the way, if she gets to pick, if she gets to pick her judges, nothing you can do, folks. Although the Second Amendment people, maybe there is, I don't know," Trump said.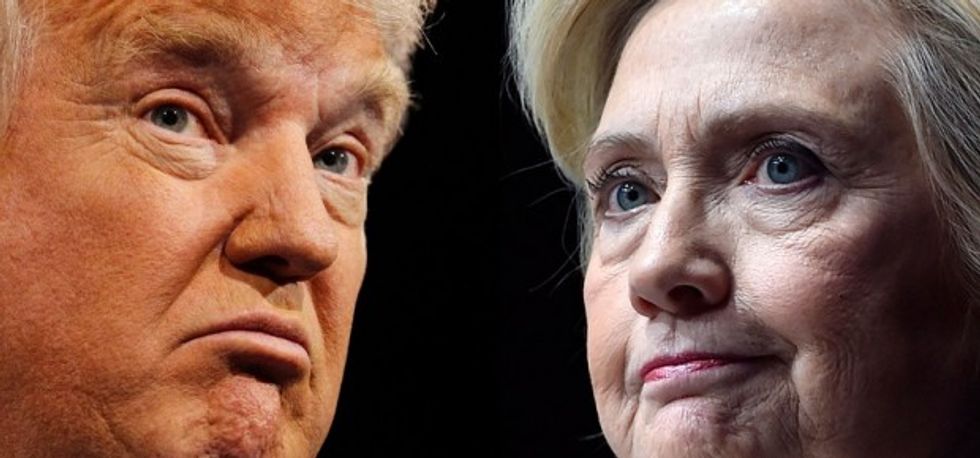 AP Photo
"But I tell you what, that will be a horrible day, if Hillary gets to put her judges in, right now we're tied," Trump added.
Immediately the left was "up in arms," (no pun intended and no threat intended, for the record), and immediately issued a statement on social media to further the agenda that Trump is a "dangerous" man.
A tweet from Clinton's Twitter account stated, "A person seeking to be the president of the United States should not suggest violence in any way," and contained a statement from Robby Mook, Clinton's campaign manager.
"This is simple -- what Trump is saying is dangerous. A person seeking to the be president of the United States should not suggest violence in any way," said Mook.
The hypocrisy is laughable here but I digress.
The Trump camp quickly fired back (again no pun intended) with a statement of its own.
"It's called the power of unification -- 2nd Amendment people have amazing spirit and are tremendously unified, which gives them great political power. And this year, they will be voting in record numbers, and it won't be for Hillary Clinton, it will be for Donald Trump," Jason Miller, Trump's senior communications adviser said in a statement.
Mook's statement merely repeated the narrative which began in June when President Barack Obama first claimed Trump wanted a "dangerous" ban of all Muslims and what Obama considered to be Trump's "dangerous mindset."
Even before Obama labeled Trump as dangerous, Trump was cast as a dangerous man internationally. As early as February 2016, the online German website, Spiegel Online International, classified then presidential candidate Trump in its headline as, "America's Agitator: Donald Trump is the World's Most Dangerous Man."
"The combination of his views and the possibility that he could soon hold the planet's most powerful office make him the most dangerous man in the world at the moment," the article stated.
Even the United States media has gotten in on the "dangerous" man storyline. You know, the people who are supposed to report the facts and leave the intentional molding of opinion to pundits who get paid to offer their viewpoints.
"If you view a Trump presidency as something that's potentially dangerous, then your reporting is going to reflect that. You would move closer than you've ever been to being oppositional. That's uncomfortable and unchartered territory for every mainstream, nonopinion journalist I've ever known, and by normal standards, untenable," Jim Rutenberg, a media columnist for the New York Times, recently said.
Wow! There's that "dangerous" word again in reference to Trump. Isn't it uncanny how those on the left seem to "think" alike when it comes to falling in line and repeating the same rhetoric in order to get "their" progressive left candidate elected president? It's almost as if they send emails to each other or something.
So, let me get straight to my point. It is obvious that Obama, Clinton, the media and every other left-wing progressive out there is just waiting for an opportunity for Trump to make a misstep so they can point a finger at him and brand him as threatening.
Why then doesn't Trump see the obvious and refrain from allowing himself to be set up? Can't this successful "old dog" businessman see that the Democratic political machine is playing him like cheap fiddle or as Trump might prefer, an expensive Stradivarius violin?
Unfortunately, Trump appears used to making offhanded remarks in his dealings with others as a businessman and reality television star. Let's face it, it's his style. However, those same remarks and dry sense of humor at times, play right into the hands of the left.
What Trump needed from the very beginning was a campaign manager and a team surrounding him who were familiar with the left's agenda. A team who could help Trump maneuver around the left's snares rather than falling for them almost daily.
If Trump is serious about winning, his strategy going forward must be for him to learn some new tricks and quickly.
Let me spell it out for Trump!
He should stick to the policies he is offering the American public, should he be elected and stay away from making personal remarks during speeches.
Adhere to the planned agenda for each speech as written. Don't get sidetracked.
And finally, I can't believe I'm saying this because it's one of the many things I dislike about Obama's presidency, but Mr. Trump, you need to stick to the teleprompter if you want to win.
–
TheBlaze contributor channel supports an open discourse on a range of views. The opinions expressed in this channel are solely those of each individual author.

Want to leave a tip?
We answer to you. Help keep our content free of advertisers and big tech censorship by leaving a tip today.
more stories
Sign up for the Blaze newsletter
By signing up, you agree to our
Privacy Policy
and
Terms of Use
, and agree to receive content that may sometimes include advertisements. You may opt out at any time.