Donald Trump's repeated suggestion that U.S. forces deliberately target the wives and children of Islamic State members in military strikes has sparked a flurry of condemnation from fellow politicians and celebrities but mostly silence from Christian churches and Jewish organizations.
"You have to take out their families," Trump said in an TV interview December 2. "When you get these terrorists, you have to take out their families."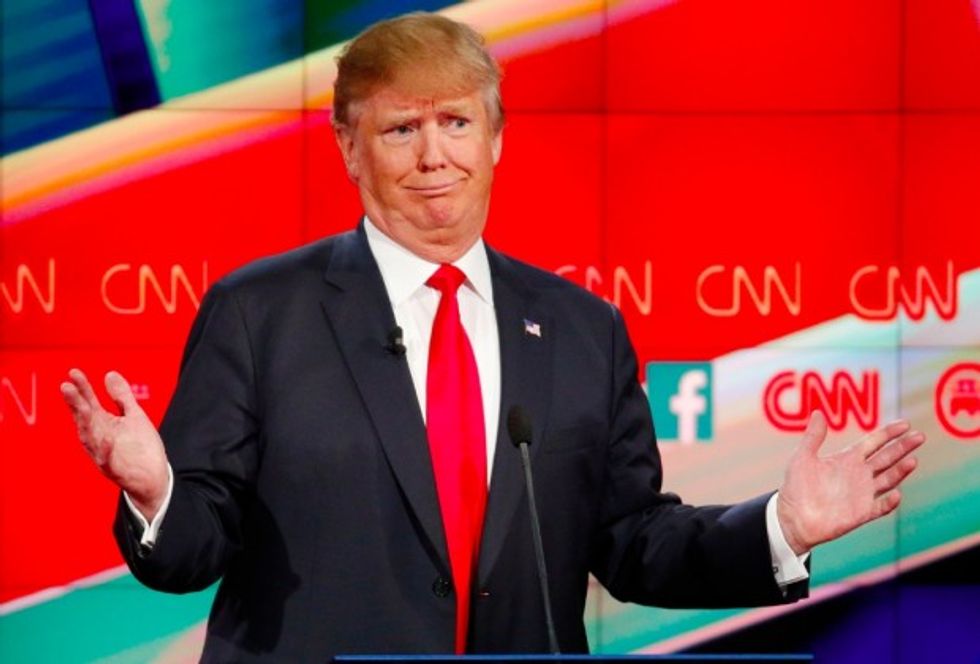 Donald Trump reacts during the CNN Republican presidential debate at the Venetian Hotel & Casino on Tuesday, Dec. 15, 2015, in Las Vegas. (AP Photo/John Locher)
He repeated this assertion at the fifth Republican debate hosted by CNN in Las Vegas.
"We have to be much tougher and much stronger than we've been," Trump said. Trump was replying to a Georgia Tech student who asked, via Facebook, "How would intentionally killing innocent civilians set us apart from ISIS?"
Trump referred to the mass slaughter of innocents that occurred in San Bernardino, and then repeated that, yes, he would be "very, very firm with families."
"Frankly, that will make people think, because they may not care much about their lives, but they do care, believe it or not, about their families' lives," he added.
On December 9, Trump even refused to rule out the use of nuclear weapons against Islamic State strongholds.
At the debate December 14, fellow presidential candidate Sen. Rand Paul suggested Trump's position would require the U.S. to withdraw from the Geneva Convention which categorically bans deliberate attacks on noncombatants.
"If you are going to kill the families of terrorists, realize that there is something called the Geneva Convention that [the U.S. is] going to have to pull out of," Rand said. "It would defy every norm that is America."
Not just American norms.
At the Nuremberg War Crimes Trials in 1945, a war crime was defined to include "wanton destruction of cities, towns, or villages, or devastation not justified by military necessity" and "murder, extermination, enslavement, deportation and other inhuman acts done against any civilian population (Principle 6, b and c)."
Despite this, Christian and Jewish leaders have yet to speak out on whether Trump's stand can be reconciled with traditional understandings of the rules of warfare.
On the day of the debate, the head of the U.S. Catholic bishops, Archbishop Joseph E. Kurtz, issued a statement advocating action "on behalf of people facing religious discrimination, including our Muslim brothers and sisters." But he didn't address the issue of targeting noncombatants.
Credit: WireImage
Similarly, on December 10 Presbyterian leaders in New York City unanimously approved a resolution condemning Trump's recent proposals to ban all non-citizen Muslims from entering the U.S. but did not mention specifically his call for attacks on Islamic State family members.
"As a church, we remain neutral in terms of political candidates and campaigns, but we cannot be neutral with respect to fundamental human rights," the resolution stated. The body also called on leaders of the Presbyterian Church (USA), of which Trump is ostensibly a member, to "review his standing/membership in our denomination."
Evangelical churches and organizations have also publicly criticized Trump's stands on immigration but, so far, have not directly spoken about his position on targeting noncombatants.
Russell Moore, the head of the Ethics and Religious Liberty Commission of the Southern Baptist Convention, denounced many of Trump's positions in a September article in the New York Times.
"Jesus taught his disciples to 'count the cost' of following him, Land wrote. "We should know, he said, where we're going and what we're leaving behind. We should also count the cost of following Donald Trump." The Southern Baptist Convention represents some 15 million adherents.
In the past, most Christian churches have insisted that the rules of war forbid the deliberate targeting of noncombatants, such as children.
For example, the authoritative Catechism of the Catholic Church asserts that "every act of war directed to the indiscriminate destruction of whole cities or vast areas with their inhabitants is a crime against God and man, which merits firm and unequivocal condemnation (CCC 2314)."
However, during World War II the Allied powers deliberately attacked civilian areas, most famously with the nuclear bombing of the densely populated cities of Hiroshima and Nagasaki.
In fact, it's estimated that fully 68 percent of the 85 million deaths during World War II were noncombatants.
Recent wars have been even worse. According to American Journal of Public health, fully 85 to 90 percent of the fatalities in the 248 armed conflicts that have erupted since World War II have been civilians.
For example, in the Iraq War it's estimated that some 4,420 U.S. soldiers were killed in the conflict. Estimates of Iraqi civilian deaths range from a low of 110,000 (Associated Press) to as many as 169,000 (Iraqi Body Count Project).
However, lawyers and ethicists have long distinguished between accidental civilian deaths from bombing campaigns -- so-called "collateral damage" -- and those deaths that are diliberately planned.
One possible loophole for Trump: The Geneva Convention does appear to exempt from protection civilians who actively support the war effort, such as civilians working in armament factories.
He could make the case that the wives of Islamic State fighters, such as the San Bernardino killer Tashfeen Malik, are hardly noncombantants under the terms of international law.
And once again, it appears Trump may have U.S. public opinion on his side. In a 2011 Gallup poll, 58 percent of both Protestants and Catholics and 52 percent of Jews agreed that it is sometimes justified for the military to target civilians.
It would seem guidance from the churches would be welcome, but so far little is being said.
–
TheBlaze contributor channel supports an open discourse on a range of views. The opinions expressed in this channel are solely those of each individual author.