Cheating to win a spot in the Super Bowl is a prime example of the loss of moral values that plagues our nation. A culture of cheaters in sports, politics, Wall Street and main street is adding to our overwhelming angst.
What message do our children receive when they watch cheaters prosper? Why not bamboozle your way through your next test? If you don't get caught, you might get into that college you seek so desperately.
Breaking the rules to get ahead is common practice throughout sports. And they seem to get away with it all the time.
Steroids to break Babe Ruth' records, injections to run faster or bike longer and videotaping defensive signals to win a football game. Patriots coach Bill Belichick was fined $500,000, the maximum allowed by the National Football League, in 2007 for videotaping the New York Jets during an early season game.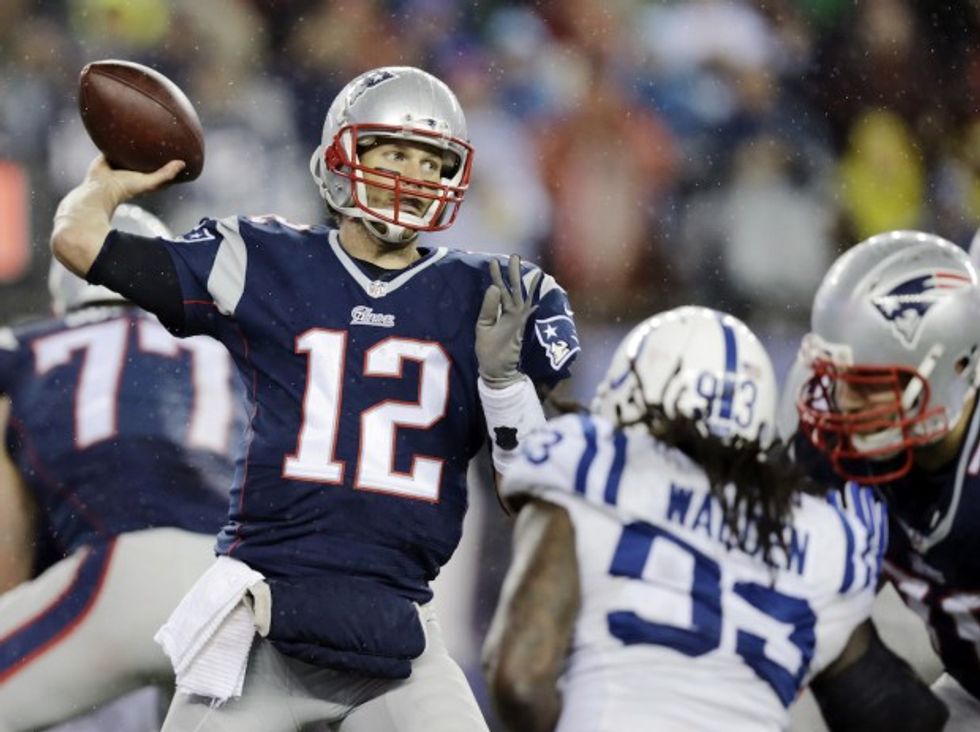 New England Patriots quarterback Tom Brady (12) passes against the Indianapolis Colts during the second half of the NFL football AFC Championship game Sunday, Jan. 18, 2015, in Foxborough, Mass. (AP Photo/Charles Krupa)
Was he fired? Will he be fired this time?
Should the Patriots go to the Super Bowl?
The NFL decision will be most revealing. The vast amount of money produced by the Super Bowl, especially the advertising revenue, will most probably overshadow any consideration of disqualifying the Patriots from playing. Our culture of cheaters, like the sports figures they emulate, desire to win at any cost. Playing by the rules, the way that our fathers and their father's fathers played, is no longer the ideal.
Fixated by celebrity worship, the younger generations have been taught that as long as you are famous, you can do anything you want. Why should I work so hard to get ahead when I can simply con, swindle and bilk my way through life? Wall Street does it every day. So do corporations and politicians. Lying to get elected is basic to any campaign. Unfortunately our president has taken lying to a new dimension.
[sharequote align="center"]Why should I work so hard to get ahead when I can simply con, swindle and bilk my way through life?[/sharequote]
"If you like your health insurance you can keep it." I have "saved or created over 150,000 jobs." Many of us, including my wife, lost our health insurance and rather than create jobs, the U.S. lost more than 1.2 million jobs since President Barack Obama came to office. Time does not permit further examples, but there are plenty more.
If politicians from the president down routinely say anything to get elected or to get a bill passed, how can our country prosper? Everyone is pointing to economic and fiscal policy as the reasons for our malaise. Perhaps we should look inwardly at our culture of cheaters. The pursuit of money and/or fame is the root of our disease. No civilization has ever survived when the rule of law disappeared. If we continue down this path of forsaking our virtue in exchange for fleeting glory or mountains of money, we will find ourselves adrift on a pile of worthless paper with fading pictures of our glorious past.
Benjamin Franklin said that "Laws without morals are in vain. Only a virtuous people are capable of Freedom. As nations become more corrupt and vicious, they have more need for masters."
Today our master government has more power over our lives than our founding fathers every thought imaginable. If we don't start setting an example for our children and if we don't hold violators accountable, no matter what the cost, we are going to find our liberties exchanged for chains and our freedom eroded by a government governed by immoral people.
John Lawrence Allen, a nationally recognized legal expert, represents investors nationwide in securities arbitration. Mr. Allen's second book, "Make Wall Street Pay You Back," was just released. For more information visit www.MakeWallStreetPayYouBack.com.
–
TheBlaze contributor channel supports an open discourse on a range of views. The opinions expressed in this channel are solely those of each individual author.