He's been called "the people's Pope," he claims that he wants the Catholic Church to become more "inclusive," and he's about to visit the U.S.
But why is it that Pope Francis seems to obsess about the sins and the struggles of certain groups of people, while ignoring some of the most serious moral and ethical dilemmas of our age?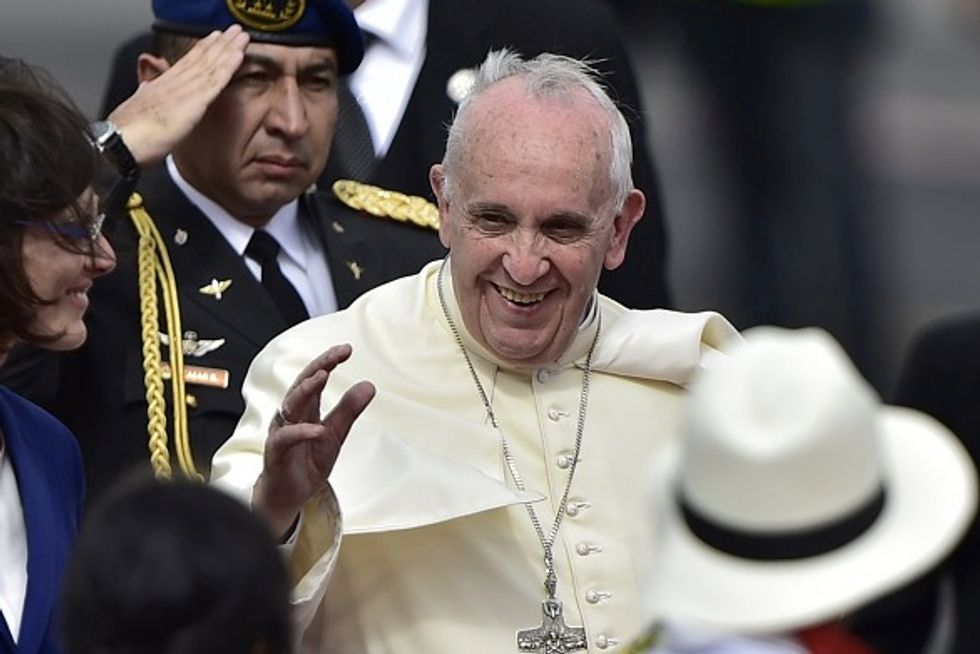 Pope Francis waves at the crowd upon landing at the Mariscal Sucre international airport in Quito on July 5, 2015, to begin his first South American trip in two years, for an eight-day tour of Ecuador, Bolivia and Paraguay highlighting the plight of the poor on his home continent. (Image source: RODRIGO BUENDIA/AFP/Getty Images)
Consider these important questions, as you contemplate his arrival:
Yes, He's For The 'Poor.' But What About the Middle Class?
The Vatican has announced that during his U.S. visit, Pope Francis will meet with "the poor." But will he also meet with middle-class, working, taxpaying U.S. citizens who pay for government welfare programs?
The Holy Father's concern for the poor and the downtrodden is, in one sense, consistent with historic Christian teaching. "What you do for them (the poor), you also do for me" Jesus is recording as saying in the book of Matthew, Chapter 25. Christians have for centuries believed that all followers of Christ have an obligation to care for the most vulnerable among us.
Yet for Pope Francis, the means of caring for the poor that he seems to promote, while popular among American Democrats and American liberal media, are nonetheless destructive, and out of sync with Catholic teaching of the past century or so.
The Holy Father's rhetoric suggests that "economic re-distribution" – the process of governments coercively taking money away from those deemed to already have "too much" and giving that money to those who are deemed to be "deserving" of it - is the pathway to recovery and prosperity. Yet Catholic teaching has largely rejected the re-distribution economics of socialism for over a century, starting in 1891 with Pope Leo XIII's encyclical "Rerum Novarum" which affirmed work, individual property rights, and economic production, as the means of recovery for the poor.
A century later, in 1991, Pope John Paul II picked-up where Leo XIII left-off, signaling in his encyclical "Centissimus Annus" that the private ownership of property and free-market economic systems empower individuals to prosperity, while socialism, despite its promises of "fairness" and "justice," actually concentrates wealth in the hands of the few. Having grown up in communist Poland, Pope John Paul II experienced first-hand the evils of a government that controls all of a nation's resources, and vowed that the world should never again make the mistake of embracing socialism.
But never mind all that Church history. Pope Francis appears to be committed to the socialism of his native Argentina. One might think that, in the spirit of St. Paul (the "Apostle Paul" for Protestants), the Pope would want to "test all things (test all ideas) and hold on to that which is good" (I Thessalonians chapter 5).
But Pope Francis doesn't appear poised to do this. He doesn't even display the least bit of curiosity as to why the economic systems of places like North America, South Korea, Japan and India provide for people's needs better than the economies of his home country.
Thus it seems likely that he will coddle people in the U.S. that he deems to be "poor" – whether they are here legally, or not – and ignore the working middle class on whose backs these financial burdens are carried.
Where is Capitalism Unregulated?
Pope Francis has previously stated that he wants to put an end to "unfettered" (i.e. un-regulated) capitalism. But where, precisely, does His Holiness believe that this alleged "unregulated capitalism" exists?
The notion that "unfettered capitalism" exists is so often repeated in the dominant national media that people take it for granted that it is a real phenomenon. In truth, the idea exists only in people's minds, on paper, and on hard drives. But raw, un-regulated economic activity is not sanctioned anywhere in the world by any government; when such transactions occur, they are happening outside the confines of the law, and are thus illegal (the term for this kind of economic activity is "the black market").
Consider this: the computer on which I have composed this writing; the device with which you are reading it; the electricity that empowers both devices; the paper on which this is printed – they are all produced under enormously restrictive government regulations. The Holy Father's rhetoric about capitalism being "unfettered" helps engender hatred of productive enterprise, but he is shooting at a non-existent target.
Will He Condemn The Kind of Greed Eating America From the Inside?
Pope Francis claims to condemn "greed" and "the pursuit of money." But will he condemn those Americans who believe they are entitled to other people's money?
Despite the Catholic Church's rich history of critical thinking and intellectual honesty, Pope Francis has built his papacy on articulating outrage about some people's sins, while ignoring the sins of others.
It's not difficult to identify examples of corporate leaders behaving in a greedy fashion; such examples are often the topic of research. But what are we to make of politicians who incessantly call for higher taxes? They are, after all, mere mortal human beings, yet they are, by definition, seeking to acquire and control more of other people's money.
Pope Francis is conveniently ignoring the immorality of American political candidates who are promising more "free things" to would-be voters, as well as the entitlement, the greed and the avarice of those who support such candidates.
Pope Francis will likely curry the favor of liberal America during his forthcoming visit. But every American – Catholic and non-Catholic, Christian and non-Christian – who desires liberty, prosperity, and virtue, should challenge this man's immoral assertions and insinuations.
–
TheBlaze contributor channel supports an open discourse on a range of views. The opinions expressed in this channel are solely those of each individual author.