Americans dislike demagogues who denigrate our U.S. service members.
On June 9, 1954, Sen. Joe McCarthy learned that lesson the hard way. In hearings where McCarthy was accusing the U.S. Army of Communist activities, Joe Welch, the Army's Chief Counsel finally had enough and famously challenged McCarthy with this question: "Have you no sense of decency, sir, at long last?"
As a veteran of 32 years of service in the Armed Forces and as a former Congressman who co-chaired the U.S. House Army Caucus, respectively, we, too, have finally had enough--enough of Donald Trump's repeated disrespect of our U.S. servicemen and women and veterans.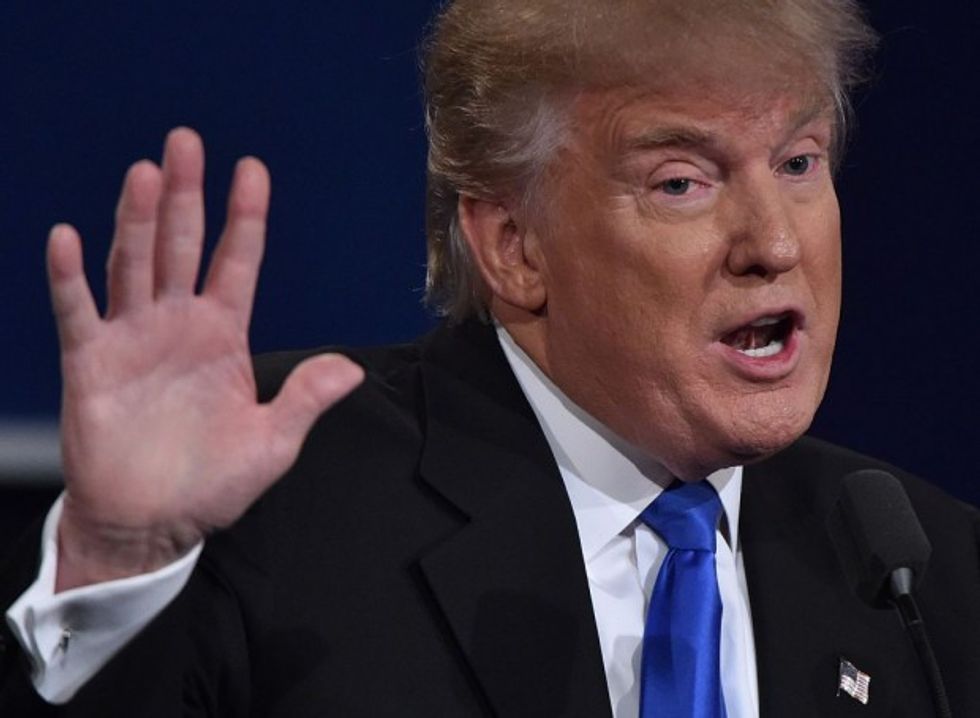 Republican nominee Donald Trump speaks during the first presidential debate at Hofstra University on Monday. (Getty Images/PAUL J. RICHARDS/AFP) 
Trump, is it not enough that you denigrated the sacrifices of John McCain and American prisoners of war who were tortured in service to our country?
Is it not enough that you called the most powerful military in the world, our U.S. military forces, "a disaster"?
Is it not enough that you attacked a grieving Gold Star mother whose son gave his life to our country?
Is it not enough to claim that your building buildings is a sacrifice similar to the sacrifice of our combat Veterans?
Is it not enough to say that you had always wanted a Purple Heart, even though you used multiple medical deferments to keep from being drafted during the Vietnam War?
Is it not enough that you recently attacked the integrity of our U.S. military leaders by alleging they have been "reduced to rubble?"
As if all of those insults were not enough, now you incorrectly and insensitively stated that Veterans facing PTSD and mental illness are somehow not "strong" and couldn't handle it. What a shameful slight that is to courageous Veterans trying to rebuild their lives. The fact is seeking help to treat PTSD is a strength, not a weakness.
Mr. Trump, just as Joseph McCarthy falsely attacked the patriotism of Americans, you falsely and repeatedly accused our president of not being an American citizen. You claim to not be a politician, but, sir, your mocking of women and a Hispanic judge's heritage and a Gold Star mother and a disabled reporter represent the worst demagoguery of our worst politicians such as McCarthy.
While you mocked and belittled others, we thought you would at least have the common decency to show respect to those Americans who have served and sacrificed for our country.
We have great faith in the American people. We have great faith in America's servicemen and women and our Veterans. Thanks to them, we believe the land of the free and the home of the brave is still the greatest nation in the world. We would not want to live anywhere else.
Sixty years ago Americans saw through the false patriotism and demagoguery of Senator Joseph McCarthy. Mr. Trump, whether it is your disrespect of POWs, a Gold Star mother, military leaders, or combat Veterans with PTSD, we would say Joe Welch's question bears repeating, "Have you no sense of decency, sir, at long last?"
Barnett is a retired Rear Admiral in the U.S. Navy. Rep. Edwards (D-Texas) is a former congressman and chairman of the House Military Construction and Veterans Affairs Appropriations Subcommittee.
–
TheBlaze contributor channel supports an open discourse on a range of views. The opinions expressed in this channel are solely those of each individual author.