I was having a conversation the other day with a registered Democrat. Out of curiosity, I asked him who he wanted as the presidential nominee. He said that it was a tough decision between Democratic presidential candidates Hillary Clinton and Sen. Bernie Sanders (I-Vt.).
After saying out loud, "Are you crazy?" I composed myself and started to tell him all of the reasons why he shouldn't vote for either.
He told me that he had voted for President Barack Obama twice and only realized after the second time that he had made a mistake.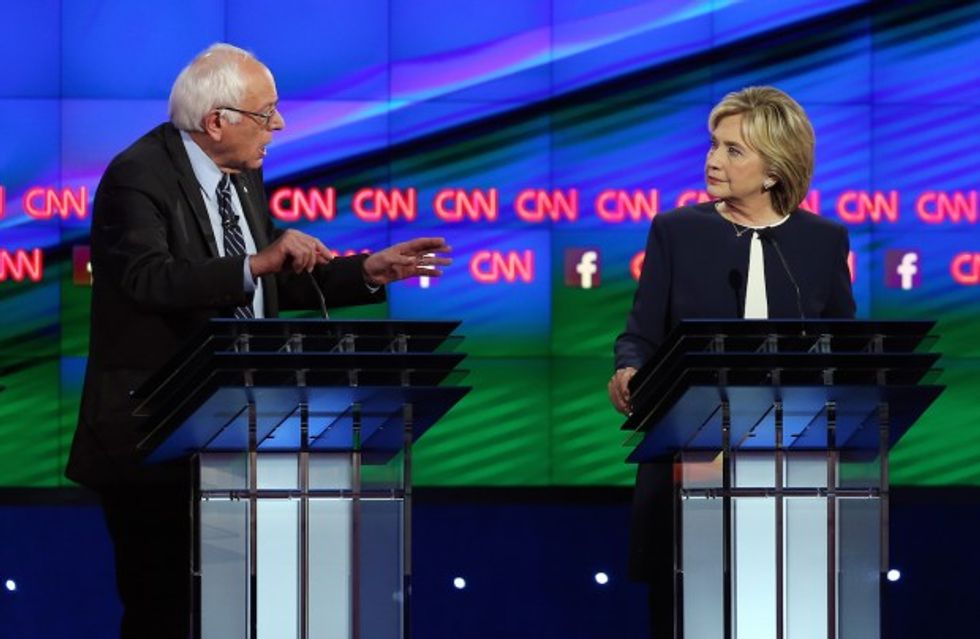 Joe Raedle/Getty Images
Judging by the candidates currently in the lead for the Democratic presidential nomination and the willingness for Democrats to once again vote for a candidate with similar ideologies to those of Obama, I have concluded that the Democratic Party may have officially become America's new Progressive Socialist Party.
You only need to look at the people who influenced the lives of the current sitting president and the two Democratic presidential candidates to understand that socialism is firmly entrenched within the Democratic Party.
I'm reminded of the saying, "You can judge a person by the company they keep." I think you can also learn significant information about a person based upon the people they admire.
For instance, Obama stated in his book, "Dreams from My Father," that Frank Marshall Davis was a very influential friend of the family and childhood mentor to Obama.
Davis was a journalist and activist who associated with the Communist party according to Cliff Kincaid, president of America's Survival, a group that seeks to expose Communist and Marxist influences. Although, Davis never admitted to being a Communist, the FBI and others identified him as a member.
Kincaid and others also believe that Obama adopted his radical and socialist ideologies through his relationship with Davis.
Perhaps then it's no surprise in hindsight that Obama would focus much of his presidency on the racial ideology that he grew up hearing from individuals like Davis and that he would level the type of criticisms toward America he apparently also learned from his association with Davis.
Then there is Clinton who was so influenced by Saul Alinsky that she wrote a senior thesis sympathetic to the Communist community organizer. Many believe the thesis exposed her as a radical socialist.
In addition, Clinton has been quoted as saying, "I admire Margaret Sanger enormously, her courage, her tenacity, her vision ... I am really in awe of her, there are a lot of lessons we can learn from her life."
Sanger's call for a pro-eugenics viewpoint and her desire to "exterminate the Negro population," stand in stark contrast to Reverend Martin Luther King Jr., who Clinton claims she also admires and who was influential in her decision to switch from the Republican Party to the Democratic Party.
Clinton's seemingly progressive socialist ideas are confusing to say the least and it appears that her progressive decision-making, should she be elected president, would be just as perplexing.
Clinton initially opposed same-sex marriage for over a decade and then fully supported it in 2013. She also reversed her opposition to the Trans-Pacific Partnership trade deal and her support of the U.S. Supreme Court's "Citizens United" decision after she had originally suggested that she wanted to overturn it. No one can be certain what she will support or oppose in the future but you can be sure that her policies will exude progressive socialism.
What can the public expect of Sanders if he were to be elected president?
Again, it's important to look at who was instrumental in shaping his life as an individual.
Sanders has indicated that he was influenced by a man named Eugene V. Debs.
Debs, among other things, ran five times as the candidate of the Socialist Party of America for president of the United States. He became one of the best known socialists living within the U.S.
Debs was also a convicted felon who was sentenced to 10 years in prison. The Supreme Court in Debs v. United States, concluded that "he had the intention and effect of obstructing the draft and military recruitment." He began serving his sentence in April 1919.
Debs later ran for president while in prison and received 919,799 write-in votes.
In December 1921, he was released from prison by President Warren Harding who commuted Debs' sentence to time served.
Sanders wrote, directed and gave his voice for Debs' dialogue in "Eugene Debs: Trade Unionist, Socialist, Revolutionary," while Sanders was working for a company that produced political films.
Debs' legacy was a motivator to the American left in their political opposition to corporations and World War I. He is admired by "American socialist, communists and anarchists who honor his compassion for the labor movement and motivation to the average man who wants to build socialism without large state involvement."
Sanders seems to have continued some of the progressive socialist policies by touting himself as the defender of the middle-class, by filing as a conscientious objector to the Vietnam War, a move that Debs would certainly have been proud of and by openly admitting to being a socialist.
I believe that Democrats have forgotten what it means to be a member of the Democratic Party because so much of their party has been "transformed" by this current administration for more than six years.
Either that or they have convinced themselves that their party has always been this way or they have reached a point of acceptance, believing that they have no ability to change their situation.
When Sanders says that America "is already a socialist country," perhaps the new Progressive Socialist Party, that apparently has replaced the old Democratic Party, is now inclined to cheer him on.
–
TheBlaze contributor channel supports an open discourse on a range of views. The opinions expressed in this channel are solely those of each individual author.