Donald Trump is an entitled narcissist who believes he is smarter than everyone around him and is incapable of accepting defeat with grace and humility.
You can simply look at his temper tantrums the week following the Iowa Caucus to see the results of his life of entitlement. He has never learned how to accept defeat. Sure he has had defeats, but he has a special ability to explain them away. He never accepts them and refuses to acknowledge they were defeats at all.
Such is the case with eminent domain which came up during the New Hampshire debate over the weekend. When Jeb Bush pointed out that Trump wanted to use eminent domain to take away an elderly woman's home he felt entitled to, Trump claimed the woman didn't want to sell so he "walked away."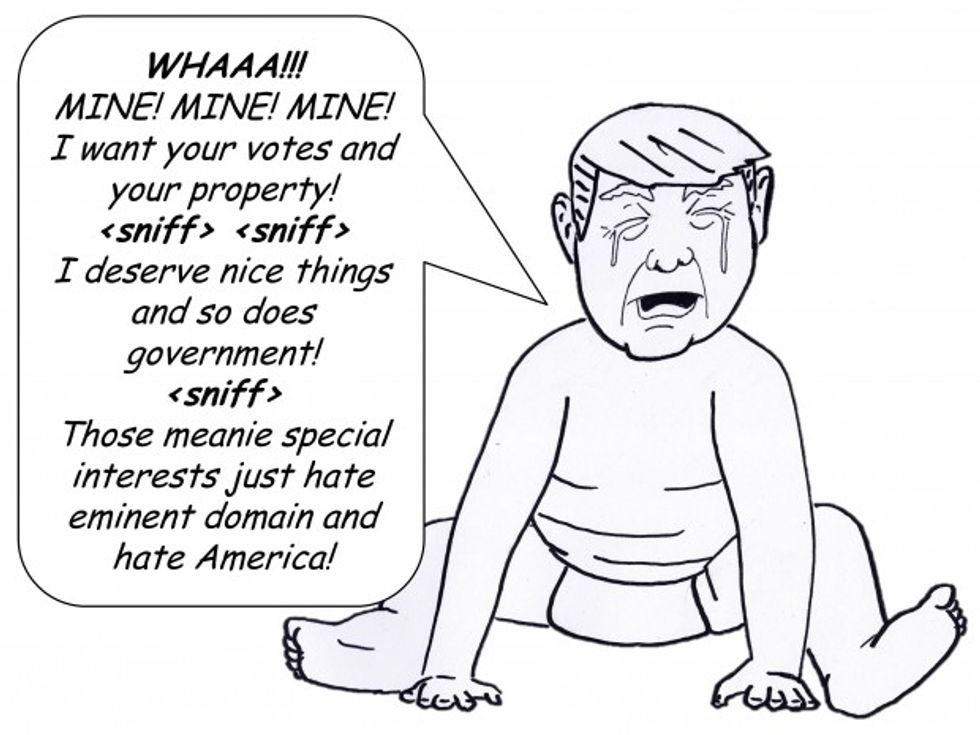 Entitled Trump Baby (Karl Knighton)
Which isn't the case; he didn't walk away until after the eminent domain was defeated in court.
It's not unusual for a candidate to explain away unpopular decisions while in public office. Some will even come out and say they were wrong and explain why their opinions have changed. But not Trump, to him facts are simply an inconvenience that should be ignored.
Furthermore when Trump was booed while defending his support for eminent domain, he simply accused everyone in the audience of being in the pockets of special interests. Never mind that eminent domain is an unpopular government device even when being used for the "public good."
"Public good" is a stretch when the government is trying to take your property because they can collect more tax revenue if it is owned by someone else. Trump and bureaucrats think they know how to manage you property better than you so they should be entitled to take it from you. And if you disagree then you are just in the pocket of some special interest.
Well, if you are going to belong to a special interest then the interest of freedom from an entitled government is probably a good one to belong to.
Because of his entitlement issues, Trump probably expected to walk into the Republican primary and have the nomination handed to him on a golden platter. And without any real experience or knowledge of how he would handle himself in public office his supporters already hail him as the best response to the Washington establishment.
Heck, the guy has already been nominated for a Nobel Peace Prize for "his vigorous peace through strength ideology, used as a threat weapon of deterrence against radical Islam, [Islamic State], nuclear Iran and Communist China." Trump hasn't had to achieve anything yet and already he is already being nominated for the biggest participation trophy of all. If selected he would join the remarkable ranks of Barrack Obama and Al Gore.
It's possible the Trump hysteria may be dying off slowly. At a Trump rally over the weekend there were reports of people leaving the rally in droves.
Of course that could have had more to do with people wanting to make it to their Super Bowl parties. I find it more likely that his polling numbers are just as inflated as his ego, built up over decades of entitlement and Trump hype.
We will have a better idea of how inflated his numbers really are after the New Hampshire primaries. And if things don't turn out well for the front runner we can probably expect more temper tantrums and excuses from the entitled Donald J. Trump.
–
TheBlaze contributor channel supports an open discourse on a range of views. The opinions expressed in this channel are solely those of each individual author.